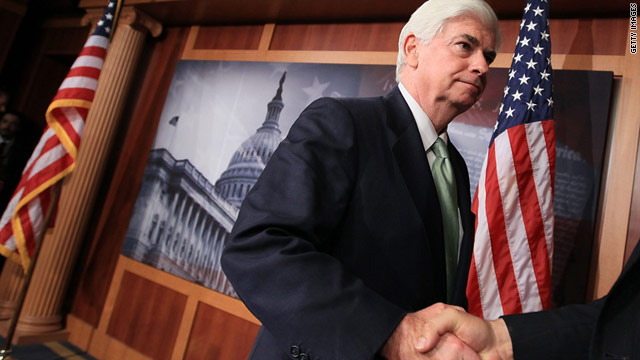 STORY HIGHLIGHTS
Dodd gives final speech from Senate floor
The Democratic senator is retiring after 36 years in Congress
Key legislative achievements in past year helped repair a bruised reputation
(CNN) -- Outgoing Democratic Sen. Chris Dodd reflected on the three decades he spent representing Connecticut in Congress during his final speech from the Senate floor Tuesday.
In January, when Dodd announced his plans to retire, his legacy was on muddy ground. An illustrious career was being overshadowed by controversies, political woes and personal tragedies.
But in the past year, the five-term Democrat spearheaded major legislative achievements for his party on what he called the "two most important issues of our time": health care and financial reform.
"His legislative victories this year will cap off an enormously successful and influential three decades in the Senate," Dodd spokesman Bryan DeAngelis told CNN in an e-mail.
Dodd, 66, steered the Health, Education, Labor and Pensions Committee during the summer of 2009 as Sen. Ted Kennedy, a close friend of his, battled brain cancer.
After Kennedy's passing, there was speculation that Dodd would replace him as chair, but he opted to stay at the helm of the Senate banking committee. Under the leadership of Democrat Tom Harkin, Dodd played a key role in the eventual passage of health care reform in March.
As chairman of the Senate Banking, Housing and Urban Affairs Committee, Dodd helped craft what would become the most sweeping overhaul of the financial system since the New Deal.
Some of Dodd's Democratic colleagues hailed the Dodd-Frank Wall Street Reform law as the highlight of his 36 years on Capitol Hill, while his detractors said the legislation demonstrated only how cozy Dodd was with Wall Street.
The legislation, which became law in July, gives regulators stronger powers to break up financial companies that have grown too large and creates a consumer protection agency that will set rules to curb unfair practices in consumer loans and credit cards.
The passage of the bill helped repair Dodd's standing as a power broker on financial issues. His reputation had been stained in the fall of 2008 by his involvement in cutting out loopholes for the industry.
Dodd faced criticism for his perceived role in allowing big bonuses to be handed out at American International Group after the insurance giant received taxpayer bailout money. AIG's Financial Products unit is based in Dodd's home state of Connecticut.
He initially denied having anything to do with AIG paying out millions in bonuses. He later said he was responsible for language added to the stimulus bill to ensure that existing contracts for bonuses at companies receiving bailout money, such as AIG, were honored. Dodd acknowledged his part in the change after a Treasury Department official told CNN the administration pushed for the language.
Dodd: Administration pushed for language protecting bonuses
Dodd also faced controversy when news surfaced that he had received favorable mortgage terms from now-defunct subprime mortgage lender Countrywide Financial. Dodd later severed his relationship with Countrywide to avoid any appearance of impropriety.
Dodd was cleared by the Senate Ethics Committee after a year-long investigation into the allegations.
The bipartisan committee said it found "no substantial, credible evidence" that mortgages given to Dodd and Democratic Sen. Kent Conrad of North Dakota, who was also investigated, violated Senate ethics rules. At the same time, it concluded that the senators "should have exercised more vigilance in [their] dealings with Countrywide in order to avoid the appearance that [they] were receiving preferential treatment."
Dodd, as head of the Senate banking committee, was among those who took heat for failing to rein in mortgage giants Freddie Mac and Fannie Mae. Dodd had received more campaign contributions from them than any other lawmaker, according to the Center for Responsive Politics. Dodd said recently that lack of reform of government-sponsored entities like Fannie Mae and Freddie Mac is one of the biggest gaps in the recently passed legislation.
The allegations were still fresh when Dodd announced his retirement in January. Dodd was also plagued by personal tragedies at the time, including a prostate cancer diagnosis that forced him to seek treatment in summer 2009. The death of Kennedy in August was devastating for Dodd, who had worked alongside the Massachusetts senator for decades, and Kennedy's death came just weeks after Dodd's sister passed away.
The political arena also brought challenges, as Connecticut's longest-serving senator was faced with dim prospects in the midterms. Despite having served in the Senate since 1981 -- after three terms in the House -- polls showed him trailing the leading Republican contender at the time.
The seat he held ended up staying in his party's hands, however, with Democrat Richard Blumenthal securing a win over Republican Linda McMahon.
Dodd's spokesman said the senator has had "no second thoughts" on his decision to retire.
Dodd attributes his decades-long commitment to public service and human rights to his parents, Grace Murphy Dodd and the late Sen. Thomas Dodd, according to his Senate biography.
Dodd's father served in the Senate for two terms. He was censured for financial misconduct, then lost his re-election bid in 1970. He died of a heart attack the following year.
Before entering politics, Dodd spent two years in the Peace Corps, enlisted in the Army National Guard, and served in the U.S. Army Reserves. He attended Providence College and later earned a law degree from the University of Louisville.
Throughout his political career, Dodd, who has two young daughters, focused on children's issues, championing the Family and Medical Leave Act, working to expand the Head Start program, and chairing the Children and Families subcommittee.
In 1995, he was just one vote shy of beating out Tom Daschle to serve as Senate minority leader. Five years later, he was considered a potential running mate for Democratic presidential candidate Al Gore.
Dodd flirted with the idea of a presidential run in 2004 but chose instead to back Sen. Joseph Lieberman in his ultimately unsuccessful quest for the Democratic nomination. In 2007, Dodd launched his own, albeit short-lived, White House bid.
In the final weeks before his term is up, Dodd plans to focus on consumer issues, children and families, and Latin America, his office said.
But will he close the books on politics come January?
"Senator Dodd has dedicated his life to public service and I suspect he will find a way to continue to serve his community, his state and his country," DeAngelis said.
CNNMoney's Annalyn Censky contributed to this report.
FOLLOW THIS TOPIC