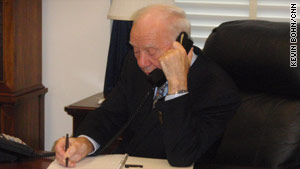 Democratic Rep. James Oberstar, who has represented Minnesota's 8th District for 36 years, failed to win his race.
STORY HIGHLIGHTS
Longtime, powerful Democrats reflect on their electoral losses
Among the defeated Dems: 3 committee chairmen and 7 members who've served at least 10 terms
Rep. James Oberstar, D-Minnesota: "It chokes me up to go through the room"
Departing reps: Two parties are so disagreeable that Congress can't move forward
Editor's Note: Watch the full interview on CNN's "The Situation Room" Wednesday at 6 p.m. ET
Washington (CNN) -- Walking the hallways of the Rayburn House Office Building and through many of its offices, you saw rows and rows of boxes already packed up and even cartons of books being given away.
The more than 50 defeated House Democratic incumbents were forced last week to not only return to attend the lame-duck session of Congress but also to start packing up their offices, sorting through decades of papers, photos and mementos.
Among the defeated Democrats were some of the party's most senior members, including three committee chairmen and seven members who had served at least 10 terms.
One of those most senior Democrats to lose is Rep. James Oberstar, who has represented Minnesota's 8th District for 36 years. Before that, he served more than a decade as a congressional staffer.
Standing in the office he occupied as chairman of the House Transportation and Infrastructure Committee, Oberstar reflected on the election results: "I am disappointed. Of course I am disappointed. I have given the best of what I have to offer, and it wasn't good enough. But I have great satisfaction of what I have accomplished."

Boehner: American people are in charge

McConnell: Focus on job creation
Oberstar, whose district includes Duluth and the northeastern part of the state, is known as one of Congress' transportation experts and is Minnesota's longest-serving member of Congress.
Among the projects he said he is most proud are ones that helped transform people's lives: Rebuilding and modifying a highway interchange where seven people were killed and pushing funding for revamping a highway where 57 people were killed over the years.
While Oberstar's seat was not one of the ones political experts had considered as a key toss-up race, he said he was not shocked. He lost to a political novice, former Navy pilot Chip Cravaack, by 4,400 votes in a district that was known as strongly Democratic.
"I was surprised I didn't prevail, but I knew from the beginning of this session of the Congress that this was going to be an extremely difficult year," he said. "I told the staff that shortly after the Obama inaugural, and we began working on the stimulus legislation and laying the groundwork for the health insurance reform legislation -- that this was a transformational year. And when you transform, you cut across the grain and that we have to be prepared for a vigorous opposition, and I was prepared for it."
Oberstar blamed some of the advertising regarding the health care bill that ran in parts of his district as one reason for his defeat. Oberstar had previously supported a single-payer system and said he had no regrets even if the issue cost his party politically.
He said it was the right thing to do.
"It was, and shame on us for not having messaged that legislation better and more effectively. That was a shortcoming of this election -- that the Democratic Party did not carry that message nationally to the people of this country to show the costs savings, the changes that will result, the long-term health benefits for all Americans," he said.
Another of the Democratic veterans who lost his bid for re-election was 13-term Pennsylvania Rep. Paul Kanjorski, who was defeated by Hazleton Mayor Lou Barletta. Kanjorski's district includes Wilkes-Barre and Scranton.
"Actually, you know it's not really shocking to me in any way. I guess I've accepted the reality of the situation, and it's difficult however to put together 26 years of what you've done," Kanjorski told CNN amid an office filled with packed boxes. "We have a very limited time to do that, so we can prepare these offices for the next representatives coming in. Other than that, it's actually been an interesting experience."
While polls taken after the election showed a majority of Americans wanted the two parties to work together, these two veterans do not see that happening.
"I think there will be a significant loss of ability to moderate and mediate and bring consensus together," Oberstar said. "I think in the aftermath of the election what you will see is a polarization even greater that we had in the past several years.
"I think what the election brought into the Republican Party are persons who are committed to the more extreme conservatism and on the Democratic side those who are more hard-core liberals and even governance is best when you govern from the center and reach out to bring the views of both sides to a compromise."
Kanjorski said the two parties are so disagreeable that Congress can't accomplish what needs to be done.
"The reality of it is that the people's business doesn't get done as well and what we have to do is cool these tempers and cool this political extremism and get back to moderation," he said.
Now both men have just a few weeks to finish the task of packing their offices while reliving the key moments in their careers and deciding what they will keep and where everything else will go.
"It has all kinds of memories," Kanjorski said with packed boxes taking up much of his office. "When you go back and you see photos and things that happened, it reminds of that 26 years and of course there's an awful lot of history in there and legislation I participated in over the years. Problems that I have tried to solve or have successfully solved over the years."
Standing among pictures, paintings and copies of bills, each with an attached yellow sticky listing its new owner, Oberstar said, "Each one of these carries a piece of me with it. So it is very difficult to say I want this to go to Ed, that to go to Annie. Something else to go to Chip, but it has to be done. It chokes me up to go through the room -- this and my office to see these memories. But they are good memories. It is a good choking up."
Oberstar and Kanjorski said retirement is not in their immediate future. But they don't have firm plans.
They both said they feel they still have a lot to offer and would like to find something to take advantage of their experience, possibly teaching.
FOLLOW THIS TOPIC