STORY HIGHLIGHTS
"Saturday Night Live" takes aim at new security pat-downs at the nation's airports
Outgoing House Speaker Nancy Pelosi talks about incoming Speaker John Boehner's crying
New York Mayor Michael Bloomberg named GQ magazine's "Leader of the Year"
Washington (CNN) -- Politics is serious business -- but not all of the time. From the halls of Congress to the campaign trail to the international stage, there's always something that gets a laugh or a second glance. Here are some of the things you might have missed:
Feeling lonely this holiday season?
You know you've made it (or have done something controversial) when NBC's "Saturday Night Live" spoofs you

. With the Transportation Security Administration, it's the latter.
The agency's new, more invasive screening pat downs were featured in a skit with TSA agents and scantily clad women that could best be described as a parody of a late-night sex hotline ad.
The narrator quips that "spending time with a TSA agent couldn't be easier. Simply book a flight departing from any American airport."
The final shot at the agency's new policy: "The TSA: It's our business to touch yours."
Pass go and collect no pat-downs
Incoming House Speaker John Boehner's decision to fly commercial instead of using a military plane once he takes over the gavel created somewhat of a buzz -- considering he will be second in line for the presidency come January.
While security likely will be tight -- especially with the new TSA pat downs -- the Ohio Republican was able to sail right through security late last week, The New York Times reports.
"As he left Washington on Friday, Mr. Boehner headed across the Potomac River to Ronald Reagan National Airport, which was bustling with afternoon travelers," the Times' Jeff Zeleny writes. "There was no waiting for Mr. Boehner, who was escorted around the identification-checking agents, the metal detectors and the body scanners, and whisked directly to the gate."
There's no crying when it comes to politics
In a New York Times interview, outgoing House Speaker Nancy Pelosi shed some light on Boehner's tendency to cry.
"You know what? He is known to cry. He cries sometimes when we're having a debate on bills," said Pelosi, soon to be House minority leader.
As for her? "When it comes to politics -- no, I don't cry. I would never think of crying about any loss of an office, because that's always a possibility, and if you're professional, then you deal with it professionally."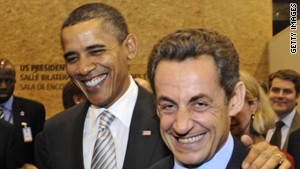 Bosom buddies
From Getty Images: President Obama and French President Nicolas Sarkozy share a laugh Saturday at the NATO summit in Lisbon, Portugal.
Headline of the day
Gawker: "Vladimir Putin Hosted a Tiger Convention"
Notable quotable
"Shakespeare crafted new words. Sarah Palin got into a word fender-bender" -- "Saturday Night Live's" Seth Meyers on the New Oxford American Dictionary naming Palin's "refudiate" as its 2010 Word of the Year.
Leading the way
New York Mayor Michael Bloomberg can add another title to his name: GQ magazine's "Leader of the Year."
Late-night laughs
Jay Leno: "Here's the problem: If you refuse to be patted down, then they arrest you. What's the first thing police do when they arrest you? They pat you down. ... You can't win."
Jimmy Fallon: "President Obama said that GM's comeback will become a success story of the recession. GM said it wants to thank those who made its recovery possible -- Toyota's brakes, Toyota's steering."
David Letterman: "On this day in 1863 President Abraham Lincoln delivered the Gettysburg Address. And then following the address, the rebuttal was given by John McCain."
FOLLOW THIS TOPIC