STORY HIGHLIGHTS
George W. Bush jokes about his dancing skills on "The Tonight Show With Jay Leno"
Florida lawmaker has important advice for incoming members of Congress: Buy more underwear
In a tweet, Sen. Claire McCaskill is excited to return home
Washington (CNN) -- Politics is serious business -- but not all of the time. From the halls of Congress to the campaign trail to the international stage, there's always something that gets a laugh or a second glance. Here are some of the things you might have missed:
'So you think you can dance?'
Former President George W. Bush appeared on "The Tonight Show with Jay Leno" for the first time in 10 years Thursday night. Leno, who joked that Bush provided him with a decade's worth of material, asked the former president who is the better dancer -- him or President Obama.
Leno showed Bush a clip of Obama recently dancing with kids in India and then played video of Bush dancing during a malaria awareness event at the White House in 2007. That video became fodder for late-night comedians everywhere.
Bush's verdict: "President Obama."
As for his own dancing? "I did that, and one of my girls called and said, 'No wonder you're not dancing on the stars,' " he said in an apparent reference to "Dancing With the Stars."
Notable quotable
"At the opening of the George W. Bush Presidential Library in Texas, Dick Cheney joked that the center was the only shovel-ready project in America. I don't know about that. Dick Cheney taking a buddy hunting -- that could be another shovel-ready project" -- Jay Leno
Underwear summit
U.S. Rep. Debbie Wasserman Schultz has some important advice for incoming freshman members of Congress: Buy a lot of underwear for your family.
The Florida Democrat told Politico: "My No. 1 piece of advice is buy your family lots of underwear. The reason that I give that advice is because if it were your responsibility to do the laundry when you were home ... making sure that there's lots of pairs of everything is going to be critical to make sure you can balance work and family."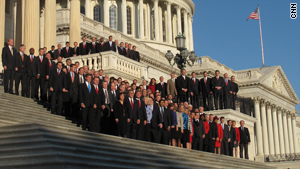 Say earmarks!
Friday was class photo day for incoming freshmen House members. The newly elected politicos put on their Sunday best, headed to the Capitol steps and enjoyed the calm before the likely legislative storms.
From the Twitterverse
Democratic Sen. Claire McCaskill of Missouri is either extremely excited to return home or has a problem with overusing the exclamation point.
@clairecmc Friday night lights!State playoffs!Kirkwood vs Webster! I'm going! Go Pioneers!
Cajun sense of humor
Democratic strategist James Carville -- under fire for controversial comments he made comparing Hillary Clinton with Obama -- is not backing down.
"If Hillary gave up one of her balls and gave it to Obama, he'd have two," Carville said at a Christian Science Monitor breakfast discussion regarding Obama's stand on taxes and the military's "don't ask, don't tell" policy.
But the "ragin' cajun" said on CNN's "John King USA" that he has no regrets. "If I offended anybody, I am not sorry and I do not apologize."
Carville, a political contributor for CNN, also said he intended the comment to be a joke.
Headline of the day
Wonkette: "Nancy Pelosi Less Popular Than George Bush, Explosive Diarrhea"
A house divided?
AOL News' Christopher Weber reports that Fox News analysts recently mocked Sarah Palin's new reality show when they were off the air.
"In a clip sure to make the internet rounds, panelists Judith Miller and Liz Trotta are seen in a commercial break during the weekend program 'Fox News Watch' giggling over negative reviews given the debut of 'Sarah Palin's Alaska' on TLC," he writes.
No word yet on how Palin, a fellow Fox News analyst/contributor, feels about the jabs.
Late-night laughs
Conan O'Brien: "Donald Trump wants to see if people want him to run for president. So a website has been launched called shouldtrumprun.com. ... No worry, the American public has responded with their own website, no."
David Letterman: "Sarah Palin says she's going to run for president in 2012. ... Donald Trump says he's going to run for president in 2012 against Sarah Palin. Nice to know there'd be somebody equally unqualified."
George Lopez: "Bristol Palin and 'the Situation' promoting abstinence [in a new public service announcement]. ... That's like getting Snoop Dogg and Amy Winehouse to do an anti-drug commercial."
FOLLOW THIS TOPIC