U.S. says it's prepared to put commitments to Israel in writing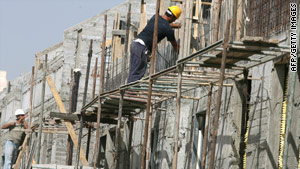 Palestinian laborers work at a Jewish settlement near the West Bank town of Hebron.
STORY HIGHLIGHTS
U.S. trying to restart peace negotiations between Israel and the Palestinian Authority
U.S., Israeli officials met last week to discuss conditions needed to have negotiations
Washington (CNN) -- The Obama administration is prepared to put into writing some of the commitments that Secretary of State Hillary Clinton orally gave to Israeli Prime Minister Benjamin Netanyahu regarding peace negotiations between Israel and the Palestinian Authority, a State Department official said Friday.
Clinton and Netanyahu met last week in New York to discuss conditions necessary for the resumption of direct negotiations aimed at producing a two-state solution to the Israeli-Palestinian conflict.
"If there are understandings that, you know, need to be codified in writing, we're fully prepared to do that," State Department spokesman P.J. Crowley said.
An Israeli government source told CNN earlier this week that Netanyahu wants written guarantees that Israelis could continue building in Jerusalem, the freeze would expire in 90 days and would not be extended, and the U.S. would not allow any initiative that would go beyond the negotiations. When he receives the written guarantees, the source said, the prime minister will take the proposal to his Cabinet.
"We are still having discussions with the Israelis to encourage them to return to direct negotiations and to create the conditions for direct negotiation to resume," Crowley told reporters at a news briefing. "If as part of this process, we need to write certain things down, we will."
FOLLOW THIS TOPIC