STORY HIGHLIGHTS
Nancy Pelosi portrayed as a fruit cake in an ad by a conservative group
John Boehner's friends say he speaks softly when he's mad
South Carolina Democrat Alvin Greene says he is running for president
Washington (CNN) -- Politics is serious business -- but not all of the time. From the halls of Congress to the campaign trail, there's always something that gets a laugh. Here are some of the things you might have missed.
No anger management for Boehner
Apparently when soon-to-be House Speaker John Boehner gets angry, his voice goes from normal to soft, The Hill's Kris Kitto writes.
"Several of Boehner's confidants, past and present, confirm that he has that cool-as-a-cucumber temperament."
In a previous interview with The Hill, Boehner said he doesn't yell -- and certainly doesn't do anger.
"I'm not dictatorial. I'm not a screamer. I know where I want to go and try to build consensus and support to achieve the goals we set."
A Bloomberg-Scarborough run?
The Huffington Post's Howard Fineman reports that sources say New York City Mayor Michael Bloomberg and MSNBC host Joe Scarborough have "begun trying to figure out whether they could be an independent presidential ticket in 2012 -- and who would be better to be on top if it happens."
On his show, the former Republican congressman denied that he was considering being on a 2012 Bloomberg ticket, saying "Mike Bloomberg and I have not talked about this directly, or indirectly, or super-super-secret indirectly."
Stay tuned.
The present no one wants
Citizens United, a conservative organization, is out with a new ad that portrays House Speaker Nancy Pelosi as a fruitcake. The ad ends with: "Nobody wants a fruitcake."
But enough about me
Failed South Carolina Senate Democratic candidate Alvin Greene tells the Columbia Free Times that he was "born to be president" and he's doing something about it.
"I'm running for president of the United States," he told the paper. "I'm the next president ... I'm the man. I'm the man. I'm the man. Greene's the man. I'm the man. I'm the greatest person ever. I was born to be president. I'm the man, I'm the greatest individual ever."
Headline of the day
The New York Daily News' headline regarding an Alvin Greene presidential run: "Politician? Maybe. Completely delusional? Absolutely!"
Notable quotable
"So, mazel tov, Will and Kate! We wish you the best. Maybe we can arrange Bristol and Levi's Royal Shotgun Wedding! I'd watch that" -- The Washington Post's Alexandra Petri on Prince William's engagement and a comparison with the Palins.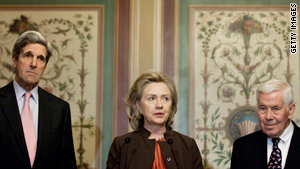 From tallest to shortest
Sen. John Kerry, D-Massachusetts, and ranking member Sen. Richard Lugar, R-Indiana, are seen in a Getty Images photo standing in line with Secretary of State Hillary Clinton as she makes a statement after a meeting with the Senate Foreign Relations Committee on Capitol Hill Wednesday in Washington.
Animators have pat-downs down pat
Haven't been patted down by the TSA? Wondering what all the fuss is about regarding the new pat-down searches? Fear not, a Taiwanese animation explains it all.
Late-night laughs
Jimmy Fallon: "Dick Cheney attended the ceremony [Bush Library groundbreaking]. It's fitting for Cheney to be at the library -- he spent eight years telling Bush to be quiet."
Jimmy Kimmel: "Yesterday, Sen. John McCain of Arizona wishes Snooki from 'The Jersey Shore' a happy birthday on Twitter. By the way, that is a sentence that 40 years ago would have made no sense whatsoever."
Jay Leno: "President Obama has just released a children's book ... 'Of Thee I Sing.' Of course the Republicans couldn't wait to release their version -- 'Thee End I See.'"
Conan O'Brien: "The new Oxford Dictionary has declared Sarah Palin's made-up word 'refudiate' to be the 2010 word of the year. ... Palin was honored and said she'd continue to do her best to dismantle the English language."
Jon Stewart: "Of course rather than reading an ethics textbook, freshman [members of Congress] could just walk down the hall and watch an [Rep. Charlie Rangel] ethics case unfold live, like strolling through a corruptional Williamsburg."
FOLLOW THIS TOPIC