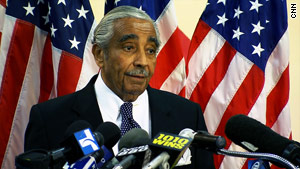 Rep. Charlie Rangel, D-New York, rose from a broken home to a powerful post in the U.S. House.
STORY HIGHLIGHTS
House ethics subcommittee finds Rep. Charlie Rangel guilty on multiple ethics violations
New York Democrat has served in Congress for 40 years
Rangel had a rocky childhood but became a Korean War hero
Lawmaker one of the most powerful members of Congress in recent years
(CNN) -- The notion that U.S. Rep. Charlie Rangel's career could end in defeat or expulsion was once unthinkable.
Rangel beat back five challengers in September's New York primary and won the general election with 80 percent of the vote.
But his conviction Tuesday on House ethics charges threatens to overshadow an extraordinary career that led him from the poverty of the pre-war Bronx to the battlefields of Korea and ultimately the pinnacle of political power.
"My father was absolutely no good," the 20-term congressman wrote in his autobiography. "In my earliest memory of him ... [he] was hitting my mother on the steps of some apartment-type building. I went and got a broom to hit my father. He started laughing at me."
Rangel's father eventually abandoned his family, and young Charlie moved in with an aunt and uncle.
In 1947, Rangel dropped out of high school -- a step that led to his enlistment in an all-black battalion in the Army's 2nd Infantry Division. Three years later, he found himself in the middle of the Korean War.
In November 1950, Rangel was wounded while helping to rescue 40 men behind Chinese lines in frigid temperatures near a place called Kunu-ri. For his efforts, Rangel received a Purple Heart and a Bronze Star for valor. The battle "was a waking nightmare becoming a reality," he later wrote. "I haven't had a bad day since."

Rangel found guilty of ethics violations

Rangel walks out of ethics trial
When Rangel returned from the war, he was able to use the GI Bill of Rights to earn a college degree from New York University and a law degree from St. John's University School of Law. After a stint as an assistant U.S. attorney for the Southern District of New York, he was elected to the New York State Assembly in 1966.
He became active in the civil rights movement, participating in the mid-1960s marches in Selma and Montgomery, Alabama.
Four years later, he turned his sights to Washington, entering Harlem's Democratic primary to take on Rep. Adam Clayton Powell, one of the most prominent African-American politicians at the time. Powell had been weakened by charges of corruption, and Rangel edged him out.
Once inside the Beltway, Rangel rose rapidly through the Democratic ranks. He helped establish the Congressional Black Caucus and served on the House Judiciary Committee during its hearings on the impeachment of President Nixon. In 1974, he got a seat on the powerful House Ways and Means Committee, responsible for oversight of the nation's tax code.
Among other things, Rangel used his position in Congress to take a leading role in the fight against drug trafficking. He pushed for low-income housing tax credits and authored a $5 billion Federal Empowerment Zone to support urban communities.
Rangel also became a leading voice against apartheid, authoring legislation in 1987 to strip certain tax deductions from U.S. companies invested in South Africa.
After Democrats won control of the House of Representatives in 2006, Rangel became the first African-American chairman of Ways and Means Committee.
However, at what should have been the peak of his power, Rangel, 80, is fighting for his political life.
Rangel was forced to step aside as Ways and Means chairman following the announcement of an investigation of several allegations, including failure to pay taxes on a home in the Dominican Republic.
He also admitted a failure to report several hundred thousand dollars in assets on federal disclosure forms.
In addition, he came under scrutiny for the purported misuse of a rent-controlled apartment for political purposes as well as for allegedly preserving tax benefits for an oil-drilling company in exchange for donations to a project he supported at the City College of New York.
The House Ethics Committee previously admonished Rangel for violating rules on receiving gifts. The committee found that Rangel violated House gift rules by accepting reimbursement payments for travel to conferences in the Caribbean in 2007 and 2008.
On Tuesday, the ethics subcommittee found "clear and convincing" evidence of guilt on 11 of 12 counts against Rangel. He was cleared of violating the House ban on accepting gifts.
The full ethics committee -- known as the Committee on Standards of Official Conduct -- will now recommend a punishment for Rangel to the House. The penalty can can range from a fine to expulsion.
"How can anyone have confidence in the decision of the Ethics Subcommittee when I was deprived of due process rights, right to counsel and was not even in the room?" Rangel asked in a statement shortly after the subcommittee's ruling Tuesday. (Rangel had walked out of the trial hearing Monday, complaining he hasn't had time to hire a new legal team to respond to the charges.)
"I can only hope that the full Committee will treat me more fairly, and take into account my entire 40 years of service to the Congress before making any decisions on sanctions."
FOLLOW THIS TOPIC