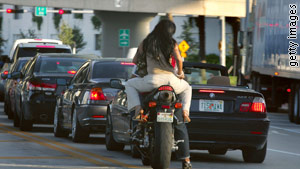 Motorcyclists wait at a traffic light as they ride without helmets in Miami, Florida.
STORY HIGHLIGHTS
National Transportation Safety Board releases its "Most Wanted" list
NTSB calls on states to enact universal motorcycle helmet laws
20 states, the District of Columbia and 4 territories have helmet laws for all riders
Washington (CNN) -- The National Transportation Safety Board Tuesday called on states to require all motorcycle riders wear helmets.
The announcement, made at a news conference in Washington, is part of the NTSB's "Most Wanted List of Transportation Safety" -- an initiative directed at state governments.
The board added motorcycle safety to the list this year and dropped recreational boating safety -- an area it said improvements have been made.
Read the full "Most Wanted" report
"State governments are in a unique position to effect the most significant improvement in certain areas of transportation safety," NTSB Chairman Deborah Hersman said in a news release. "Our Most Wanted List spotlights those states that have made noteworthy progress in better protecting the traveling public -- and those that have not."
Recent statistics show a rise in motorcycle fatalities, according to the NTSB.
"From 1997 through 2008, the number of motorcycle fatalities more than doubled during a period when overall highway fatalities declined. Although the number of motorcycle fatalities fell in 2009, the 4,400 deaths still outnumber those in aviation, rail, marine and pipeline combined."
Head injury is the leading cause of death in motorcycle crashes, the Department of Transportation said.
"The number of people who die every week on our roadways [650] is equivalent to five 737 passenger jets crashing every seven days. If that many people were killed in airplane crashes, the American people would be up in arms," Hersman added. "Although highway fatalities declined last year, we still need a call to arms to reduce the number of these daily, needless tragedies on our highways."
Right now, 20 states, the District of Columbia and four territories have helmet laws for all riders. In addition, 27 states and one territory have laws requiring minors and passengers to put a helmet on.
Three states, Iowa, Illinois and New Hampshire, have no helmet laws.
The NTSB dropped boating safety from its list, the board said, because since 1994, when recreational boating safety was added to the list], "70 percent of the states have responded favorably to those recommendations."
The NTSB's recommended at the time that states require flotation devices for children -- and put into place new training and licensing standards to boaters.
While the issue was removed from the list, the board said it will "continue to push for action in the remaining states."
Other items on the "Most Wanted List" include calls for action on:
-- Eliminating distractions for young drivers;
-- Improving child occupant protection;
-- Enacting primary seat belt enforcement laws;
-- Tackling hard core drinking and driving.
FOLLOW THIS TOPIC