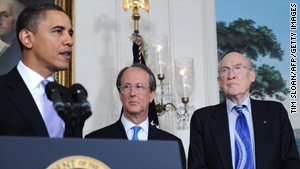 President Obama named Erskine Bowles, center, and Alan Simpson co-chairmen of the commission earlier this year.
STORY HIGHLIGHTS
Comprehensive proposal draws criticism from both sides
Co-chairman of the deficit commission says all issues included
President Obama reserves comment until a final proposal emerges
Washington (CNN) -- The release Wednesday of a draft proposal for reducing the federal deficit made clear how hard it will be to devise a sustainable plan that can win the necessary political support.
Erskine Bowles and Alan Simpson, co-chairmen of President Obama's federal deficit commission, offered up a wide-ranging set of ideas that would bring $4 trillion in deficit reduction over the next decade.
Their package touched every aspect of government, combining deep spending cuts with tax increases to eventually bring both expenditures and revenue to 21 percent of gross domestic product.
Simpson, a former Republican senator from Wyoming, called the scope of the initial plan "the first time in my memory of Washington ... that it's all there."
"We have harpooned every whale in the ocean," he told a news conference with Bowles, the former chief of staff for Democratic President Bill Clinton.

Hensarling: Where will you cut?

David Stockman: Heretic or truth-teller?
The draft plan will be debated and revised by the commission before a December 1 deadline, but immediate reaction ranged from cautious consideration to outright rejection on both the political right and left.
Outgoing House Speaker Nancy Pelosi, a liberal Democrat, called the proposal "simply unacceptable," and two Democratic commission members voiced initial opposition while a third mixed praise with serious reservations.
Retiring GOP Sen. Judd Gregg of New Hampshire, a deficit hawk on the commission, called the draft plan "aggressive and comprehensive" but added he hoped it could be improved, while conservative tax reform advocate Grover Norquist flatly rejected any tax increases to reduce the deficit.
Obama, who is in Asia, was noncommittal, according to White House spokesman Bill Burton.
"The president will wait until the bipartisan fiscal commission finishes its work before commenting," said Burton, who called the draft "a step in the process towards coming up with a set of recommendations."
If 14 of the 18 commission members agree on a final plan, it will go up for a vote by the lame-duck Congress that serves until the end of the year. If not, the panel's work will serve as the basis for continuing efforts to come up with legislation in the new Congress that will convene in January, this time with Republicans in control of the House.
Either way, a bitter political debate is certain.
"Raising taxes is what politicians do when they don't have the guts to govern," Norquist said, while on the other side, AFL-CIO President Richard Trumka said the commission leaders had told working Americans to "drop dead."
"The gap between the rich and the middle class has never been greater in our country. These proposals will only make the situation worse," added Democratic Rep. Janice Schakowsky of Illinois.
Such vitriolic reaction might be exactly the result sought by Simpson and Bowles, two political veterans steeped in the ways of Washington. Commission members said they were surprised when the chairmen announced at a meeting Wednesday that they were going public with the draft plan.
By laying out their proposal, even an early version, the pair flushed out the initial negotiating stances of both sides while positioning themselves as potential deal-makers.
"Coming out early was brilliant politics," said Garett Jones of the Mercatus Center at George Mason University. "The first mover sets the agenda, so Bowles and Simpson are now the 'go-tos' on deficit reduction."
Jones also praised the broad approach by the commission chairmen, saying they "gored all the sacred cows, so they have a real chance at succeeding."
David Gergen, a CNN senior political analyst, called the wide-ranging plan that includes proposals affecting Washington sacred cows such as defense spending, Social Security, Medicare and taxes "an act of political courage," and added: "For those who reject them out of hand, it's an act of political irresponsibility and indeed cowardice."
Under the plan, 75 percent of the $4 trillion in deficit reduction over 10 years would be achieved through spending cuts -- including defense -- and the rest from more tax revenue.
The proposed defense cuts include freezing noncombat military pay at 2011 levels for three years to save $9.2 billion and reducing overseas bases by one-third to save $8.5 billion. It also would direct $28 billion in cuts already proposed by Defense Secretary Robert Gates toward deficit reduction.
Outside of defense, the report recommends eliminating 250,000 contractors, saving $18.4 billion, and freezing federal pay for three years, saving $15.1 billion.
In addition, the report would lower income tax rates and simplify the tax code, abolish the Alternative Minimum Tax -- the so-called wealth tax -- and reduce tax breaks such as the mortgage interest deduction.
The plan also aims to make Social Security solvent over 75 years through a number of measures, including smaller benefits for wealthier recipients, a less generous cost-of-living adjustment for benefits, and a very slow rise in the retirement age to 68 by 2050 and 69 by 2075.
On health care, the report recommends capping growth in total federal health spending -- everything from Medicare to health insurance subsidies -- at 1 percent over the rate of economic growth.
Maya MacGuineas, who runs the nonpartisan Committee for a Responsible Federal Budget, called the report "remarkable," adding: "In a period when there has been little good news on the deficit and debt front, this is truly a most encouraging sign."
In the end, commission members may scale down the proposal by Bowles and Simpson to specific items on which they agree, Schakowsky told CNN.
"I believe we can come up with a proposal that reaches the $250 billion mark [in deficit reduction] by 2015," she said.
CNNMoney's Jeanne Sahadi and CNN's Ted Barrett, Dana Bash, Dan Gilgoff, Joe Von kanel and Lisa Desjardins contributed to this story.
FOLLOW THIS TOPIC