STORY HIGHLIGHTS
President Obama: "It is wonderful to finally be back in Indonesia"
Obama visits Indonesia on second leg of his Asian trip
U.S. president to cut short Indonesian trip due to Mount Merapi's eruptions
For more coverage of President Obama's Asian trip, visit CNN.com's White House Blog. Also, share your photos, video and stories with CNN iReport.
Jakarta, Indonesia (CNN) -- U.S. President Barack Obama is officially shortening his visit to Indonesia because of fears that volcanic ash spewing from Mount Merapi could have grounded Air Force One, according to administration officials.
White House spokesman Robert Gibbs earlier told reporters aboard Air Force One that officials were closely monitoring the ash cloud and that forecasts show air traffic might again be disrupted. Experts say volcanic ash can wreak havoc on jet engines.
Administration officials said late Tuesday the president's already-quick visit will be shortened by two hours, forcing cancellation of a wreath-laying ceremony on Wednesday and causing other tweaks to the schedule.
Obama will also start a speech at the University of Indonesia a little earlier than expected on Wednesday in order to get to his next stop, South Korea and the G-20 summit, sooner.
Ben Rhodes, deputy national security adviser for strategic communications, said that speech -- which will hit on key themes that Obama laid out in his speech to the Muslim world in Cairo last year -- remains a top priority. "We want to preserve as much of the schedule as we can," he said.
Two previous trips to Indonesia, where Obama spent four years as a boy, were cancelled because the president had to deal with health care reform in March and the Gulf oil spill in June.
But Obama had enough time in Jakarta, the Indonesian capital, Tuesday to fondly glimpse parts of the Asian land where he lived for part of his boyhood.
"It is wonderful to finally be back in Indonesia," Obama said, speaking at a news conference in Jakarta with President Susilo Bambang Yudhoyono.
He said it's "disorienting" to visit his boyhood home as president, noting that the landscape has changed in the place where his mother lived and worked. He said he harbors "great affection" for the people, and the sights and sounds "feel familiar."
"Because it's almost on the exact opposite site of the world, not enough Americans know about this great country," said the president, adding that his hope is to come back to the country with his children. "Hopefully my visit will promote additional interest and understanding."

Obama visits Indonesia

Tour Obama's home in Indonesia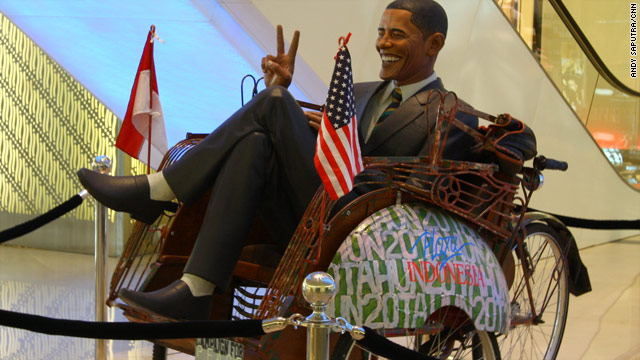 Gallery: Barack Obama's Indonesian childhood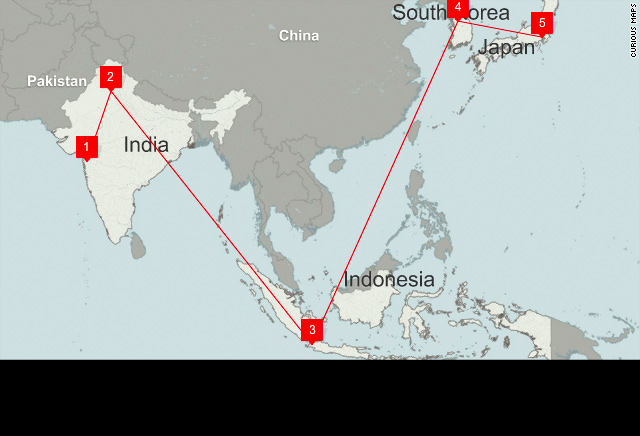 Obama's trip to Asia
Obama said his administration hopes to expand ties with Indonesia on three different levels: trade, political and security cooperation, and mutual challenges, such as educational initiatives and tackling climate change.
"I believe that our two nations have only begun to forge the cooperation that's possible," Obama said.
The American president also addressed regional and world issues, such as the Middle East, China, Myanmar, and his administration's outreach efforts to the Muslim world.
He denounced the recent elections in Myanmar, saying they were neither free nor fair. The president also said all political prisoners, including opposition leader Aung San Suu Kyi, should be released from captivity in Myanmar -- the country also known as Burma.
Last year, Obama announced an ambitious outreach program to the Muslim world in a speech in Cairo, Egypt, and was asked how he assesses that effort.
He called his administration's initiative "earnest" and "sustained," but said it's an "incomplete
project" with more work required.
Obama said the idea is to build bridges and expand interactions so the relationship isn't focused solely on security issues.
"We do think we're on the right path," said Obama, in remarks in the world's largest Muslim-majority nation. More than one in 10 of the world's Muslims live in Indonesia, which has about 205 million Muslims.
Asked about Israel's plans for new housing units in Jerusalem, Obama said "this kind of activity is never helpful when it comes to peace negotiations." Settlement activity has been a major stumbling block in the direct negotiations between Israel and the Palestinians for a peace agreement.
Obama said he's "concerned" that "we're not seeing each side make an extra effort" to obtain a breakthrough for peace.
As for China, which has emerged as a major world power and an economic powerhouse, Obama said, "we want China to succeed and prosper" and the United States isn't interested in impeding that process.
"First of all, from a humanitarian point of view, it lifts millions of people out of poverty, which is a good thing. It's also a huge expanding market for America to sell goods and services," he said.
"We want China to continue to achieve its development goals. But we want to make sure everybody is operating within an international framework and sets of rules where countries recognize their responsibilities to each other."
Obama also was to attend an official dinner in Indonesia and visit the Istiqlal Mosque, the largest mosque in southeastern Asia. Gibbs said the president still hopes to deliver a speech at the University of Indonesia.
On Sunday, Muslims staged rallies across Indonesia to protest the American president's visit, and about 20,000 people attended the demonstrations, a spokesman for a protest group said.
"We don't see the differences between Obama and Bush. They both oppress Muslims. They both have blood on their hands," said Ismail Yusanto, a spokesman for the Muslim group Hizbut Tahrir. "That's why we reject Obama and we don't believe that he's reaching out to Muslims."
Obama's trip to Asia started Saturday with a three-day visit to India, the third largest economy and one of the world's few growth markets. His trip there included a meeting with Indian Prime Minister Manmohan Singh in New Delhi and an address to the nation's parliament.
In another major sign of growing ties between India and the United States, Obama on Monday backed a permanent seat for India in the U.N. Security Council.
"In the years ahead, I look forward to a reformed U.N. Security Council that includes India as a permanent member," he said to India's parliament.
The statement came as Obama made a wide-ranging address that envisioned closer economic and security ties between the United States and India, standing "shoulder to shoulder" with the world's largest democracy.
Obama praised India's democratic institutions: its free electoral system, independent judiciary, the rule of law, and a free press. He said India and the United States have a unique link because they are democracies and free-market economies.
"When Indians vote, the whole world watches. Thousands of political parties. Hundreds of thousands of polling centers. Millions of candidates and poll workers, and 700 million voters. There's nothing like it on the planet. There is so much that countries transitioning to democracy could learn from India's experience; so much expertise that India can share with the world. That, too, is what's possible when the world's largest democracy embraces its role as a global leader," he said.
Noting the country's rise as a world power, Obama said he sees the United States cooperating with India in various international and regional alliances. He also praised India's role in the climate change negotiations and its role as a top contributor in U.N. peacekeeping missions.
Obama's visit to India included a town hall-style meeting with students, a celebration of the Hindu holiday Diwali and a visit to Humayun's Tomb, an architectural precursor to the Taj Mahal.
On Wednesday, the president will leave for South Korea, where he will attend the G-20 summit in Seoul.
Obama is to meet with Chinese President Hu Jintao while both are in South Korea. The U.S. president also is to deliver a speech to U.S. troops in South Korea on Thursday, the Veterans Day holiday in the United States.
Obama's Seoul visit will include a meeting with South Korean President Lee Myung-bak and a news conference.
The U.S. president will leave South Korea for Japan on Thursday.
In Japan, Obama will speak at a CEO Business Summit that is part of an Asia-Pacific Economic Council summit. Obama's packed schedule includes other APEC events and bilateral talks with Japanese Prime Minister Naoto Kan, Russian President Dmitry Medvedev and Australian Prime Minister Julia Gillard.
The president's Asia tour is part of an administration focus on a vital region for expanding trade and fighting terrorism, said Ben Rhodes, the deputy national security adviser for strategic communications, ahead of the trip.
"If you look at the trend lines in the 21st century, the rise of Asia, the rise of individual countries within Asia, is one of the defining stories of our time," Rhodes said, later adding, "We see core U.S. national interests that will be advanced by us playing a key role in helping to shape the future of the region and making clear that we're an Asian and a Pacific power."
Obama will head back to the United States on Sunday.
CNN White House correspondent Dan Lothian contributed to this report.
FOLLOW THIS TOPIC