STORY HIGHLIGHTS
This fall, Minnesota Catholics received DVDs opposing same-sex marriage
Some felt the church was indirectly taking a political stance
The archdiocese denies that it was trying to influence politics
Minneapolis, Minnesota (CNN) -- It wasn't even on the ballot in Minnesota this year, but the issue of same-sex marriage sparked a heated political debate in the state.
That debate centered in many of Minnesota's Catholic churches, after the clergy mailed 400,000 DVDs with a message to their parishioners encouraging them to oppose same-sex marriage.
Specifically, Archbishop John Nienstedt urged Catholics to support the idea that voters -- not individual judges -- should be able to decide whether to keep the traditional definition of marriage as the union of one man and one woman.
"[Marriage] is the natural way we bring together men and women to conceive and raise the next generation," he said, speaking directly to the camera. "What will happen to children growing up in a world where the law teaches them that moms and dads are interchangeable?"
The DVD campaign created a divide among parishioners, including some who felt the church crossed the line and threw an unacceptable amount of weight behind Republican gubernatorial candidate Tom Emmer, who opposes gay marriage. Emmer ran against Democrat Mark Dayton in a tight race that is currently in a recount. Emmer opposes gay marriage, and Dayton has said he supports it.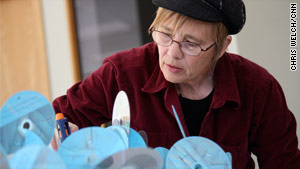 Artist Lucinda Naylor was suspended from her job with the Catholic Church after she voiced opposition to the campaign.
"[Nienstedt is] telling people how to vote in a way that favors Republicans, and he's doing that from tax-exempt properties," said Dan Maguire, a professor at the Catholic Jesuit Marquette University, who has long been a supporter of homosexual rights in the Catholic church.
As a 501(c)(3) organization, the Catholic church cannot directly or indirectly intervene in a political campaign by supporting any one candidate or political party.
But in his message, Nienstedt did not specifically name any political candidates or parties.
Political science professor Larry Jacobs agrees the DVD message is political and that it "indirectly" weighs into the governor's race. However, he feels the church hasn't done anything that could or should put its tax-exempt status in jeopardy.
"I think what the Catholic Church was doing was sufficiently distant from actually endorsing the candidate," said Jacobs, who teaches at the University of Minnesota. "They were exercising their First Amendment free speech rights."
Belief blog: Dealing with gay marriage
The Minneapolis-St. Paul archdiocese turned down CNN's request to speak with Nienstedt himself, but spokesman Dennis McGrath denied allegations that the archdiocese is supporting any one candidate.
"We don't engage in politics ... unless it's on behalf of the poor or a social welfare project," he said.
McGrath also stressed that only a small portion of the DVD project was funded by donations to the church itself. The majority of it was paid for by the Knights of Columbus, a Catholic fraternal service organization, he said.
He would not answer any other questions relating to money, including total cost, and said that the donations used were all from anonymous donors.
We don't engage in politics ... unless it's on behalf of the poor.
--Dennis McGrath, archdiocese spokesman
The whole incident has left one former employee of the Catholic Church with a bad taste in her mouth. Lucinda Naylor was suspended from her position as an artist at the basilica in downtown Minneapolis after she voiced her opposition to the DVD on her Facebook page.
She's since created a sculpture out of a couple of thousand surplus DVDs.
"I wanted to make a positive statement out of something I felt was divisive," Naylor said. "[The church has a] system of getting rid of people who dissent. And I'm just not going quietly."
Politics aside, Naylor said that what may be even more grave is the idea that the church is indirectly supporting a climate of hatred toward the lesbian, gay, bisexual, and transgender community.
"I don't think it's in keeping with the teachings of Jesus, to be honest."
FOLLOW THIS TOPIC