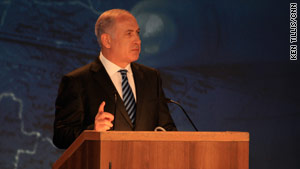 Prime Minister Benjamin Netanhayu says Monday a nuclear-armed Iran is the greatest danger to Israel.
STORY HIGHLIGHTS
NEW: Prime minister wants Goldstone Report authors to apologize
Benjamin Netanyahu spoke before the Jewish Federations of North America
He said a nuclear Iran is the world's biggest threat
Use of force should always be an option, he said
New Orleans, Louisiana (CNN) -- In a speech before the general assembly of a major Jewish organization, Israeli Prime Minister Benjamin Netanyahu called Iran the biggest threat to his country and the world.
"The first requirement of any living organism, of the people of any collective body, is to identify danger in time," Netanyahu said. "The greatest danger facing Israel and the world is the prospect of a nuclear-armed Iran."
Netanyahu spoke at the Jewish Federations of North America annual gathering in New Orleans, Louisiana.
Iran threatens to annihilate Israel, Netanyahu said, adding that Iran denies the Holocaust occurred and sponsors terrorism.
He thanked U.S. President Barack Obama's administration for its efforts to get the United Nations to place new sanctions on Iran.
The use of force against Iran must always remain on the table, the prime minister said. According to him, the only time that Iran halted its nuclear program was briefly in 2003, when it believed there was a credible threat of attack.
"Containment against Iran won't work," he said.
Chants from the audience disrupted Netanyahu's speech, and security pulled at least five protesters from the crowd. It was not immediately known if they were arrested.
They were chanting that a controversial "loyalty oath" in Israel and Israeli occupation weaken Israel's legitimacy.
Netanyahu also focused on what he called disinformation and libel against Israel by its detractors.
"For many, Israel is guilty until proven guilty," he said.
Netanyahu referred to the so-called Goldstone Report, which was commissioned by the U.N. and concluded that Israel committed war crimes during its conflict in Gaza. Israel has rejected the findings of the report, and the prime minister reiterated that sentiment, saying that it falsely accused Israel.
The report was a travesty, Netanyahu said. "The authors of the Goldstone Report owe the Israeli army an apology," he said.
As for the peace process, the prime minister said that Israel wants to see the Palestinians as committed as they are to resolving the conflict. There should be talks without any preconditions, he said.
There has been pressure on the Palestinian side not to enter into serious talks until Israelis halt construction in East Jerusalem and the West Bank.
Netanyahu's comments came on the same day that his government announced it was proceeding with plans for about 1,000 new housing units in East Jerusalem, a move that a chief Palestinian negotiator said would derail peace talks.
The prime minister did not mention these buildings, or settlement construction in general, during his speech.
CNN's Ken Tillis contributed to this report.