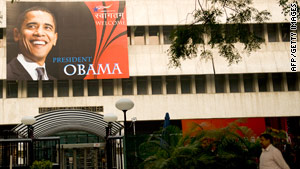 A billboard welcomes President Obama at The American Center in New Delhi, India.
STORY HIGHLIGHTS
Obama administration is determined to show that 3-day visit will boost U.S. jobs
Despite global meltdown, India's economy is expected to grow for the next few years
U.S. exports to India are up, and Indian companies are big investors in the United States
But all's not well: Outsourcing of jobs, relations with Pakistan are sore points between U.S., India
Mumbai, India (CNN) -- After a shellacking back home, what better way to get some peace and tranquility than for President Obama to visit this city's famed Gandhi Museum?
The three-story home where Mahatma Gandhi once lived is a shrine to his peaceful resistance movement, with historic photos and posters as well as a library with about 50,000 Gandhi-related works.
The Indian independence hero was an inspiration for the American civil rights movement and has always been a personal hero to Obama, who kept a framed picture of the Indian leader in his Senate office. He also paid tribute to him in his Nobel Peace Prize acceptance speech last year.
Obama is so enamored of him that when he was asked years ago which hero, dead or alive, he would most like to have dinner with, he answered Gandhi, with a slightly politically incorrect reference to his fasting.
"Now it would probably be a really small meal, because he didn't eat a lot," Obama said with a laugh. Gandhi's great-grandson, Tushar Gandhi, told Agence France-Presse that after all Obama has been through, he hopes the president will "feel his batteries recharged" after the museum visit shortly after his arrival Saturday. Obama is also visiting Gandhi's grave site in New Delhi for good measure.
As exhilarating as those visits may prove to be for Obama, the fact that he is leaving America so quickly after the bruising midterm election has raised some eyebrows back in the states. That may be one reason why administration officials are so determined to show that this three-day visit ties in directly to growing jobs back home.

Obama: Jobs up but not good enough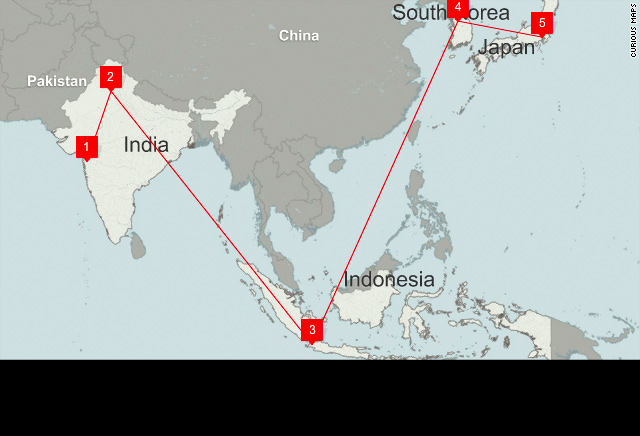 Obama's trip to Asia
"We believe that India has a hugely dynamic and growing market, and we want to discuss opportunities for how we can deepen our economic relationship," said White House aide Ben Rhodes, deputy national security adviser for strategic communications.
Despite the global meltdown, India's economy has been raging and is expected to grow at about 8 percent a year for the next few years, which is why the Obama administration sees it as a very important market for American exports.
U.S. exports here have already quadrupled to about $17 billion over the last seven years, according to administration officials, and Obama will be addressing the U.S.-India Business Council.
"And it's a two-way street as well," said Mike Froman, the White House's deputy national security adviser for international economic affairs. "Indian companies are the second-fastest-growing investors in the United States."
Froman says that as wealthy Indian companies pour money into the U.S., they're supporting 57,000 American jobs. On this trip, administration officials are hopeful that Obama will be able to announce the purchase of billions of dollars in U.S. aircraft by the Indian military and private airlines, which would create tens of thousands of more American jobs.
More broadly, aides say Obama sees India as nothing short of the "cornerstone" of his administration's engagement with Asia, a pivotal region.
It's a nation that is only about one-third the size of the U.S. in land mass. But India has more than 15 percent of the world's population, second only to China.
Obama and Indian Prime Minister Manmohan Singh have tried to foster collaboration on climate change, counterterrorism and scientific research.
I firmly believe that the relationship between the United States and India will be a defining partnership in the 21st century.
--President Obama
On this trip, the two men will have a private dinner with their wives as well as a formal state dinner, as well as an official bilateral meeting and a joint news conference.
"It's a rising power and a responsible global power," Obama said in June at a U.S.-India Strategic Dialogue reception in Washington. "That's why I firmly believe that the relationship between the United States and India will be a defining partnership in the 21st century."
Obama added that since they're the world's two largest democracies, the relationship is "fundamentally unique" in relation to America's other partnerships.
"We share common interests, but we also share common values," he said. Obama, who is visiting during the Indian Diwali holiday, will address a joint session of the Parliament on Monday. He will also hold a town hall meeting with university students, while first lady Michelle Obama will hold her own events focused on education and women's empowerment.
Obama will leave India on Tuesday for separate stops in Indonesia, South Korea and Japan, before returning home the next weekend.
The president previously bestowed upon Singh the honor of the first state visit of the Obama administration in November 2009. (It was marred a bit by the fact that a couple seeking fame on a reality show crashed the state dinner, causing a security scare during Singh's visit, but it's the thought that counts right?)
Despite the warm relations, the relationship is not perfect. Indian officials have bristled at Obama's efforts to cut down on the outsourcing of American jobs to call centers in India. Indian officials were also miffed about a ban in Ohio on offshore outsourcing related to government contracts.
India is also hopeful that Obama will announce support for its bid for permanent membership at the UN Security Council, though the administration has been noncommittal.
U.S. aid to Pakistan, India's longtime foe, is also a sore point. The U.S. sees the aid as a way to boost a struggling and imperfect ally in efforts to battle extremists. But given concerns that Pakistan's intelligence service may be aiding the Taliban, some Indians see the aid as the U.S. indirectly helping to fund terrorism in its neighborhood.
The U.S. and India do collaborate on counterterrorism, however, which is particularly significant after the searing Mumbai terror crisis, in which at least 164 people were killed in a series of coordinated attacks in November 2008.
The attack came shortly after Obama's election as president and while the Bush administration was still in power, and it was the president-elect's first foreign crisis. Obama spent a good chunk of that Thanksgiving holiday in Chicago getting briefings from his transition staff and Bush officials like then-Secretary of State Condoleezza Rice.
It's no accident that Obama's first event in India will be a statement at the Taj Hotel, where he is staying, to mark the Mumbai attacks. The Taj was at the center of the attacks, and Obama will pay his respects to the victims by signing a guest book and delivering public remarks.
In addition, a little-known fact is that India has been helpful to the U.S. in Afghanistan, its neighbor to the west, just beyond Pakistan. India has contributed approximately $1.3 billion in development assistance, mostly through agricultural programs. India also happens to be one of the biggest contributors to UN peacekeeping forces around the world.
Back in June at the U.S.-India Strategic Dialogue reception, Obama said that Secretary of State Hillary Clinton is so beloved in India that one of her favorite restaurants in Delhi has added the "Hillary Platter" to its menu.
"This is true," said Obama. "What does it have, chapati?"
"It's got all kinds of things," Clinton shot back, to laughter.
It was a light moment, and when an audience member shouted out that Obama needs to try it, he quickly agreed.
But not to be outdone by his secretary of state, the competitive juices no doubt still flowing from their tense presidential primary battle two years ago, Obama also made clear he intends to leave his own mark here in India.
"I look forward to advancing our partnership, to experiencing all that India and its people and its incredible ancient culture have to offer," the president said. "And I intend to create an 'Obama Platter.' "
FOLLOW THIS TOPIC