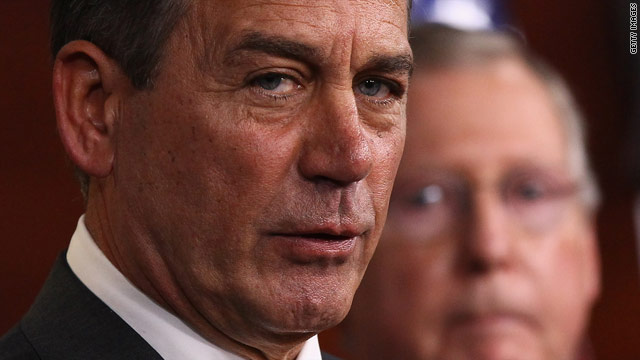 STORY HIGHLIGHTS
With landslide GOP victory in House, John Boehner poised to be next House speaker
Boehner concedes rocky relationship with president, but suspects they'll work closely
Minority leader touts his record of reform, but critics slam lobbyist ties, partisanship
Perpetually tan smoker and golfer served as company president before joining House
(CNN) -- It has to be one of the least attractive jobs in the world, given the economy and partisan vitriol, but Rep. John Boehner says he's ready to take the House helm even if he doesn't have all the answers.
Boehner, who with Tuesday's political sea change is poised to replace Rep. Nancy Pelosi as House speaker in January, will likely face a White House with veto power and a hostile Democratic Senate.
On the campaign trail in recent months, the 60-year-old congressman from Ohio has said this is no time for compromise while also expressing a willingness to work with his rivals.
"Now, listen, I like the president. I mean we get along personally," he said in September, answering a question about whether he had a "warm and fuzzy" relationship with President Obama. "We disagree, but yes, we're not especially close. But I suspect, in the coming months, we're going to have an opportunity to get a lot closer."
Already Obama has called Boehner to congratulate him and, according to a Boehner aide, the two "discussed working together to focus on the top priorities of the American people."
It's difficult to predict how the bipartisanship will fare. Some analysts predict gridlock as the Senate and House clash and attempt to undercut each other. Others say the two parties will have no option but to compromise to get their bills passed.
Boehner will have another potential conflict in his own party. Not only will he have to play to his Republican base, he will also need to placate the Tea Party, which won seats on its message of opposing business as usual in Washington -- though the Democrats' business seemed more offensive to the political newcomers.

Boehner: Time to do people's work

Obama makes calls to Boehner, Pelosi

Boehner: Putting Washington on notice

Obama's future with a divided Congress
A savvy fundraiser who uses his prowess to forge alliances with his GOP brethren (he took part in about 300 GOP campaign events during midterms), Boehner will have plenty of support within his party as he pursues an agenda of creating jobs, cutting spending and slashing the size of government.
The means, however, are not always specific, and Boehner has conceded he doesn't have every answer.
"I welcome ideas and helping hands from any lawmaker, expert or citizen about how we can make this institution function again," he said in September.
The rough outline of his plan is presented in the Republican "Pledge to America." The document's introduction slams Obama and the Democrat-controlled Congress as much as it offers prospects for reform.
Calling the president "unchecked," the legislature "compliant" and government in general "arrogant and out-of-touch," the pledge vows Republicans will honor the Constitution, especially the 10th Amendment on states' rights, and make government more transparent.
It also promises the GOP will pursue policies promoting "a robust defense and national economic prosperity," while honoring traditional marriage and "the private and faith-based organizations that form the core of our American values."
Though he has been criticized for his lack of specifics, Boehner told CNN in September that the pledge was "certainly more substantive" than the changes espoused by Republican leaders, including himself, when they took over the House in 1994.
In other interviews, he has said he wants to abolish the practice of comprehensive spending bills so that "each department and agency should justify itself each year to the full House and Senate."
He also wants to extend the Bush-era tax cuts for individuals making more than $250,000 a year and give small businesses a tax deduction equal to 20 percent of their income.
In addition, Boehner said he wants to implement a "CutGO" rule in which any new government program would necessitate the termination or spending reduction in an existing program.
As for the charges of balancing the budget and reining in Medicare, Medicaid and Social Security, Boehner steps back, saying that making lofty promises could invite problems. Meanwhile, Democrats accuse him of wanting to privatize Social Security and slash Medicare.
Of the deficit, he has said simply, "Let's make sure Americans understand how big the problem is. Then we can begin to talk about possible solutions."

GOP leaders 'humbled' by election

Obama: Power rests with people

Rubio: GOP wins just a second chance

President Haley Barbour in 2012?
Boehner, who assumed office in 1991, has been part of the GOP brass before, during a time when Americans were thirsty for change, no less. After he and other freshman representatives in the "Gang of Seven" took on scandals involving the House bank and congressional post office, Boehner was tapped to help craft then-Rep. Newt Gingrich & Co.'s "Contract with America" in 1994.
The contract, essentially a plan for the GOP should it become the House majority for the first time in 40 years (it did), stayed away from sticky issues like abortion, focusing instead on congressional accountability.
Once Gingrich became speaker, Boehner became the House GOP Conference chair, his first taste of leadership. The West Chester, Ohio, Republican later served in leadership positions in the House Administration Committee and the Committee on Education and the Workforce.
In 2006, Boehner became House majority leader after Tom DeLay was forced to step down amid an ethics scandal.
Though he regularly touts his headway in reforming Washington and claims to maintain personal "no earmark" and "no pork" policies, Boehner's opponents have painted him as feckless and accused him of being too cozy with lobbyists and of skirting the principles of open, bipartisan government.
Democrats have also been armed with sound bites each time the GOP leader launches one of his salvos.
Following a speech in which Boehner called government out of control and called on Obama to fire his economic advisers, House Speaker Nancy Pelosi responded that the GOP-controlled Congress for 12 years was marked by "an unprecedented number of abuses of power, a completely broken ethics process ... and countless deals with special interests behind closed doors."
A spokesman for Rep. Chris Van Hollen, who runs the House Democrats' campaign arm, scoffed at the idea of Boehner the Reformer.
"For 20 years, John Boehner has been in Washington caddying for powerful corporate special interests and working against middle class families," Doug Thornell said. "He rushed to support President Bush's Wall Street bailout, but when President Obama asked for his support for middle-class tax cuts, help for small businesses and aid for those most in need, he turned his back."
Though it's difficult to say whether Boehner and Obama can put the bitter partisanship that dominated this year's elections aside, Republicans believe he will run a tight ship in the House.
"He's awesome. I mean, he is America. One of 12 kids, worked in his daddy's bar ... What you see is what you get, and he will be able to run that place, like I said earlier, the likes of which we haven't seen since Tip O'Neill," said Republican strategist Mary Matalin. "He really is the real deal."
"[We] will be prepared to do things differently to take a new approach that hasn't been tried before in Washington -- by either party.
--House Minority Leader John Boehner
(A Democrat known for his candor and for clashing with President Carter and President Reagan, O'Neill was House speaker from 1977-1987).
A lifelong Ohioan, Boehner is quick to cite his humble beginnings mopping the floor of a bar named after his grandfather. He's boasted that he has "worked every crappy job that's out there" and met Debbie, his wife of 35 years, while working as a janitor to pay his way through Xavier College.
But he's also been president of a packaging and plastics company, a township trustee and an Ohio state legislator.
On a personal level, he's a smoker, a drinker and a golfer who seems perpetually tan. He also isn't afraid to show his emotional side -- whether he's barking, "Hell no!" on the health care bill or weeping as he urges his colleagues to vote for a war spending bill.
After Tuesday's elections -- in which he said Republicans could not celebrate with unemployment, the deficit and Congress' unsavory reputation looming -- Boehner was true to form.
Choking up after learning he would likely be minted speaker after his party took back the House, Boehner told a crowd he had spent his entire life chasing the American dream.
"Our new majority," he said, "will be prepared to do things differently, to take a new approach that hasn't been tried before in Washington -- by either party."
CNN's Deirdre Walsh and Dana Bash contributed to this report.
FOLLOW THIS TOPIC