Obama calls on Democrats to vote on Tuesday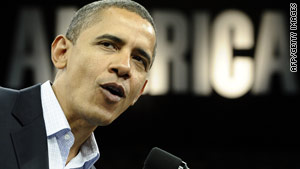 "There is no doubt that this is a difficult election," President Obama said Sunday.
STORY HIGHLIGHTS
The president delivers his final campaign speech for the congressional elections
Vice President Biden joins Obama at a rally at Cleveland State University
Obama says Republicans only focus on winning the next election, not helping the nation
Cleveland, Ohio (CNN) -- President Barack Obama on Sunday implored Democrats to get out and vote this week in his final campaign speech for the upcoming congressional elections.
With his party expected to lose seats in both chambers, and perhaps its House majority, Obama told a rally at Cleveland State University that the only way to ensure continued policies intended to help working-class Americans was to keep Democrats in power.
"There is no doubt that this is a difficult election," Obama said in acknowledging the tough political climate for Tuesday's voting for all 435 House seats and 37 of the 100 Senate seats, along with almost 40 gubernatorial races.
He told supporters to knock on the doors of neighbors, call friends and do whatever else they could to make sure people cast ballots Tuesday.
Both Obama and Vice President Joe Biden depicted the elections as a choice between Democrats wanting to move the country forward versus Republicans seeking to return to past policies that led to economic recession.
"When you get knocked down, there's only one thing to do. Get up. Get up and vote," Biden told the crowd, eliciting cheers. "Make sure the same thing doesn't knock you down again."
Obama heard a loud "Yes we can" chant reminiscent of his victorious 2008 campaign that drowned out a handful of presumed hecklers who were escorted out.

Video: Biden: Get up!

Video: Obama: We will win
He repeated criticism from his weekly radio address on Saturday that Republicans were focusing only on winning elections, rather than tackling the high unemployment and need for new jobs across the country.
"I guess they're feeling cocky, maybe," Obama said of recent comments by House Minority Leader John Boehner of Ohio and Senate Minority Leader Mitch McConnell of Kentucky that rejected compromise with Democrats and called defeating the president in 2012 a top priority.
In contrast, Obama said, his top priority since coming to power has been to help America's middle class regain the opportunity for prosperity that he said had disappeared in the past decade.
"The journey we began together was never just about putting a president in the White House," Obama said, adding that if everyone who voted for him in 2008 turns out to support Democratic candidates on Tuesday, "we will win."
FOLLOW THIS TOPIC


Part of complete coverage on

Which states helped to swing the House balance of power? See detailed results for ballot measures and races for House, Senate and governor.

See if polls matched up with election results. CNN's Polling Center offers comprehensive election data from national and state pollsters.

Now that the voting is over, who are this year's winners and losers? How will the new House and Senate change key issues that affect millions?

A snapshot of the nation's political pulse. See how participants measured up to our mobile iReport election challenge.

Get in-depth information about the issues that are most important to Americans and join the debate.

Keep up with the latest headlines in the aftermath of the 2010 midterm elections from the Best Political Team.


Most popular stories right now