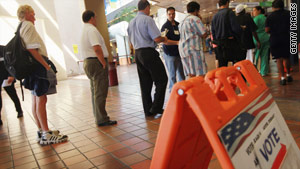 With just two days until the election, Republicans and Democrats are both hoping for big wins.
STORY HIGHLIGHTS
Politicians make final predictions for congressional elections
Polls and pundits predict big Republican gains
Democrats say early voting shows surprising support
Republicans try to avoid sounding over-confident
Washington (CNN) -- In what are either last-minute head games or reflections on a shifting electorate, Democrats are predicting better-than-expected results for their side while Republicans are downplaying the extent of their expected victory in Tuesday's congressional elections.
With less than 48 hours before polling booths open, the comments on Sunday talk shows stayed true to the anticipated Republican gains in both chambers of Congress but continued to differ widely on exact totals.
Republican National Committee Chairman Michael Steele was unwilling to project over-confidence, telling CNN's "State of the Union" program that even coming close to the 39 additional seats needed to win back majority control of the House would equal GOP success.
"If we get 39 seats and take the majority, that's success. If we get 37 seats, that's success," Steele said.
He noted that Republicans were considered damaged goods after Democrats won control of both congressional chambers and the White House in 2008, so to have come back all the way to a potential return to power on Tuesday was gratifying.
Still, Steele tried to sound modest in his expectations.
"I have told our folks around the country we're at 38 seats; now let's get to 39, and anything that we do that evening is going to be a great success, given where we started this journey a year and a half ago," he said.
Republican Sen. John Cornyn of Texas also tried to mute expectations of a GOP sweep by questioning if the party can win the 10 more Senate seats necessary to reclaim the majority in that chamber this election.
"I'm not predicting that we will get the majority this cycle," Cornyn said on the ABC program "This Week." "I think it probably is going to take two cycles, but there is certainly a potential there, depending on just how high and how broad this wave election is."
On the other side, Democratic National Committee Chairman Tim Kaine said he expects some losses, but not enough to give up majority control of either the House or Senate.

Video: Sound of Sunday with Candy Crowley

Video: Democrats' closing argument

Video: What does GOP want from the election?
"I believe that we'll hold on to both (chambers) but the margins will get narrower, because America isn't a 59-41 nation," Kaine told the NBC program "Meet the Press," referring to the current breakdown of Senate seats by party.
Other Democrats expressed similar optimism, with Rep. Chris Van Hollen of Maryland predicting the party would retain its House majority and Pennsylvania Gov. Ed Rendell expecting major surprises.
"I think all these Washington pundits are going to be surprised," Van Hollen told "Fox News Sunday." "I believe Democrats are going to hold onto the House."
Although he said he is not "acting as if everything is great," his optimism stems from what he said was strong Democratic support in early balloting.
"The early vote indicates that, and all these independent voters that pundits said are going to vote two-to-one for Republicans -- it's not happening," Van Hollen said.
He also said the early voters were "doing what voters should do, which is finally taking a very close look at where these Republican candidates stand on the issues, and they don't like what they see."
Rendell told the CBS program "Face the Nation" that he sensed a "Democratic undertow" against the expected Republican wave on election day.
"I think there's going to be some surprises," Rendell said, citing anticipated strong turnout by minority voters who traditionally support Democrats. "I'm not saying we're necessarily going to hang onto the House, but there are going to be some surprises."
Asked how the Democratic support from two years ago had eroded so quickly, Rendell blamed "a lousy job of communicating" the administration's steps to prevent a depression and stabilize the economy.
"We let the Republicans, to their credit, out-spin us," Rendell said, "and we're paying the price."
However, former Reagan administration Education Secretary William Bennett, now a CNN political contributor, predicted a Republican sweep with the GOP winning 70 more House seats as well as 10 additional Senate seats to control both chambers.
Bennett challenged Rendell's assessment of the political shift since 2008, saying he hoped Democrats "persevere in this belief that it's just the packaging."
"It's not," Bennett told the CNN program. "It's the policy. I think that some of the things they did were wrong and I think they did it in the wrong way and the wrong kind of message."
For example, he said, health care reform was an issue that needed addressing, but not in the dominating way of the Obama administration.
"This was not the No. 1 priority," Bennett said. "It took an awful lot of time. It took an awful lot of political capital."
Minnesota Gov. Tim Pawlenty, considered a possible GOP presidential candidate in 2012, also said the Democrats took the direction of expanding government, while Republican calls for smaller government and reduced spending resonate more with the American people.
"It's two very different world views, and frankly the American people have heard those arguments and they're saying through this election, as you'll see on Tuesday, we agree with the Republicans on this one," Pawlenty told the CBS program.
Former Alaska Gov. Sarah Palin, a hero of the conservative Tea Party movement that both bolstered and roiled Republican politics in the campaign, said the message Tuesday will be "you blew it, President Obama."
"They're going to say we gave you two years to get the economy rolling in the right direction," Palin said on the Fox program, adding that she believed the situation in the nation was "getting worse."
Sen. Dick Durbin of Illinois acknowledged on the CNN program that his party will suffer losses, but he was unwilling to predict a Republican landslide that many pundits anticipate.
"Of course we'll lose some seats in the Senate and in the House. That's what history tells us," Durbin said in reference to traditional gains by the part out of power in mid-term elections.
At the same time, Durbin noted polls show equal or greater public dissatisfaction with Republicans compared to Democrats, adding that voters were realizing the GOP message for the elections was merely: "We are not Democrats."
In the end, Durbin said, Democrats "can learn lessons and we have learned lessons, but in terms of the basic principles, I think we are moving America in the right direction."
CNN's Gabriella Schwarz contributed to this story.
FOLLOW THIS TOPIC