Reliable Sources: Stewart rally a turning point or entertainment?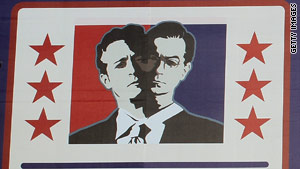 The Rally to Restore Sanity is billed as nonpolitical, but the left has embraced it.
STORY HIGHLIGHTS
"Reliable Sources" host Howard Kurtz will attend sanity rally
Hosts know how to walk tightrope between social commentary, humor, he says
Kurtz: Stewart's aggressive interview with President Obama shows he can work both sides
President Carter will also appear on Sunday's show
Editor's note: Howard Kurtz is host of CNN's weekly Sunday morning program "Reliable Sources," which turns a critical lens on the media. It airs at 11 a.m. ET Sundays. Kurtz is Washington bureau chief for The Daily Beast. He previously covered urban affairs, the Justice Department and Capitol Hill for the Washington Post and was the paper's New York bureau chief. He has covered the media since 1990.
Washington (CNN) -- There are times when a journalist must gather his strength, brave the elements, go out and feel and touch the story at hand.
Thus I will be at the Jon Stewart rally on Saturday, looking for signs of sanity.
I want to see for myself whether this is a turning point for the much-maligned middle, or just an outdoor entertainment show.
I've been a little amused at the naysayers who say Stewart and Stephen Colbert are sacrificing their comedic cred in favor of earnest activism. Well, maybe. But these guys long ago learned how to walk the tightrope between biting social commentary and getting laughs.
In the wake of Colbert testifying on Capitol Hill, there's a risk that they will come to seem too serious, or a bit too full of themselves. And if so, I'll call them on it. If I'm going to camp out on the National Mall for a few hours, I don't want dullness.

Video: 'Rally was a high wire act'

Video: Rally attendees show signs of sanity

Video: Rally delivers message with humor

Video: Stewart, Colbert wrap up rally
Stewart has remained in a media bubble, but he told New York magazine: "Yeah, it's a little more dangerous. I don't know that it's activist as much as it would be cathartic. Just sending out a little message: There are other people like you who think things are a little extreme. It's not, 'You must vote Democratic, you must vote Republican.' It's not legalize pot or any of that kind of stuff. I still think as long as we do it and make it funny and satirical, we'll be okay. Though I could be kidding myself."
Anyone who saw Stewart's surprisingly aggressive sit-down with President Obama the other day knows he can work both sides of the street. By speaking as the voice of disappointed liberalism, not some neutral anchor, he had Obama on the defensive.
And make no mistake, the rally may be nonpolitical, but the left has embraced it. James Carville told me it could give depressed Democrats a morale boost. And the proprietor of the liberal Huffington Post is dropping a quarter of a million bucks on busing people to the rally.
That's why Arianna Huffington will be our leadoff guest on Sunday, followed by radio host Michael Medved and The Washington Post's Paul Farhi.
We'll also talk midterm madness with the Daily Beast's John Avlon, National Review's Jim Geraghty and the Washington Examiner's Julie Mason.
Plus a special guest with a bit of experience in media and politics: President Carter.