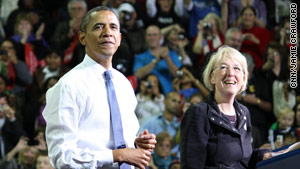 President Obama campaigned for Democrats during a four-day trip out West.
STORY HIGHLIGHTS
President Obama campaigned for Democrats during a four-day trip out West
Many have wondered whether Obama has lost a step, Ed Henry says
Big crowds that were a trademark of Obama campaign returned
However, majority in crowd said they hadn't mailed in early election ballots
Ed Henry has covered the White House for CNN since March 2006. In "Henry in the House," he offers an insider's view of the Obama White House.
Las Vegas, Nevada (CNN) -- This is a city that loves a great prizefight, and Sen. Harry Reid used to be a boxer, so it was inevitable at a big rally here Friday night that President Obama would cast his friend as the fighter who's about to get off the canvas and deliver an unexpected win.
But my takeaway from spending several days out West with the president this week is that he's the one who appears to be back in fighting shape. And that may be the best news Democrats have gotten in months.
Too often over the course of the past two years, Obama has had to deal with the same whispers that an aging prizefighter has to deal with: Quite simply, has he lost a step?
Even some people in the president's own party have privately wondered aloud to reporters about what happened to the guy who seemed so effortless in the arena back in 2008. How could someone who came out of obscurity to connect with millions of people suddenly seem so aloof and disconnected from the public?
But I saw quite the opposite out on the road with the president over the past few days. In city after city, from Portland, Oregon, to the City of Sin, the same scene played out.
Obama would come jogging down the steps of Air Force One like he was charging into the ring, and then he'd do the usual grip and grin with a series of local dignitaries. And then he would shake up his usual routine.
Usually when we travel with the president, he tends to skip the rope line of average folks waiting for a glimpse of him on the tarmac. Instead he typically gets right into his vehicle, the half-limo/half-SUV known as "The Beast," to ride off to the next event on his schedule.
But I rode Air Force One from Washington to Portland on Wednesday night, and as I stood just a few feet away from the president on the tarmac I noticed an interesting scene play out. The Secret Service agents, used to the routine, had The Beast warming up and the back door open so Obama could hop in.
But this time Obama decided to spring toward the rope line to shake some hands. It was comical to see the quizzical looks on the faces of some of the Secret Service agents, as they suddenly shut the open door on the car and rolled up closer to the rope line to pick up the president. Obama was in no hurry -- he was shaking hands, letting people snap photos, signing autographs, you name it. Basically he was getting back into the type of retail politics we haven't seen from him since 2008, which included a stop Thursday at Top Pot Doughnuts on 5th Avenue in Seattle, Washington.
And out here on the road, something else returned from 2008. The big crowds that were a trademark of the grassroots Obama campaign that shocked the world just two years ago.
There was a sea of people outside a middle school here on Friday night as Obama tried to rescue Reid from the embarrassment of being the second Senate Majority Leader in just six years to be bounced from office.
This rally came just hours after an even larger one in Los Angeles, California, where Obama drew an estimated crowd of 37,500 to help save Sen. Barbara Boxer of California. The day before it was 13,000 at a rally for embattled Washington Sen. Patty Murray in Seattle.
There seems to be no doubt that Obama getting more engaged in the final days is helping to close the "enthusiasm gap" with Republicans that pundits have been obsessing over for months.
But before Democrats get too giddy, they need to know about a warning sign I noticed at the rally the president held in Portland on Wednesday, the first night of this four-day campaign swing.
It came when he started exhorting the large crowd in Oregon, an early voting state, "We need you all to mail in your ballots. Now. Mail them in!"
There was applause and everything seemed to be going well for Obama, until he asked for a show of hands.
"Who hasn't mailed in their ballots yet?" Obama asked. "Fess up."
The surprise to me was that I swear 70 percent or 80 percent of the hands in the room went up in the air. Here was a partisan pro-Obama crowd, turning out to support his effort to help local candidates, and yet a huge majority of them were not even motivated enough to mail in their ballots yet?
It made me wonder whether some of these folks are merely showing up to see the president in city after city for the coolness factor. But will they bother to show up to vote for Democrats on Nov. 2 or mail in an early ballot?
The same thought seemed to be going through the president's head.
"Come on, guys," Obama said. "Let's go. Let's go."
It was the kind of surprise punch that could stagger a president who had been feeling pretty good.
But just then a person in the front row felt bad and shouted up to the president, using the excuse that the ballot had literally just arrived in the mail that day.
"You just got it?" Obama asked. "All right, well, go tomorrow then" and mail it in, he said to applause.
Maybe he's proving then that he can take a punch after all. But can he deliver enough of his supporters to the polls to prevent a dramatic Republican takeover of Congress?
That would be the knockout punch Republicans are not expecting.