Should Juan Williams' remarks have cost him his job?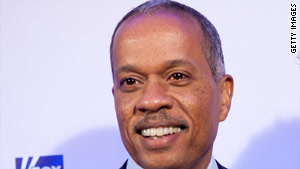 Juan Williams was fired by NPR for comments he made about Muslims.
STORY HIGHLIGHTS
Howard Kurtz is the host of CNN's "Reliable Sources" on Sundays
NPR fired Juan Williams after he admitted he gets nervous seeing Muslims on his plane
Other high-profile journalists have been fired recently for expressing opinions
Kurtz: Decision to dump Williams has as much to do with Fox News connection as statements
Editor's note: Howard Kurtz is host of CNN's weekly Sunday morning program "Reliable Sources," which turns a critical lens on the media. It airs at 11 a.m. ET Sundays. Kurtz is Washington bureau chief for The Daily Beast, and previously covered urban affairs, the Justice Department and Capitol Hill for the Washington Post and was the paper's New York bureau chief. He has covered the media since 1990.
(CNN) -- It's a cottage industry lately. One week we led with CNN President Jon Klein being relieved of his duties. Another week it was Rick Sanchez getting the boot for his remarks about Jews.
On Sunday, we'll look at NPR's decision to ax Juan Williams over remarks about Muslims that he made on Fox News.
This is not shaping up as a left-right slugfest. While Fox has practically declared war on National Public Radio, many liberals from Salon editor Joan Walsh to CNN contributor Donna Brazile to Whoopi Goldberg of "The View" criticized the radio network for axing Williams. It didn't help that NPR chief executive Vivian Schiller suggested he was seeing a psychiatrist. She later apologized.
I've known Juan since he was at The Washington Post, and his unpredictable views have a tendency to tick people off. He's an African-American who got roasted by the liberal black community for backing Clarence Thomas against Anita Hill's allegations.

Video: Was Juan Williams firing justified?
The decision to dump Williams, in my view, has as much to do with his Fox News connection as his admission that he gets nervous when he sees people in Muslim garb on his plane. I find those remarks unsettling, but do they constitute a firing offense? We'll tackle that question with the Chicago Tribune's Clarence Page, CBS's Chip Reid and commentator S.E. Cupp. We'll also discuss the latest tensions between Republican candidates and the press.
I'll also have a wide-ranging conversation about politics and culture with New York Times columnist Frank Rich. Plus, how did Jon Stewart land President Obama as a guest, and is his upcoming Washington rally an appeal to moderation or sheer entertainment? Time magazine critic James Poniewozik will join that discussion. That's the lineup -- at least, if no one gets fired between now and Sunday morning.
FOLLOW THIS TOPIC