Republicans upset over Connecticut move to limit WWE gear at the polls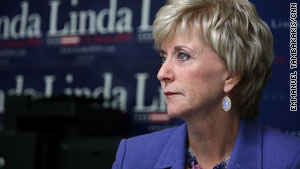 Republican Senate candidate Linda McMahon left her job as chief executive of WWE to run for office.
STORY HIGHLIGHTS
A Republican Senate candidate is a former pro-wrestling executive
Political campaigning is prohibited within 75 feet of polling places
WWE chairman says the move would deny fans the right to vote
(CNN) -- Republicans lashed out Friday after the Connecticut secretary of state said poll workers would have the right to ask voters wearing World Wrestling Entertainment merchandise to cover up because it could be considered campaigning.
Republican Senate candidate Linda McMahon left her job as chief executive of WWE to run for office. And a spokesman for Secretary of State Susan Bysiewicz said McMahon is so closely associated with the organization that wrestling garb could easily be construed as political advertising.
"It's not that much of an inconvenience in the few minutes that you're voting that you don't serve as an advertisement for somebody'spolitical campaign," said Av Harris, a spokesman for Bysiewicz.
Campaigning within 75 feet of polling places places is illegal under Connecticut law.
State Republicans reacted angrily to the news, releasing a statement entitled: "Bysiewicz Loses Mind; Clothing Ban Has No Merit."
"There is nothing to suggest that any other clothing, where it's promoting NASCAR, a brewery or a college, should inhibit or inconvenience someone from casting their vote. And Bysiewicz knows at outright ban would be challenged quickly in the courts and overturned," the statement said.
"On what grounds does Bysiewicz base this ridiculous act of voter intimidation?" asked Republican State Party Chairman Chris Healy.
The WWE also weighed in.
"Denying our fans the right to vote, denying them their First Amendment rights, regardless if they are Democrat, Republican or Independent, is un-American, unconstitutional and blatantly discriminatory," said Vince McMahon, chairman and chief executive of WWE. He is Linda McMahon's husband.
Linda McMahon is competing against longtime Democratic state Attorney General Richard Blumenthal for the right to returning Democratic Sen. Chris Dodd's seat. Dodd, who was first elected to the Senate in 1980, announced earlier this year he would not seek another term in office.
Blumenthal maintains a double-digit lead over McMahon, according to a poll released by Quinnipiac University earlier this month.