STORY HIGHLIGHTS
President Obama recently campaigned for Ohio Gov. Ted Strickland
This year, who's elected governor may also alter which party controls the House
The reason: Every 10 years, the states redraw House district lines
Watch Florida Senate candidates debate on "State of the Union" at 9 a.m. ET Sunday on CNN
Editor's note: In "The Sweep," CNN dives deep into issues that are making news and explores why they're in the headlines.
Columbus, Ohio (CNN) -- When President Obama flew into Columbus, Ohio, this past Sunday, party organizers turned out a crowd of 35,000 people, the largest gathering he'd addressed since his inauguration.
It was Obama's 11th trip to the state since becoming president and the only political rally to which he brought his top draw -- Michelle Obama.
Onstage, the president told the crowd, "We're mainly here for this guy," gesturing to Democratic Gov. Ted Strickland, who is down in the polls and in danger of defeat. Obama didn't just ask, he pleaded: "I implore you" to re-elect Strickland.
It's no secret the White House is working hard to hold the House and Senate, but why pull out all the stops for a governor's race?
Explore the 2010 gubernatorial races
Republican landslide?
Obama's attention is a measure of the outsized influence that this year's 37 governors' races will have on presidential politics, congressional power and policy over the next decade. Nathan Daschle of the Democratic Governors Association calls them "the main event in 2010" because governors will be "the central element defining the political landscape for the next decade."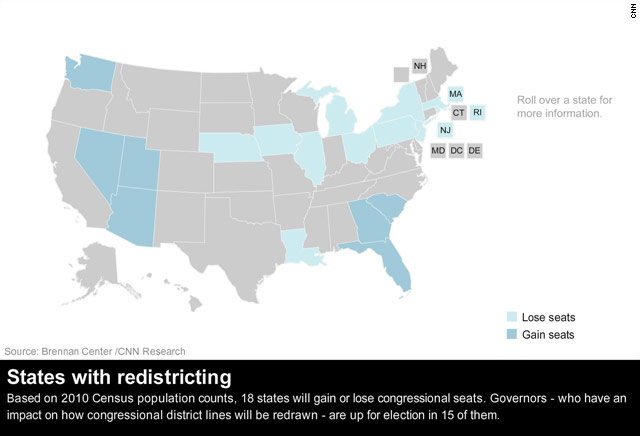 States with Redistricting
If the pollsters are right, Republicans are poised to sweep into power in statehouses across the nation. According to the latest analysis by political prognosticator Charlie Cook, 13 seats currently held by Democrats are considered tossups or leaning Republican. Only nine Republican seats are in danger of flipping to Democratic control.
Presidential politics
Top Republican strategists are salivating over the map. Among the states in which Democrats are in danger of losing governors' mansions are some key presidential battlegrounds. These include Pennsylvania, Michigan, Ohio, Iowa, Illinois, Nevada, New Hampshire, Wisconsin and New Mexico.
Democrats are trailing badly in Ohio and Pennsylvania. The only true swing state in which the Republican faces a tossup race is Florida.
Nick Ayers, executive director of the Republican Governors Association, says that the smartest way to "put ourselves in a better and stronger position to put us back into power in 2012 is to win governors' races in swing states."
By his analysis, "If we win back the governor's seat in five or six of these states, it creates an electoral map scenario that would make it very difficult for the president to get re-elected."
The DGA's Daschle agrees that "Who you have in the governor's mansion is a critical factor in which way a state will go in a presidential election." But he sees the math differently, emphasizing, "If we can win the races in Ohio, Pennsylvania and Florida, we can lay down the foundation for President Obama's re-election."
Redistricting
This year, who's elected governor could also decide which party controls the House of Representatives for the next decade, because every 10 years, the states redraw House district lines. In most cases, state legislatures draw the lines and governors have the power to approve or veto that map.
Based on current estimates, 18 states will soon begin redistricting, and of those, 15 have governors' races.
"This is setting the table on the elections for the next decade," says Michael McDonald, a redistricting expert with George Mason University. The way states draw those districts "can tilt that table one way or another," determining if they "will be more likely to elect Democrats or Republicans for the entire decade."
So one way to control the U.S. House is to control the statehouse and governor's mansion. Democrats are tied or behind in six governors' races in states that face redistricting.
That's one reason the Republican Governors Association raised a record $59 million this year.
The RGA's Ayers lays out this scenario for donors. First, he warns, "Republicans could win the House of Representatives, but by any prognostication, it will be a slim majority."
He predicts redistricting "could switch which party controls 15 to 20 seats in the U.S. House of Representatives." And that means if Republicans win the House but lose key governors' races, "Democrats could literally draw themselves back into power."
His pitch to Republicans: "The only way to prevent Democrats from controlling an unfair process is to win the governors' seats where redistricting is up."
Ohio is a case in point. This state is likely to lose two congressional seats, and the governor has a say in which party will feel that pain. Republican gubernatorial candidate John Kasich tells CNN, "I am very well aware of the impact that a governor can have. And you know we'll assert ourselves." He adds that the process will be "fair."
But Strickland is skeptical that fairness will be the first concern, saying if Republicans sweep the governors' races, "those lines would be drawn to favor Republicans, and that would have a 10-year impact."
Laboratory for ideas
Ask the White House why Obama has spent so much time campaigning for gubernatorial candidates, and the talk isn't about redistricting or presidential politics -- it's about ideas.
White House Communications Director Dan Pfeiffer argues that these races are "critically important" because "the statehouses are often the policy laboratories for the parties." Like or loathe them, many of the elements for modern health care, welfare and education reforms started with state-level programs.
The RGA's Ayers said states offer Republicans perhaps their best opportunity to flex policy muscle. He says that in the absence of controlling Congress or the White House, "the only opportunity to propose, not oppose, is at the state level" and adds that if Republicans control the governors' seats, they can "prove that Republican policies work and we're not just selling a catchphrase or a slogan."
Kasich offers an example: "I think we need to repeal Obamacare, but we need to replace it." And as governor, he could develop alternate state-based health care policies. Like his party's leaders, Kasich believes that the recession and the nation's sour view of Washington mean governors "are going to be a lot more assertive in terms of getting their power back from the federal government."
His opponent, Strickland, warns that if Kasich is elected, he'll turn back energy policy that's helped develop a green economy, return $400 million in federal aid for passenger rail and, perhaps, reject millions of dollars in health care funding. "So these are major, major differences," Strickland says.
Ohio the firewall
One thing Democrats and Republicans seem to agree on: Ohio could be the key to the 2012 presidential election. Strickland says that if he loses, Obama's prospect of winning here in 2012 "will be very difficult." So his team is hard at work.
Doug Kelly, executive director of the Ohio Democratic Party, and his team this week held a get-out-the-vote training session for 300 volunteers. He says the organization has been "on a two-year mission" to hold on to the governor's mansion and deliver Ohio to Obama in 2012.
According to Kelly, Strickland "rebuilt the state party focused on winning elections year after year" and, "We're not really like any other state party. We're the second-largest Democratic political committee in the country, second only to the DNC."
He has 300 people on staff and 150 field organizers. The DNC gave his group $1.3 million --- more than any other state party. The bottom line for Kelly: "If we can hold on to Ohio, we can create a firewall for President Obama. He can lose all other eight states he flipped [from the Republican column,] but if he holds Ohio, he can win with exactly 270 [electoral] votes."
It may not be enough. A new Quinnipiac poll, out this week, shows Strickland trailing his Republican opponent by 10 points. The campaign disputes the poll's methodology and implores prognosticators to take into account the party's massive effort to get out the Democratic vote. But here's another number that can't sit well with Democrats: The same poll clocks Obama's disapproval rating in Ohio at 56 percent.
Republicans like that story line.
Strickland's opponent Kasich says the governor's race is "ground zero" for a Republican wave and insists the race is "a referendum on the presidency."
Strickland isn't looking at the polls but is convinced that the pundits are wrong: "I am going to win, and that is going to be a surprise to a lot of people who assumed Ohio was going to be in the Republican column this year."
Whichever way it goes, Ohio --- like many of these races across the country -- could determine much more than who sleeps in the governor's mansion.
FOLLOW THIS TOPIC