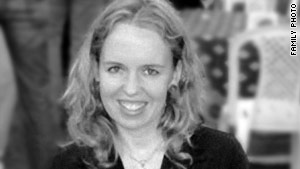 The October 8 death of Linda Norgrove sparked discussion about aid worker safety in conflict zones.
STORY HIGHLIGHTS
Death of British aid worker has fueled discord between the U.S., aid organizations
Conflict is between long-term development goals and a desire to make immediate impact
United States is making a concerted effort to "brand" its assistance in Pakistan
Editor's note: Since becoming State Department producer in 2000, Elise Labott has covered four secretaries of state and reported from more than 50 countries. Before joining CNN, she covered the United Nations. Follow her on Twitter at @eliselabottcnn.
Washington (CNN) -- The death this month of British aid worker Linda Norgrove in Afghanistan and the subsequent discussion about aid worker safety have fueled a row between the United States and nongovernmental organizations about how to deliver aid and do development work in conflict zones like Afghanistan and Pakistan.
There has always been some tension in the relationship between the United States and American aid groups that work around the world, often on Washington's behalf. But the tripling of the U.S. civilian presence in the region has pitted aid workers trying to encourage long-term development against U.S. officials hoping to make an immediate impact before the United States begins to withdraw its troops next July.
The U.S. counterinsurgency strategy, known as COIN, includes a robust effort to help rebuild communities secured by the military. That effort is led by provincial reconstruction teams, or PRTs. In addition to protecting population centers, the goal is to help the Afghan government gain the confidence of the country's people with aid projects designed to improve their quality of life.
The PRTs usually comprise State Department and USAID officials, as well as technical experts, working within the protection of the military. There are 26 PRTs working in Afghanistan. It's a departure from the typical "face" of aid and how it is delivered.
NGOs have been operating in Afghanistan for more than 30 years with minimal protection from armed security guards. They are not getting security from "deterrence," but rather from the acceptance of the local population, which helps protect them and advises about the security situation.
In areas of Afghanistan still rife with insurgent activity, NGOs lament that the distinction between them and the military is being blurred, hindering their ability to develop critical trust from the community. The United States has generally left decisions about security up to the aid groups. But in some areas, these aid groups simply can't function without security and must work closely with the PRTs.
U.S. officials appreciate the dilemma but are put on the defensive when aid groups that have eschewed protection from PRTs then complain that the United States is not taking adequate measures to protect them.
"These contractors say they can get out there and take greater risks because they know the community and can get around, and that is what they are selling," one official said. "You can't make the horse drink the water."
Even when a local community supports an NGO, there is no guarantee against attack by insurgent groups or criminal gangs. So NGOs now assess whether it's safe to operate -- sometimes on a daily basis -- based on local intelligence.
NGOs call this a "humanitarian space," where development groups can develop the trust of the local population that will keep them safe as they serve the community. Since militants around the world have declared open season on aid workers, that space is shrinking. NGOs worry that a creeping militarization of aid because of the COIN strategy is further eroding that space.
Last month, CNN Foreign Affairs Correspondent Jill Dougherty and I traveled to Afghanistan, where we spent a week embedded with U.S. PRTs and saw dozens of projects aimed at improving the lives of ordinary Afghans.
We were inspired by what we saw: Afghan women learning painting and carpentry so they could join the workforce; farmers learning how to improve their crops to sell them in Pakistan, India or Dubai.
The U.S. civilians we traveled with proudly told us that these projects were developed with local officials and community leaders, based on the needs of the local people. This was COIN at work.
But U.S. officials acknowledge they are under tremendous pressure to show results by next July, when U.S. troops are scheduled to start withdrawing. And development groups say that while necessary and certainly helpful, the focus on "quick impact" projects puts the U.S.'s COIN strategy at odds with long-term development and risks alienating the very people it's designed to help.
The communities we saw in Wardak, Kunar, Nangahar, Kandahar and Herat provinces were proud of what they were able to accomplish. And they were grateful to the United States for the opportunity.
But a group called InterAction, an alliance of 200 U.S.-based aid groups, is concerned that such help doesn't engage communities.
"Communities are proud of what they are able to do and are grateful when help comes on their terms, because it comes with a respect for them," said InterAction President Sam Worthington. "The challenge is when help comes rapidly at someone else's terms and that could put the community at a bind."
Worthington points to the example of schools popping up across Afghanistan. Clearly there is a need for more schools as more Afghan children are able to attend class.
"OK, so you have a school, do you have a parent teacher association? Let's make sure there are enough teachers being brought in, let's get the community involved with the curriculum. By the time the school is built, it's not a gift. It's built by the community," he says.
That sense of involvement and accountability comes from shaping and managing the project and making it an "Afghan" school, or hospital or whatever it is. InterAction says that takes more time than the COIN strategy can provide.
U.S. officials say they are grappling with this issue and hope the increase in civilians on the ground will address the need for more long-term projects. But they are also, frankly, a little annoyed at the blanket criticism, considering that some NGOs being paid under USAID contracts advertise themselves as a critical link between government and community over the long haul.
U.S. officials also say that the choice between short-term projects and long-term development is a false one. Both are necessary. In several provinces in eastern and southern Afghanistan -- Taliban strongholds where the U.S. COIN efforts are focused -- the kind of long-term development the aid community is looking for might not be possible right now.
"If we focused only on long-term development, we wouldn't be in the south at all," one official said. "In some areas, these short-term projects are all we are able to do. We can't leave these people completely on their own."
Aid groups are also facing a rocky road in Pakistan, where the United States is making a concerted effort to "brand" its considerable assistance.
In 2009, the United States approved $7.5 billion in assistance to Pakistan over the next five years. On top of that, Washington has given hundreds of millions of dollars in aid to the Pakistani people after the summer's devastating floods.
While generous, the United States is not selfless. Understandably, when Washington sends billions of dollars in life-saving aid, it wants the Pakistanis to know it was made possible because of the generosity of the American people. And hopefully, that will help in the battle for hearts and minds.
We've all seen pictures on television of sacks of aid being delivered bearing the USAID symbol during humanitarian disasters. That symbol means survival for millions of people suffering around the world.
But now, every food and medical distribution center, tent or vehicle paid for by the United States, except in some select areas, must be clearly labeled as a "gift from the American people." To aid groups facing daily intimidation and the risk of abduction by militants, that's like putting a big target on their backs.
Groups that asked the U.S. to dial down the branding were unhappy when Secretary of State Hillary Clinton suggested that some NGOs were too "afraid to have association with the U.S. government" while distributing aid throughout Pakistan. In turn, a Washington Post op-ed by Sam Worthington that said the branding strategy made the work of aid groups "harder and more dangerous" rumpled more than a few feathers among officials, themselves often working in hostile environments to improve the lives of Pakistanis.
The challenge the United States must address is how to accomplish both goals: support the ability of aid groups to function in a conflict environment and ensure that Pakistanis know who is helping them.
In Afghanistan and Pakistan, the Catch-22 for the United States is that it wants quick results, but the population must be confident the United States will be engaged for the long term, a promise it hasn't really made with much conviction in the past.
NGOs have a different dilemma: maintaining their independence and neutrality amid a high-octane combat environment, and safeguarding their reputation for the day when the PRTs are no longer on the ground.
FOLLOW THIS TOPIC