Reliable Sources: Does political coverage focus too much on the wacky?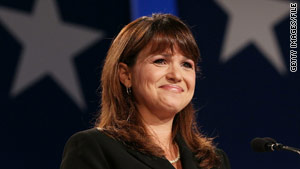 Christine O'Donnell has received extensive media coverage but is trailing in polling for Delaware's Senate seat.
STORY HIGHLIGHTS
Howard Kurtz is the host of CNN's "Reliable Sources" on Sundays

Kurtz asks, "Do the media just focus on the wild, the wacky and the entertaining?"

Why do Carl Paladino and Christine O'Donnell get so much media attention? Kurtz asks

Sunday's program also takes a look at "The Social Network" movie, Brett Favre scandal

Editor's note: Howard Kurtz is host of CNN's weekly Sunday morning program "Reliable Sources," which turns a critical lens on the media. It airs at 11 a.m. ET Sundays. Kurtz is media reporter for The Washington Post and has covered urban affairs, the Justice Department and Capitol Hill, and has been the paper's New York bureau chief. He has covered the media since 1990.
(CNN) -- As a native New Yorker, I've watched plenty of rough-and-tumble political races that aren't exactly conducted by Marquess of Queensbury rules. Who among us can forget when Al D'Amato called Chuck Schumer a "putz-head"?
But I've never seen anything like this governor's race. Carl Paladino, the rough-hewn Buffalo businessman and surprise Republican nominee against Andrew Cuomo, has lobbed a number of hand grenades, some of which have exploded near his feet.
If you've acknowledged fathering a daughter out of wedlock, it's probably not the best idea to accuse your opponent of infidelity -- without evidence -- then promise to lay off the subject, then do it again. It may not be the wisest political strategy to denounce your opponent for marching in a gay pride parade and complain about homosexuals being brainwashed. And that's without getting into the racist and pornographic e-mails that Paladino forwarded.
But here's the question: Whatever his merits as a potential governor, Paladino has little chance of winning. So why is he getting so much media attention?
The same might be asked of Christine O'Donnell, she of the viral videos featuring her pronouncements on evolution, masturbation and witchcraft. The Delaware Republican is the latest star on "Saturday Night Live," but she's trailing rival Chris Coons by roughly 20 percentage points. Do the media just focus on the wild, the wacky and the entertaining? We'll explore that question with Thomas Frank and Amy Holmes.
Also on the menu: Can you think of a recent movie that's generated more debate than "The Social Network"? I talk with screenwriter Aaron Sorkin about how much of the Facebook film is fact and how much fiction.
I've also taped a fascinating conversation with Nicholas Negroponte, the founder of MIT's Media Lab, about the role of technology in our lives and whether books -- you know, the physical kind printed on paper -- are on the way out.
Finally, everyone must know by now about Brett Favre and the "sexting" allegations involving a New York Jets staffer (and former Maxim model).
Those accusations -- complete with X-rated pictures -- began on the snarky sports blog Deadspin. The site's editor, A.J. Daulerio, will defend his handling of the seamy story. Can't wait to tackle that one.
FOLLOW THIS TOPIC


Part of complete coverage on

Which states helped to swing the House balance of power? See detailed results for ballot measures and races for House, Senate and governor.

See if polls matched up with election results. CNN's Polling Center offers comprehensive election data from national and state pollsters.

Now that the voting is over, who are this year's winners and losers? How will the new House and Senate change key issues that affect millions?

A snapshot of the nation's political pulse. See how participants measured up to our mobile iReport election challenge.

Get in-depth information about the issues that are most important to Americans and join the debate.

Keep up with the latest headlines in the aftermath of the 2010 midterm elections from the Best Political Team.


Most popular stories right now