Axelrod hopes GOP gains will bring cooperation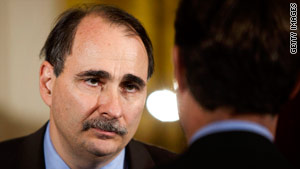 White House senior advisor David Axelrod said Sunday that he hoped GOP gains would translate to greater cooperation.
STORY HIGHLIGHTS
White House adviser won't concede loss of congressional majorities
Republicans have only obstructed so far, Axelrod says
Gillespie says cooperation only certain on spending cuts
Washington (CNN) -- White House senior adviser David Axelrod is looking for a silver lining in expected Democratic losses in November's congressional elections.
While saying he thought his party would retain its majority in both the House and Senate in the November 2 voting, Axelrod told the CBS program "Face The Nation" that that he hoped Republican gains would bring more cooperation.
He accused Republicans of deliberate obstruction as a political strategy since President Barack Obama took office last year with majorities in both the House and Senate.
"The posture of the Republican Party from the moment we got here has been basically to deprive the president of bipartisan support so they could accuse him of not being bipartisan," Axelrod said.
"So I'm hoping that with more seats, the Republicans will feel a greater sense of responsibility to work with us to solve some of these problems," he said.
Former Republican National Committee chairman Ed Gillespie indicated a continued GOP hard-line stance on spending issues.
"I think there will be areas where there's cooperation and areas where there's opposition," Gillespie said on the same program. "Look, the Republicans, if they take control of the House and get very close in the Senate, are going to try to put the brakes on all this reckless spending."
Gillespie said "common ground" was possible on a few issues such as free trade agreements, but maintained his focus on spending controls.
"If they can find some areas where you can get spending restraint with this administration, Republicans would be happy to go along with that," he said.
FOLLOW THIS TOPIC