Reliable Sources: Woodward knows how to close the deal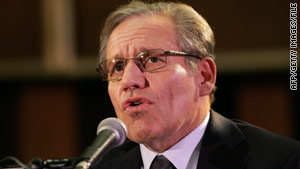 The Washington Post's Bob Woodward tackles a new administration with his latest book, "Obama's Wars."
STORY HIGHLIGHTS
Howard Kurtz is the host of CNN's "Reliable Sources" on Sundays

Bob Woodward will be on hand to discuss his new book, "Obama's Wars"

Program will look at audiotape leak of Sharron Angle meeting with Tea Party candidate
Editor's note: Howard Kurtz is host of CNN's weekly Sunday morning program "Reliable Sources," which turns a critical lens on the media. It airs at 11 a.m. ET Sundays. Kurtz is media reporter for The Washington Post and has covered urban affairs, the Justice Department and Capitol Hill, and has been the paper's New York bureau chief. He has covered the media since 1990.
(CNN) -- Twenty-nine years ago, Bob Woodward took me to lunch at a fancy Washington eatery. He was trying to talk me into a job.
By the time the plates were cleared, he had me. For good measure, he pleaded with me again on the walk back. The man knows how to close a deal.
My newspaper, The Washington Star, had just folded, and I was sifting through job offers (including one from a local TV station whose news director was more concerned with my need to lose weight). Woodward, the metro editor of The Washington Post, wanted me to join his staff.
I worked directly for Woodward on an investigative unit, dubbed the SWAT Team, for about a year. Since then, I've interviewed him many times about various controversies and sometimes written critically about him, especially when he failed to disclose his role in the Valerie Plame affair.
On "Reliable Sources," we'll go at it again over his new book, "Obama's Wars." It's been fascinating to see him tackle a new administration after four Bush-at-war books and to watch the media coverage of his narrative about the behind-the-scenes battle over the Afghan war.
We'll also look at the leaking of that audiotape of Nevada Senate GOP nominee Sharron Angle meeting with a Tea Party candidate and ask Las Vegas Sun columnist Jon Ralston about his decision to publish it.
Have you vowed never to listen to another word about Michaele and Tareq Salahi? Yeah, I have too. But I will break that vow Sunday because Diane Dimond, author of a new book about the couple, says the media got it all wrong about the so-called White House party-crashers.
And I'll have a few words about leaving the job for which Woodward recruited me.
Note: This is all subject to change. Two Fridays ago, we tore up the program when CNN President Jon Klein was fired. Last Friday, we tore up the program when Rick Sanchez was fired. So stay tuned.
FOLLOW THIS TOPIC