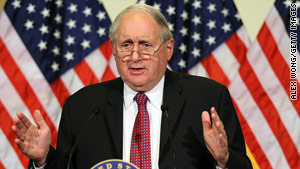 "We must shut off the spigot of U.S. dollars flowing" to Afghan warlords, Sen. Carl Levin said Thursday.
STORY HIGHLIGHTS
Senate report: Failure to keep track of private security contractors puts troops at risk
Sen. Carl Levin: "We must shut off the spigot of U.S. dollars" to Afghan warlords
Committee staff: 125 security contracts cost the U.S. more than $100 million
Report cites nonexistent training, violent incidents, warlord affiliations
Washington (CNN) -- A Senate report released Thursday rips into the Pentagon for failing to keep track of tens of thousands of private security contractors in Afghanistan, a failure that places both the mission and U.S. troops at grave risk.
"The report describes a number of private security contractors funneling U.S. taxpayer dollars to Afghan warlords and strongmen who are linked to murder, kidnapping, bribery, pro-Talilban and anti-coalition activities," Armed Services Committee Carl Levin said at a briefing.
"We must shut off the spigot of U.S. dollars flowing into the pockets of power brokers and warlords who act contrary to our interests and who contribute to the corruption that weakens the support of the Afghan people for their government and for our effort," said Levin, D-Michigan.
The committee spent the past year investigating more than 125 Defense Department security contracts that cost the U.S. well in excess of $100 million, according to committee staff. Levin traveled to Afghanistan in July to meet with U.S. military leaders about risks in employing some 26,000 armed contractors.
Levin said some contractors are necessary to provide security, for instance guarding the perimeter of U.S. installations. But too many of them are poorly vetted prior to hiring, and aren't trained or provided with weapons and other equipment.
The report details one incident in February in which Afghanistan contractor guards fired on U.S. Marines who were shouting to identify themselves and using signal flares. The guards shot and killed a Marine. The Marines later detained the guards and found they were high on opium and had been given no training in how to fire their rifles.
Another contractor, according to the report and U.S. military e-mails obtained by the committee, "used rocks to simulate personnel" guarding observation posts.
Another section of the report focuses on guards hired by ArmorGroup as an example of how U.S. and United Nations contracts benefit Afghan warlords.
"The succession of warlords and the guards affiliated with them were implicated in murder, revenge attacks, bribery and anti-coalition activities," the report said. "One of those warlords, known as Mr. White-Two, was holding a Taliban meeting at his home when it was raided by U.S. and Afghan forces." ArmorGroup managers, according to the Senate report, gave the Afghanistan warlords nicknames based on the 1992 crime movie "Reservoir Dogs."
"Those warlords were variously implicated in murder and bribery," Levin said at his briefing. "As a matter of fact, Mr. Pink killed Mr. White-One. They were found to possess land mines, large amounts of ammunition and they were determined by the U.S. military to be in league with the Taliban."
A spokesperson for ArmorGroup's parent company, G4S in London, did not respond to a request for comment.
The Senate report blasted the Defense Department for lack of oversight, saying too much attention was devoted to giving out contracts and too little to keeping them accountable.
"Their workload required them to devote all their efforts to awarding contracts, and as a result they could not provide contract oversight," the Senate report said.
The Senate committee has briefed the Pentagon on their findings. Defense Secretary Robert Gates wrote Levin Tuesday saying the department had set up task forces to review the issue, had tripled the number of auditors in the war zone and revamped their hiring, training and deployment.
Gates said the Senate report has helped the Defense Department understand the problems.
"Through the new programs we have implemented, I believe, DoD has taken significant steps to benefit our forces on the ground while not providing aid to our enemies.," Gates said in his letter.
Commander of U.S. Forces in Afghanistan, Gen. David Petraeus also has warned of over-reliance on contractors, telling military leaders to consider who benefits and the impact on their operations.
Afghan President Hamid Karzai cracked down on private contracts at the end of last month.
"In order to protect Afghan life and property, avoid corruption, security irregularities and the misuse of military weapons, ammunition and uniforms by the private security companies which have caused tragic incidents, and after the required assessment, I approve shutting down all private security companies within four months, including both domestic and foreign," the Afghanistan government's decree said.
The heavy dependence on contractors creates multiple problems for the United States. Efforts to build up the Afghan police and security forces are undercut when people can make more money working for private companies. Warlords can siphon off funds and not provide promised manpower.
Levin admitted that in some circumstances there are only risky, difficult choices.
"The decision as to whether or not to utilize a strongman or a warlord, or whatever you want to call them, has to be made at the highest level, it cannot be made casually by someone lower down in the chain of command that takes the easy way out, who says we will use this guy because he can provide protection," Levin said.
Levin said that despite efforts by the Pentagon and Congress, problems remain.
"There are contracts that are being implemented today with contractors who have shown to be sloppy, reckless or negligent in terms of implementing those contracts," Levin said. "So the risks exist today."
FOLLOW THIS TOPIC