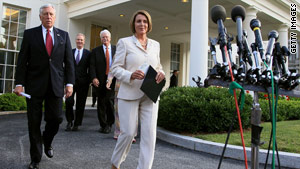 With less than a month left until the midterms, Democrats are fighting to hold on to their majorities.
STORY HIGHLIGHTS
Democrats concede election losses, but hope to hold majorities
Richardson: Party needs to promote its record, not shy away from it
Obama must lead the campaign charge, Democrats say
Republican senator says a GOP tsunami is coming
Washington (CNN) -- Democrats know they are going to lose congressional seats in the November elections. The question is what can they do to minimize the damage?
With less than a month to voting day, even the most ardent Democrats conceded on Sunday talk shows that the outlook wasn't rosy.
They differed on whether they can retain majorities in both the House and Senate, with the House considered more vulnerable, but all agreed there will be fewer of them working in Congress next year.
Republicans certainly believe it. Sen. John Cornyn of Texas, who chairs the National Republican Senatorial Committee, predicted a GOP "tsunami" at the polls.
While he declined to offer a specific prediction on CNN's "State of the Union," Cornyn added he expected a "good day" on November 2, adding: "I don't know how high or how wide that tsunami will be, but I think it will be significant."
His Democratic counterpart, Sen. Robert Menendez of New Jersey, warned on the same program against counting any electoral chickens before they hatch.
"With midterm election history, the president's party, going to back to the Civil War, it means the president's party loses seats," conceded Menendez, who heads the Democratic Senatorial Campaign Committee. "But the difference between a tsunami and losing some seats is the suggestion that they can take over the majority. That will not happen."
Pennsylvania Gov. Ed Rendell, one of the most visible carriers of the Democratic banner, agreed that the Senate majority was safe, but he was unwilling to offer a similar guarantee for the House.
"I think we're definitely going to keep the Senate," Rendell said on the CBS program "Face the Nation." "And I think we have a chance to win the House because I believe that Democrats, including the base, are starting to come back."

Video: Momentum swinging back to Democrats?
From liberal to moderate, all the Democrats interviewed Sunday concurred that the party has to offer voters a unified message that clearly contrasts their agenda with what Republicans have done and are doing.
The goal, they said, is to energize the party's liberal base and convince independents that it is Democrats looking out for working-class Americans while Republicans represent special interests and corporate fat cats.
One line of attack, already employed by Obama and other Democratic leaders, is to blame Republicans for deploying a strategy of congressional obstruction instead of trying to work out differences on major issues.
"They do not want America to succeed," independent Sen. Bernie Sanders of Vermont, a far-left liberal who sits with the Democratic caucus, told the CBS program. "They're into politics."
Asked if he meant such a harsh appraisal, Sanders responded: "I would say that, given the choice between regaining power or obstructing the initiatives that create jobs, that protect the American people, yes, I think gaining power is their major initiative."
Democrats also have to put aside any internal debate over whether Obama's administration and congressional leaders have too easily compromised away policies and provisions sought by the party's progressive wing, New Mexico Gov. Bill Richardson said on "Face the Nation."
"We should stop firing at each other; we've got enough people, the Republicans, firing at us already," Richardson said. "We don't need these divisions in the party."
To Richardson, Obama has to lead the Democratic charge in the final weeks of campaigning to make sure voters understand the choice before them regarding economic policies and other key issues.
"It's not enough to say, 'OK, American people, give us credit because we Democrats prevented it from getting any worse,' " Richardson said of a standard message from Obama and Democratic leaders. "You've got to be positive. You've got to talk about jobs, and you've got to talk about the economy, and you've got to connect with people emotionally."
Republicans are making Obama and his policies the issue of the campaign, even though it is not a presidential election year and all the races are at the statewide or district level.
"I think this election really is about the president's agenda," Senate candidate Rand Paul of Kentucky -- who is backed by the Tea Party movement -- said on "FOX News Sunday." "Do you support the president's agenda or do you not support it? I think his agenda's wrong for America."
On the same program, Paul's Democratic opponent -- state Attorney General Jack Conway -- backed some Obama achievements, including health care reform, but adopted the stance of Republicans, including Paul, and some other Democrats on extending the Bush-era tax cuts to everyone.
Obama and Democratic leaders favor extending the lower tax rates to the 98 percent of people earning up to $200,000 a year as individuals or $250,000 as families, while letting the rates for the other 2 percent return to higher levels from the 1990s.
The president says it is too expensive for the government to borrow the additional $700 billion over 10 years needed to extend the tax cuts for the wealthiest Americans.
However, Conway agreed with Senate Republicans, who pledged a filibuster against allowing anyone's tax rates to go higher, as well as some Senate and House Democrats unwilling to vote for what opponents would label a tax increase so close the November election.
"I think that raising taxes, we shouldn't be doing it as we recover from recession," Conway said Sunday.
Polls show Conway may be starting to erode a big lead by Paul, the Tea Party favorite who defeated a mainstream Republican candidate in the primary vote. To Richardson, such primary upsets by social conservatives such as Paul in Kentucky and Christine O'Donnell in Delaware present an opportunity for Democrats to highlight how the Tea Party influence has shifted the Republican agenda further to the right
"I also think we should take on the Tea Party," he said on CBS. "For some reason everyone is scared of them. What they really want to do to this country when they talk about reducing deficits is they're cutting into Medicare, Medicaid, firefighters, teachers, nurses, people's benefits, Social Security."
Cornyn, however, said the Tea Party movement is only expressing a deeper and wider political desire among the American people.
"They want us to stop the runway spending, the unsustainable debt, and they want to put America back to work," Cornyn said on CNN. "And they see the big-government American policies of the last year and a half being an impediment to job creation in America."
Another Republican, Sen. John Thune of South Dakota, said the new faces in Congress after November will bring an unpredictable atmosphere.
"There are going to be a lot of new faces and probably some pretty strongly-held views," Thune said on the C-SPAN program "Newsmakers." "We'll see how that works."
FOLLOW THIS TOPIC