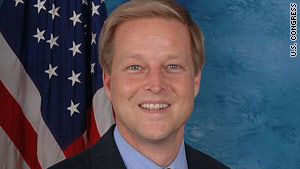 Rep. Frank Kratovil of Maryland never mentions he's a Democrat in his ads.
STORY HIGHLIGHTS
Candidates declare their independence as opponents try to tie them to party leaders
Rep. Markey, D-Colorado, under attack for health care vote, tries to play up her thriftiness
Rep. Kratovil, D-Maryland, trumpets his votes against bank bailout, health care bill
GOP candidate in Pennsylvania emphasizes opposition to Social Security privatization
Washington (CNN) -- At Thursday's White House briefing, spokesman Robert Gibbs pointed out that AIG, the financial giant Uncle Sam bailed out, is worth considerably more now and would net a nice profit if Washington sold its stock.
Even so, in 2010 "bailout" is a dirty word, whether referring to the Troubled Asset Relief Program (TARP) started under President George W. Bush with Democratic help, or taking over General Motors and Chrysler.
"These Wall Street bailouts really offend me. No one ever gave me a bailout," Democratic Rep. Betsy Markey says in one of her re-election TV ads.
At the same time, Markey -- a Colorado freshman who is being targeted for defeat by Republicans -- finds herself vulnerable for voting yes on the final version of health care reform, but only after a "public option" was eliminated.
Americans for Prosperity, one of the conservative organizations behind the Tea Party movement, is going after Markey for her vote with ads that show supposed average citizens accusing Markey of "betray[ing] us by voting for a government health care plan that cuts $500 billion from Medicare."
The ad ties Markey to House Speaker Nancy Pelosi, prompting Markey to go on a thrift offensive. In July, she announced she was giving $117,000 back to the government, because she didn't need it to operate her offices. All the while, she proclaimed how independent the voters in the district are, just like her.
Rep. Frank Kratovil of Maryland, also a Democratic freshman who represents a mostly rural district, is considered one of the most vulnerable. And his ads also never mention that he's a Democrat. To hear Kratovil tell it, wild spending ways on Capitol Hill are "why I voted against the $3 trillion budget; against the big bank bailout; and against the health care bill."
To be sure, some Republicans love to proclaim their independence, especially since the Democrats have pulled out their standby trump card -- protecting Social Security.
The new Republican "Pledge to America" doesn't say much about the program that's generally popular with senior citizens, the nation's most reliable voters. Still, pledge architect Rep. Paul Ryan of Wisconsin said the idea of "invest[ing] a portion of our payroll taxes in an account" managed by Social Security but going into the stock market would "grow our money better and [give] a better retirement benefit" down the road for people who are not close to retiring now.
For an open House seat in Wisconsin, however, Republican candidate Sean Duffy is being hammered in Democratic ads saying he "backed a plan to privatize" Social Security that would cut the guaranteed benefit and gamble on the stock market."
"No Republican candidate that I'm aware of favors the total privatization" of the system," according to Brooks Jackson of FactCheck.org.
Still, the idea, first broached by Bush, is not easy to tell in 30-second campaign ads and has Republicans scared.
Lou Barletta, the mayor of Hazleton, Pennsylvania, is finding that out firsthand. Barletta, a Republican who gained conservative accolades for his town's efforts to cut down on illegal immigration, wants to unseat Democratic Rep. Paul Kanjorski. The sprawling northeastern Pennsylvania district has a lot of retirees.
Barletta has repeatedly stated his opposition to any privatization of Social Security, even going so far as to record a statement he's trying to get in front of as many seniors as possible. The long video has Barletta decrying how Congress "looted the [trust] fund to pay for their extravagant spending bills."
Barletta's answer: "A lockbox law to stop the looting is a good first start."
Yeah, that's right -- "lockbox" is the term Al Gore used repeatedly in his 2000 presidential bid.
FOLLOW THIS TOPIC