Reliable Sources: Haven't we already seen this movie?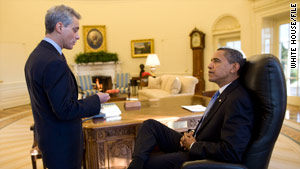 Media coverage of Rahm Emanuel may be a topic of discussion on "Reliable Sources" this Sunday.
STORY HIGHLIGHTS
Howard Kurtz is the host of CNN's "Reliable Sources" on Sundays
Topics this Sunday will include Fox criticism, fast journalism and a book about Glenn Beck
The show also will examine a columnist's tactics in his war against Richard Nixon
Editor's note: Howard Kurtz is host of CNN's weekly Sunday morning program "Reliable Sources," which turns a critical lens on the media. It airs at 11 a.m. ET Sundays. Kurtz is media reporter for The Washington Post and has covered urban affairs, the Justice Department and Capitol Hill, and has been the paper's New York bureau chief. He has covered the media since 1990.
Washington (CNN) -- I was in the host's chair last year when Anita Dunn launched a White House assault on Rupert Murdoch's network, calling it an arm of the Republican Party. The flap dominated the news for weeks and probably just wound up boosting the Fox News Channel's visibility.
Now the president is at it again, calling Fox "destructive" in a Rolling Stone interview. Does he think it helps fire up his liberal base? What about a White House spokesman lauding Keith Olbermann and Rachel Maddow?
That's a natural kickoff for our program Sunday, with The Washington Post's Dana Milbank joining us, along with Politics Daily's Matt Lewis and Julie Mason of the Washington Examiner. Maybe we'll touch on all the Rahm Emanuel coverage as well.
You may have seen the upcoming New York Times Magazine piece on Glenn Beck (which credits my story on how many Fox staffers fear he's becoming the face of the network). Milbank will talk about his new book on the man who's become a major lightning rod.
My favorite segment is about hyper-speed journalism -- you know, all the blogs and posts and items and tweets that pop up on websites every six seconds or so. Is it out of control? Is it utterly ephemeral? Are we just churning out copy to fill space (I say "we" because I blog too)? Or is it an improvement over the molasses pace of the past? Politico's Jonathan Martin, Mediaite's Rachel Sklar and CNN's own Paul Steinhauser will help us bat it around.
Finally, I worked for Jack Anderson when I was a lad and he was coming off an incredible period as the capital's top muckraker. But author Mark Feldstein says Anderson used some decidedly Nixonian tactics in his war against the 37th president. An interesting history lesson for those too young to remember the syndicated columnist.
And for viewers who were pleased and surprised by last week's Dick Cavett interview -- I was, too. We hope to have him back soon.
FOLLOW THIS TOPIC