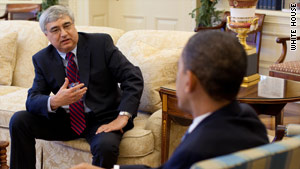 Pete Rouse has played important behind-the-scenes roles in President Obama's campaign and the presidential transition.
STORY HIGHLIGHTS
Chief of staff Rahm Emanuel plans to leave the White House and run for mayor of Chicago
His hard-charging, profane methods have been effective in getting key legislation passed
Some Democrats believe Pete Rouse will be more than the interim pick
Rouse is the low-key, behind-the-scenes player who helped President Obama win election
Chicago, Illinois (CNN) -- President Obama is going from a chief of staff dubbed "Rahmbo" who once sent a dead fish to a political opponent to the exact opposite: a shy, self-effacing guy known for being a gentle boss and a cat lover.
The style differences between outgoing chief Rahm Emanuel and incoming chief Pete Rouse could not be more stark. Emanuel is hard-charging and profane, often dispensing shrewd political advice with a string of F-bombs to accentuate the point.
Rouse is the low-key, behind-the-scenes player who carefully maps out each move in an understated and yet equally effective way. After all, he was the guy who while serving as then-Sen. Barack Obama's chief of staff meticulously laid out an improbable but meticulous battle plan about how a largely unknown freshman senator could put together a winning presidential campaign.
In public, Rouse never took any victory laps after playing such a pivotal role in helping to get Obama elected as the nation's first African-American president. He simply went back to work, this time as a senior adviser in the White House, with little fanfare -- a perfect fit with the "No Drama Obama" style we came to know during the campaign.
Drama, of course, is Emanuel's middle name. He's loud and rarely shy about being quoted in the media -- either named or unnamed -- in stories highlighting his vast influence over the Obama agenda.
While there were some people inside the White House who privately chafed at that approach, the fact is there's no denying that Emanuel's efforts have brought Obama major successes in the first two years of the administration.
I remember being in Chicago, Illinois, almost exactly two years ago, right after the 2008 presidential election, and I remember Obama immediately pouncing on the opportunity to try and woo Emanuel into leaving his seat in the House of Representatives to become his chief of staff.
Emanuel confided in me and others at the time that he was severely conflicted because he really wanted to stay in the House and become the first Jewish speaker of the House someday. But Obama was tugging him in the other direction with another piece of history, the opportunity to steer the country back on course with once-in-a-generation policy changes like the $787 billion stimulus and landmark health care reform.
Admittedly the jury is still out on the Obama-Emanuel "Big Bang" approach to governing, that the severity of the financial crisis demanded swift, bold and unprecedented action. There are Republicans who believes they far overstepped their mandate, while there are Democrats who agree with the policies but are privately waiting to see the Nov. 2 midterm election results before they're willing to say whether the approach made sense politically.
Emanuel jumped at the chance to be running the White House at such a pivotal time, and he never looked back much on the decision to bolt the House. And his approach has been at least partly vindicated with a series of legislative victories that most presidents would love to have for the history books.
"I think his leadership, his energy has helped us accomplish so much in helping our economy recover," White House press secretary Robert Gibbs said. "In passing landmark Wall Street reform, health care reform, credit card reform, student loan reform ... there is not an important thing that has happened in this administration that we've been able to accomplish for the American people that has not involved heavily his signature."
Nevertheless, there are senior people in the Democratic Party who privately believe that Emanuel's win-at-all-costs mentality is perfect for the rough and tumble world of Chicago politics, but it is not the best long-term approach for the president as he tries to bring the country together heading into his 2012 re-election battle.
That's why there is a feeling among some top Democrats that Rouse may wind up being more than just an interim White House chief of staff.
According to this theory, a couple of months of Rouse on the job may show the president that for all of Emanuel's successes, a more low-key manner may be the best way to approach the next two years with either a Republican Congress or a severely weakened Democratic Congress.
Think of Erskine Bowles, the equally quiet and self-effacing White House chief of staff who helped President Clinton forge some legislative victories, such as a balanced budget, with a hostile Republican Congress.
Rouse's fans note to me that he spent a few decades as a powerful staffer on Capitol Hill, and was known as the "101st Senator" during his days as top aide to then-Senate Majority Leader Tom Daschle, D-South Dakota, because of his quiet influence behind the scenes. He became known for sharp political instincts, fierce loyalty and absolute discretion on sensitive matters.
It's important to remember that Daschle has deep ties to Obama. They bonded during the 2004 Senate campaign season, when Obama was first elected while Daschle lost his re-election bid. Daschle encouraged Obama to hire Rouse, who wanted to try something new, but was coaxed out of it by the freshman senator who clearly had designs on higher office.
Daschle later became the first major Democrat to encourage Obama to actually run for president when others were laughing at the notion, and it was Rouse who then carefully put together the playbook. He later played important behind-the-scenes roles in the presidential campaign and the presidential transition, and his power has only grown inside the White House.
"There is a complete loyalty and trust with somebody like Pete," Gibbs said. "Pete's strategic sense has played a big part in the direction of virtually every big decision that's made inside of this White House. So I think the type of trust that the president and others throughout this administration have in Pete is enormous."
Rouse is a bachelor who rarely seems to mind the long hours he has to put in at the office. Friends note that one of the only nonwork things that he goes on and on about is his love for Maine coon cats, which are "large and energetic," according to catfacts.org.
Emanuel certainly brought plenty of energy to the job. I just can't imagine him being a cat lover -- or even a puppy lover for that matter.