STORY HIGHLIGHTS
"Milk Party" message: Florida needs to improve the way it cares for its children
Children's Movement of Florida is nonpartisan, nonpolitical
Group took bus from one end of state to other to rally for children's issues
Key West, Florida (CNN) -- The marching band and the waving flags gave it the look and feel of a political rally.
But no candidates were here at Key West High School and none were invited. Add some milk and cookies and you have the beginnings of the so-called "Milk Party," a grass roots movement whose message is simple: Florida needs to improve the way it cares for its children.
"We need to change the priorities in Florida -- frankly, in this country," said David Lawrence Jr., the retired publisher of the Miami Herald and co-chair of the Children's Movement of Florida.
"Start investing in children and you're gonna have an extraordinary return on investment," he said.
Lawrence points to figures that show Florida's children lagging behind in school and he is concerned that far too many are uninsured. State findings show 18.5 percent of kids under 19 have no health insurance.
"This is a national security issue," he told hundreds of people at the school's auditorium.
"Our issue is to change the priorities of decision-making ... put kids decisions at the front of the line," he said.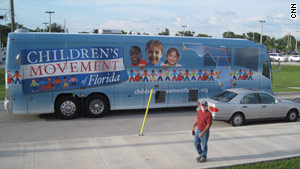 The Children's Movement of Florida took a 3,876- mile trip through the state in September.
This nonpolitical, nonpartisan entourage boarded its Children's Express bus in Pensacola at the western tip of the Panhandle on September 6 and after 3,876 miles ended the 17-city tour on Thursday night in Key West at the southern end of the state. More than 15,000 parents and kids turned out to hear the message.
"This is not about raising taxes," said Roberto Martinez, a former U.S. attorney who is co-chair of The Children's Movement of Florida. "This is about raising children."
CNN rode the bus on the way south from Miami to Key West. Onboard, the organizers recalled one of the more pleasant surprises of their tour.
"We were in Fort Pierce, Florida," Lawrence said. "We got a rainstorm. We're having a conversation two hours before. This is one we may have to call off. Can't do it. Nine-hundred-fifty people showed."
One prominent political analyst said the movement has a chance.
"During tough economic times, people get very family oriented and get very concerned about future generations," University of South Florida political scientist Susan MacManus said.
"There's a sense of urgency knowing that families are strapped and a lot of families want to do the right things for their children but simply don't have the means or the education to deal with it," she said.
With cookies and milk flowing, there's no mention of tea -- as in Tea Party. Words like Republican and Democrat aren't used. At one rally, near St. Petersburg, Alex Sink, the Democratic candidate for governor, attended but she was not allowed to speak. The organizers have labored to keep it that way. Their 27-member statewide steering committee is made up of 12 Republicans, 12 Democrats and three independents.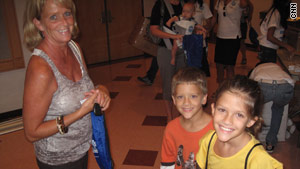 Jan Kidwell and her 9-year-old twins, Evan, left, and Morgan, attend one of the group's events.
Jan Kidwell came to the Key West stopover with her twins, 9-year-old Morgan and Evan. Kidwell is especially interested in the "Milk Party" because Evan has a learning disability and has been held back in school a year.
She says politicians need to start listening.
"They are behind the times ... they need to get more involved and step up to the plate," she said.
But the message goes beyond education. It's also about access to health care and health insurance, and the party has extended invitations to both Florida candidates for governor to a debate on children's issues this month at the University of Miami. Sink has accepted. Republican candidate Rick Scott has not.
The group plans to march to the Capitol in Tallahassee next year for the legislative session. Kidwell is planning for the road trip.
"We need the best education for our kids," she said. "We'll go to Tallahassee ... we'll march."
FOLLOW THIS TOPIC