Sources: Obama's chief of staff to depart White House Friday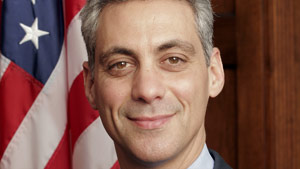 White House Chief of Staff Rahm Emanuel will step down Friday, according to sources.
STORY HIGHLIGHTS
NEW: Obama will make a personnel announcement Friday morning
Deputy Chief of Staff Pete Rouse is the favorite to temporarily take over for Emanuel
Rahm Emanuel is unlikely to announce his Chicago mayoral candidacy this weekend, sources say
Emanuel must gather 12,500 signatures by November 22
Chicago, Illinois (CNN) -- White House Chief of Staff Rahm Emanuel will step down Friday to run for mayor of Chicago, two sources told CNN Thursday.
The move was expected, after Chicago Mayor Richard Daley recently decided not to run for re-election.
Candidates for the Chicago mayoral race must gather 12,500 signatures by November 22. The city's February 22 Democratic primary could be very difficult to win given the number of prospective candidates from various factions of the party lining up to run.
White House Press Secretary Robert Gibbs told reporters that President Barack Obama will make "a personnel announcement" Friday morning, but refused to confirm it would relate to Emanuel's expected departure.
Gibbs said he would "bet on having two announcements" -- a possible reference to Emanuel's successor.
Gibbs also heaped praise on the famously tough chief of staff, saying that he has an "incredible amount of energy every day" and has "been the leader" since Obama took office.

Video: Source: Rahm Emanuel leaving Obama
He "helped us accomplish so much in helping our economy recovery, in passing landmark Wall Street reform, health care reform, credit card reform [and] student loan reform," Gibbs said.
Two sources who spoke to CNN earlier on the condition of anonymity said Emanuel is unlikely to immediately announce his mayoral candidacy this weekend. Advisers said he would prefer to put some distance between his White House exit and the time it will take to line up supporters in Chicago before officially announcing his run.
Emanuel is also very sensitive to making sure he leaves the White House in good hands given the critical midterm elections that are fast approaching, as well as other transitions expected to happen after the election.
A source close to Emanuel recently told CNN that Deputy Chief of Staff Pete Rouse is the favorite to take over as chief of staff on a temporary basis in order to give the president more time to find a long-term replacement.
"There is a complete loyalty and trust with somebody like Pete," Gibbs said Thursday. "Pete's strategic sense has played a big part in the direction of virtually every big decision that's made inside of this White House. So I think the type of trust that the president and others throughout this administration have in Pete is enormous."
Democratic officials have told CNN that Rouse -- who served as Obama's Senate chief of staff -- is known for not relishing the spotlight and has suggested he does not want the chief of staff post long-term.
The list of possible long-term replacements in the mix includes top White House aides Tom Donilon, Phil Schilirro and Ron Klain.
CNN's John King, Tom Cohen, and Alan Silverleib contributed to this report