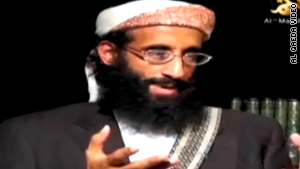 Anwar al-Awlaki has been linked to al Qaeda terrorists in Yemen where he is believed to be in hiding.
STORY HIGHLIGHTS
ACLU and CCR filed suit on behalf of cleric
Obama administration has invoked secret privilege
U.S. official believe al-Awlaki has ties to al Qaeda
Washington (CNN) -- The Obama administration has invoked the state secret privilege in seeking to dismiss a lawsuit filed on behalf of the father of Yemeni-American cleric and militant Anwar al-Awlaki, which sought to prevent the U.S. government from trying to target him for assassination.
The government contended in a court filing that was submitted early Saturday morning that the case "would require the disclosure of highly sensitive national security information concerning alleged military and intelligence actions overseas."
"The plaintiff has demanded the government disclose a wide variety of classified information that could harm our national security. It strains credulity to argue that our laws require the government to disclose to an active, operational terrorist any information about how, when and where we fight terrorism, Matthew Miller, Justice Department spokesman, said in a statement Saturday.
The court filing said the injunction sought by the al-Awlaki's father "would be unprecedented, improper and extraordinarily dangerous." It would "improperly inject the courts" into the administration's decisions on "how to protect the American people from the threat of armed attacks."
Miller notes the lawsuit -- which never denies Anwar al-Awlaki's militant activity -- said if al-Awlaki "wishes to access our legal system," he should surrender and then "be held accountable for his actions."
But the American Civil Liberties Union and the Center for Constitutional Rights -- which filed suit in August on behalf of the father, Nasser al-Awlaki -- said in a joint statement that the "idea that courts should have no role whatsoever in determining the criteria by which the executive branch can kill its own citizens is unacceptable in a democracy. In matters of life and death, no executive should have a blank check."
Anwar al-Awlaki has been linked to al Qaeda terrorists in Yemen where he is believed to be in hiding.
U.S. officials say Anwar al-Awlaki helped recruit Umar Farouk AbdulMutallab, the Nigerian man charged with trying to blow up a Northwest Airlines trans-Atlantic flight as it landed in Detroit on Christmas Day.
Al-Awlaki is also said to have exchanged e-mails with accused Fort Hood shooter, Maj. Nidal Hasan.
A U.S. official called al-Awlaki "an avowed terrorist who... continues to propagandize and also be a significant operational figure within AQAP [al Qaeda in the Arabian Peninsula]. He continues to plot attacks against the U.S. and our allies and he is not bashful about saying that himself."
In an audio tape earlier this year, al-Awlaki praised both AbdulMutallab and Hasan.
U.S. officials have confirmed that al-Awlaki is on a CIA and military hit list to be captured or killed.

Video: Groups allowed to file al-Awlaki suit
When the lawsuit was filed last month, CCR Executive Director Vince Warren said "the United States cannot simply execute people, including its own citizens anywhere in the world based on its own say-so."
ACLU Executive Director Anthony Romero added, "a program that authorizes killing U.S. citizens without judicial oversight, due process or disclosed standards is unconstitutional, unlawful and un-American."
Government officials won't publicly discuss whether any American citizens suspected of terrorism and living overseas are targeted for killing.
But last May, White House counterterrorism chief John Brennan said, "If we were to give U.S. persons, U.S. citizens a pass simply because of the passport they hold or the place of birth, then we would be making the American people more vulnerable to terrorist attack. We will bring to bear those tools as appropriate and under the full legal and lawful authorities that are invested in the president and the executive branch to assure it will be possible to prevent them from carrying out their attacks."
FOLLOW THIS TOPIC