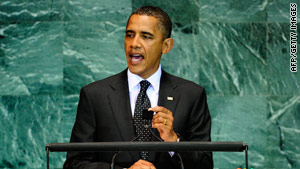 President Obama addresses world leaders at the U.N. on Thursday.
STORY HIGHLIGHTS
President Obama says "now is the time" to pursue Middle East peace
The president addressed Iran, Iraq, Afghanistan, the economy
Obama spoke at the annual U.N. General Assembly meeting
Washington (CNN) -- President Barack Obama dwelled on the intractable Middle East conflict in an address to the United Nations on Thursday and said it's time for the Israelis and Palestinians to pave the road to peace.
"Now is the time for the parties to help each other overcome this obstacle. Now is the time to build the trust -- and provide the time -- for substantial progress to be made. Now is the time for this opportunity to be seized, so that it doesn't slip away," Obama said at the annual U.N. General Assembly debate.
World leaders, including Palestinian leader Mahmoud Abbas, heard Obama set down his position for peace. However, the Israeli U.N. delegation was not present because it is Sukkot, a religious holiday in Israel and the Jewish world.
Obama touted the direct negotiations his administration has pursued between Israelis and Palestinians.
"Last year, I pledged my best efforts to support the goal of two states, Israel and Palestine, living side by side in peace and security, as part of a comprehensive peace between Israel and all of its neighbors. We have traveled a winding road over the last 12 months, with few peaks and many valleys."
He scoffed at pessimism over the process and warned of the alternative if there is no peace agreement, saying the "hard realities of demography will take hold."

Video: Obama: Iran must prove intent

Video: Obama: 'The path of peace'

Video: Clinton: Mideast peace 'doable'

Video: Barak: We will reach an agreement
"Palestinians will never know the pride and dignity that comes with their own state. Israelis will never know the certainty and security that comes with sovereign and stable neighbors who are committed to coexistence," he said. "This Holy Land will remain a symbol of our differences instead of our common humanity."
And he emphasized that he refuses "to accept that future."
Obama urged Israel to continue its settlement moratorium, which "has made a difference on the ground and improved the atmosphere for talks."
"Our position on this issue is well known. We believe that the moratorium should be extended. We also believe that talks should press on until completed."
Obama said friends of Israel "must understand that true security for the Jewish state requires an independent Palestine -- one that allows the Palestinian people to live with dignity and opportunity. "
He said friends of the Palestinians must realize that "the rights of the Palestinian people will be won only through peaceful means, including genuine reconciliation with a secure Israel."
Obama, who has been criticized in Israel for his Middle East policy, stressed his support for the Jewish state and said those "who long to see an independent Palestine rise must stop trying to tear Israel down."
"After 60 years in the community of nations, Israel's existence must not be a subject for debate. Israel is a sovereign state and the historic homeland of the Jewish people. It should be clear to all that efforts to chip away at Israel's legitimacy will only be met by the unshakable opposition of the United States," Obama said.
Obama spoke on many issues. He said he has had "no greater focus as president than rescuing our economy from potential catastrophe."
"There is much to show for our efforts, even as there is much more work to be done. The global economy has been pulled back from the brink of a depression and is growing once more," he said.
Obama focused on security, saying "America is waging a more effective fight against al Qaeda while winding down the war in Iraq." He said that in Afghanistan, the United States and its allies are working "to break the Taliban's momentum and build the capacity of Afghanistan's government and security forces" that would begin enabling a transition to Afghan responsibility next year.
He said that the United States is working to confront terrorism in places like South Asia and Horn of Africa "without deploying large American armies."
Obama touted a world plan "to secure all vulnerable nuclear materials within four years" and said the United States has "joined with Russia to sign the most comprehensive arms control agreement in decades."
He addressed Iran and its controversial nuclear aspirations. The West believes Iran wants nuclear weapons, a position Iran denies. Obama stressed that the "United States and the international community seek a resolution to our differences with Iran, and the door remains open to diplomacy should Iran choose to walk through it."
"But the Iranian government must demonstrate a clear and credible commitment and confirm to the world the peaceful intent of its nuclear program."
Obama addressed the need to deal with climate change, singling out Pakistan and Haiti for the struggles they've been through this year. Pakistan has been socked by floods, and Haiti was devastated by an earthquake.
He also focused on human rights, a key goal of the United Nations, and said it should always be a priority -- even during times of economic trouble.
"Human rights have never gone unchallenged, not in any of our nations and not in our world. Tyranny is still with us, whether it manifests itself in the Taliban killing girls who try to go to school, a North Korean regime that enslaves its own people or armed groups in Congo-Kinshasa that use rape as a weapon of war," he said.
Obama urged nations "who emerged from tyranny and inspired the world in the second half of the last century, from South Africa to South Asia, from Eastern Europe to South America," to speak up on human rights.
"Do not stand idly by when dissidents everywhere are imprisoned and protesters are beaten. Because part of the price of our own freedom is standing up for the freedom of others."
He mentioned trips he'll be taking to India, Indonesia, the G-20 in Korea, and Japan.
"Each of these countries gives life to democratic principles in their own way. And even as some governments roll back reform, we also celebrate the courage of a president in Colombia who willingly steps aside or the promise of a new Constitution in Kenya," he said.
FOLLOW THIS TOPIC