Emanuel may leave White House in October, sources say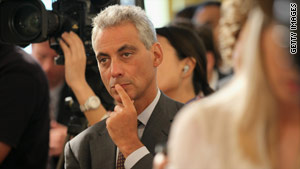 White House Chief of Staff Rahm Emanuel may leave the job as soon as next month, sources say.
STORY HIGHLIGHTS
White House Chief of Staff Rahm Emanuel may leave his post as soon as October
Deputy Chief of Staff Pete Rouse may step in as a temporary replacement
Emanuel is strongly considering entering the race for Chicago mayor
A trio of White House aides have been mentioned as possible permanent replacements
Time.com reports that Rahm Emanuel could leave his post as White House chief of staff as early as next month.
Washington (CNN) -- There is now a good chance that White House Chief of Staff Rahm Emanuel will step down from his post as early as October to focus on running for mayor of Chicago, according to two people close to Emanuel.
One person close to Emanuel added that highly respected White House Deputy Chief of Staff Pete Rouse is the favorite to take over on a temporary basis to give President Barack Obama more time to find a long-term replacement. But other people close to the situation said it is too early to determine who will replace Emanuel in the short term or the long term because the process is so fluid at this point.
Rouse served as chief of staff in Obama's Senate office and is known to have the president's trust. Democratic officials have told CNN that Rouse, who is known for not relishing the spotlight, has suggested he does not want the chief of staff post permanently. But it is expected he would be willing to help the White House get through a transition period and then have an influential role in helping select the full-time replacement.
The people close to Emanuel confirmed a report in Time magazine, CNN's sister publication, that Emanuel could leave as early as next month so he could devote his full energies to mounting a bid to replace retiring Chicago Mayor Richard M. Daley. There is some urgency to the situation because candidates must gather 12,500 signatures by November 22, three months ahead of the February 22 primary.

Video: White House staff in turmoil?
But the people close to Emanuel stressed to CNN that the chief of staff has not made a firm decision to run for mayor, though these sources did indicate that the former Chicago congressman has all but decided to take the plunge.
The sources familiar with the situation said that once Emanuel does make a firm decision the process will move very rapidly because the chief of staff realizes he has a lot of work to do to get a campaign off the ground.
Emanuel is also very sensitive to making sure he leaves the White House in good hands given the critical midterm elections that are fast approaching, as well as other transitions expected to happen after the election. The president's chief economic adviser, Lawrence Summers, announced Tuesday he will be leaving at the end of the year, and the search for his replacement is now under way.
A key date to watch for is when the Senate decides to adjourn before the election, according to people close to Emanuel, because he is heavily involved in pressing to get some of the president's initiatives on the agenda before the Senate leaves.
The Senate was originally scheduled to adjourn on October 8, but Senate Democrats say they may now leave as soon as the end of next week -- the beginning of October.
There also is a realization within the administration that there is never a good time for a chief of staff to leave, given the constant press of business. Emanuel, however, is going to have to leave sometime soon if he is to give a mayoral run his full attention.
CNN has previously reported that possible full-time replacements in the mix include top White House aides Tom Donilon, Phil Schiliro and Ron Klain.
FOLLOW THIS TOPIC