Chris Coons: Delaware's surprise favorite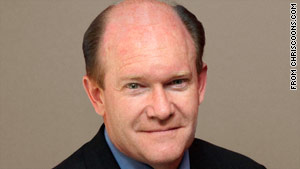 Chris Coons is the Democratic nominee for one of the two U.S. Senate seats from Delaware.
STORY HIGHLIGHTS
Chris Coons is the executive of New Castle County
Delaware Attorney General Beau Biden was expected to be the Senate nominee
Coons is now favored to win the race to fill Vice President Biden's Senate seat
Coons, a Democrat, will face Tea Party-backed Christine O'Donnell in November
(CNN) -- Chris Coons may turn out to be the luckiest politician in America this year.
The man suddenly favored to win Joe Biden's U.S. Senate seat wasn't even supposed to be in the race, if most pundits are to be believed. State Democrats were lining up behind the vice president's son, Delaware Attorney General Beau Biden.
But Biden unexpectedly decided not to run. And other Democrats took a pass on what was thought to be, at best, an uphill general election climb against veteran GOP Rep. Mike Castle.
Now, with Castle defeated in the primary, Coons suddenly finds himself the favorite against arch-conservative upstart Christine O'Donnell.
While Coons, 47, is running his first statewide campaign, he's neither a political novice nor a party outsider. Over two decades ago -- in 1988 -- Coons was the policy researcher for the failed Senate campaign of then-Lt. Gov. S.B. Woo.
He went on to earn a degree from Yale Law School, as well as a master's in ethics from Yale Divinity School.

Video: O'Donnell responds to GOP doubters
Coons later clerked for Judge Jane Richards Roth on the U.S. 3rd Circuit Court of Appeals, and worked as an attorney for W.L. Gore & Associates, which manufactures of Gore-Tex.
Before his election to the New Castle County Council in 2000, Coons also worked for Delaware's "I Have a Dream" Foundation, which provides educational assistance for low-income children. He is still on the foundation's board of directors, according to its website.
In 2004, Coons was elected executive of New Castle County, which includes Wilmington and Newark. He still holds the position.
While divided over O'Donnell's nomination, Republicans have promised not to let Coons coast through the general election.
Texas Sen. John Cornyn, head of the National Republican Senatorial Committee, said in a written statement Wednesday that the GOP remains "committed" to holding Coons "accountable this November, as we inform voters about his record of driving his county to the brink of bankruptcy and supporting his party's reckless spending policies in Washington."
Cornyn also said the national committee is sending O'Donnell a check for $42,000 -- "the maximum allowable donation that we have provided to all of our nominees."
Most observers, however, are skeptical that Coons will face a tough challenge. Nonpartisan analysts Charlie Cook and Stu Rothenberg flipped their projections for Delaware from "lean Republican" to "lean Democratic" after O'Donnell's win, and Castle has refused to endorse his party's surprise pick.
Advantage: Coons.
FOLLOW THIS TOPIC