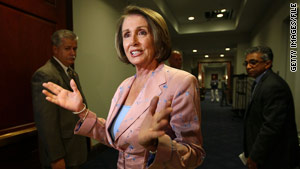 House Speaker Nancy Pelosi and other Democratic leaders hope their efforts in the next month will resonate with voters.
STORY HIGHLIGHTS
Democrats hope to pass measures they think will resonate with voters
Party hoping last push helps make case for them to retain control of Congress
Dems wrestle with what to do about the expiring Bush tax cuts
House Republicans, hoping to take majority status, plan to release "governing agenda"
Washington (CNN) -- Facing the prospect of losing control of Capitol Hill in the midterm elections, congressional Democrats return to Washington this week for one final month-long legislative push they hope will persuade voters to keep them in power.
At the top of their to-do list, Democrats will tee up the emotionally charged debate about whether to extend expiring Bush tax cuts for people earning more than $250,000 a year or just for those who earn less. Only weeks before voters go to the polls, Democrats are eager to make the argument that their party is focused on the middle class and Republicans are the party of the rich.
Most Democrats agree with President Obama that tax relief should be limited to the less well-off, while Republicans argue taxes shouldn't be hiked on anyone -- including the wealthy -- while the economy is weak.
House Minority Leader John Boehner of Ohio said Sunday on CBS' "Face the Nation" that he would vote for extending the tax cuts for the middle class if that was the only option he had, but that he would do everything that he could to extend them for those making more than $250,000 as well.
The Democrats' pro-middle class campaign message is muddied because a growing number of congressional Democrats agree with GOP leaders that Washington should, at a minimum, pass a temporary extension of the tax cuts for wealthier Americans until the economy improves.

Video: Room for compromise on tax cuts?
Democratic leaders are trying to figure out how to deal with the competing demands from within their own party: While they want to highlight the tax issue -- in part because it could energize Democratic voters -- they don't want to jeopardize election prospects for moderate Democrats whose political lives are on the line in November.
Beyond the tax issue, House and Senate Democrats have one must-pass bill and then a long wish list of other bills they would like to pass -- measures they think will resonate with voters.
The must-pass bill is a temporary spending measure to prevent the government from running out of money at the beginning of the fiscal year on October 1. It's needed because Congress has not passed any of its 12 appropriations bills for the coming year. Both chambers are likely to approve a short-term measure that keeps the government funded through the late fall, which means Congress would need to pass another bill in a "lame duck" session after the midterms.
A second bill that appears likely to pass is a long-stalled Democratic measure designed to increase small-business hiring. It got an unexpected boost late last week when a retiring moderate Republican senator, George Voinovich of Ohio, agreed to vote with Democrats and break a GOP hold on the bill.
But that could be the only legislative victory Democrats get in the work period ahead, as pre-election political jockeying is likely to stall other Democratic proposals, leadership aides from both parties predict.
Those include measures related to food safety, energy, child nutrition, health insurance for ground zero workers, ending the Pentagon's "don't ask, don't tell" policy and funding for black farmers' discrimination claims.
Even the economic initiatives trumpeted by Obama last week are expected to be put off until after the elections, the aides said. Obama has called for more spending on highways and railways. He has also proposed extending and expanding tax breaks for businesses, including credits for research and development and deductions for equipment purchases.
In the House, ethics charges against two senior Democrats threaten to undercut whatever positive message Democrats hope to convey while they're back in Washington.
Rep. Charlie Rangel of New York is accused of multiple ethics violations and faces a public trial before a House ethics panel this month. California Rep. Maxine Waters is accused of helping a bank in which her husband owned stock. She's also expected to go through a trial, but that's more likely after the election, according to a source close to the process.
At the end of the month, House Republicans -- anxious to win back majority status -- plan to formally unveil their "governing agenda." Boehner and other leaders launched a summer-long effort to cull ideas from the public online and through a series of public meetings.
Before the official rollout of that agenda, three top House Republicans dubbed the "Young Guns" -- GOP Whip Eric Cantor of Virginia; Deputy Whip Kevin McCarthy of California; and Paul Ryan of Wisconsin, the top Republican on the Budget Committee -- are kicking off a book tour on Tuesday.
The book, also titled "Young Guns," outlines several proposals to cut spending and taxes and reform Social Security, ideas these leaders have already been pushing.
Worried about their election prospects, House Democratic leaders late last week were considering leaving Washington for the campaign trail a week before their planned October 8 departure.
No final decision was made, and a Senate Democratic leadership aide said the Senate has too much work to do to leave early.

FOLLOW THIS TOPIC