Officials: Goolsbee to get key economic post at White House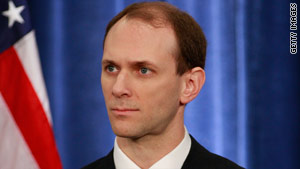 Austan Goolsbee has been outspoken on challenging GOP criticism of White House economic policy.
STORY HIGHLIGHTS
Goolsbee would replace Romer, who stepped down this month
Goolsbee sometimes clashes with Obama's chief economic advisers
He is chief economist for Obama's Economic Recovery Advisory Board
Washington (CNN) -- President Obama could announce as early as Friday morning that he will tap Austan Goolsbee to be chairman of the White House Council of Economic Advisers, according to two senior administration officials familiar with the announcement.
Goolsbee will replace Christina Romer, who stepped down earlier this month as chairwoman of the CEA, a panel of three White House officials who offer the president economic advice and help formulate policy. Goolsbee and Cecilia Rouse are the other two members.
It's a crucial job as the Obama administration continues to try and dig out of the worst recession since the Great Depression on the eve of a midterm election in which Democrats find the economic anxiety threatening their majorities in the House and Senate.
But Treasury Secretary Timothy Geithner and Larry Summers, chairman of the White House's separate National Economic Council, are still the most senior members of the economic team. Senior administration officials note the never-shy Goolsbee has previously clashed with Summers in private over policy, but the officials said that those discussions were spirited but also professional.
Goolsbee has been a trusted adviser to Obama since the 2008 campaign and is known for being aggressive about challenging Republican criticism of White House economic policy, striking a tone that's similar to the strident approach Obama took Wednesday when he delivered a speech in Cleveland accusing House Minority Leader John Boehner, R-Ohio, of failing to offer any new ideas to deal with the crisis.
In addition to serving under Romer as a member of the Council of Economic Advisers, Goolsbee has also had the title of chief economist for the president's Economic Recovery Advisory Board, a group of nongovernment officials like former Federal Reserve Chairman Paul Volcker that has been advising Obama on efforts to dig out of the economic slump.
Two senior administration officials said the plan is for the White House to officially announce Goolsbee's elevation Friday, when Obama holds his first full-scale news conference since May. Obama is expected to open the event, at 11 a.m. in the East Room, with comments on the economy and may mention the appointment.
The financial crisis is the dominant issue heading into the November 2 midterm election. In his Cleveland speech, Obama unveiled three new proposals to spark the economy: a $200 billion tax cut that would allow businesses to write off 100 percent of expenses for new plants and equipment, a $100 billion business tax credit for research and developments costs and $50 billion in infrastructure spending.
But several senior officials acknowledged privately it is unlikely that the House and Senate will deal with those proposals until after the election. If Republicans take control of either or both chambers in the election, they will likely draft much different economic proposals when the new Congress opens next January.
FOLLOW THIS TOPIC