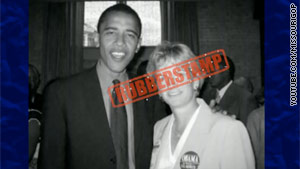 Missouri's Republican State Committee links President Obama's health care reform bill to Robin Carnahan.
STORY HIGHLIGHTS
GOP has used Obama in close to 300 ads this year, campaign ad expert Evan Tracey says
Tracey: "Close to $40 million has been spent ... trying to attach Democrats to this president"
Some Democrats are trying to distance themselves from their party
Washington (CNN) -- In 2008, Democratic candidates peppered campaign ads with images, video and audio of then-presidential candidate Barack Obama.
But a lot has changed in two years.
Republicans have used Obama in nearly 300 ads this year and "close to $40 million has been spent on these ads, basically trying to attach Democrats to this president," said Evan Tracey, president and founder of Campaign Media Analysis Group.
Case in point: An ad by Missouri's Republican State Committee takes aim at Robin Carnahan, the Democrat running for U.S. Senate, and her support for Obama's health care reform bill.

Entitled "Rubberstamp Robin," the ad begins with a clip of the president calling on Congress to pass health care reform. An unidentified male in the ad asks Carnahan, "Just to be crystal clear: You would have voted for the health care reform bill?" Carnahan replies," Yes." A photo of Carnahan and Obama is displayed with a red "rubberstamp" over it.
Democratic Rep. Joe Donnelly, meanwhile, is out with an ad that defends his position on immigration and distances himself from Washington politics.
"I went down to the border and saw for myself just how bad the situation really is," the Indiana politician said. "That's why I voted to hire 5,300 more border agents, penalize any business that hires illegals, deport illegals who commit felonies and eliminate amnesty, because no one should be rewarded for breaking the law. That may not be what the Washington crowd wants, but I don't work for them. I work for you."
Tracey said that Democrats in tough races are really going out of their way to stress their independence and paint themselves as outside party politics.
He said there is an old political belief that even when a large majority of Americans disapprove of Congress -- as polls show -- they often still like their own member of Congress.
"And that's really what the hope is here ... that people will say, 'well, yes, I'm certainly unhappy with Congress, but I am very happy that I have my particular member,' " Tracey said.

Video: Record spending on political ads

Video: GOP surging in polls
Some Democrats appear to be running against their own party's legislative platform.
"As a career prosecutor, I made decisions on facts, not politics," Rep. Frank Kratovil, D-Maryland, said in an ad. "In Washington, I've tried to do the same. That's why I voted to crack down on Wall Street ... And why I voted against the $3 trillion budget, the big bank bailout and against the health care bill. You see, for me, it's not about Democrats and Republicans, it's about common sense."
Tracey said this tends to show that Democrats may be losing their signature issues such as health care. It's a point backed up by a CNN/Opinion Research Corp. poll released Tuesday.
"Democrats have slightly better numbers than the Republicans on just two issues -- Social Security and health care -- and on both of them, that gap is extremely small," CNN Polling Director Keating Holland said. "That's bad news for the Democrats, who in past elections have had large leads over the GOP on those domestic issues."
The same poll found that 46 percent of Americans said that Republicans in Congress would do a better job handling the economy; 43 percent said that congressional Democrats would do a better job on the issue.
The GOP's 3-point edge, within the margin of error, is a big shift from last year, when the Democrats held a 52 to 39 percent advantage.
Republicans, then, are undoubtedly going to hit hard at convincing Americans that the status quo has to go, Tracey said.
"They are going to hammer away at the economy ... at these incumbents," he said. "They're really going to sort of attack Washington ... going to attack this administration."

FOLLOW THIS TOPIC