Obama to introduce another business tax cut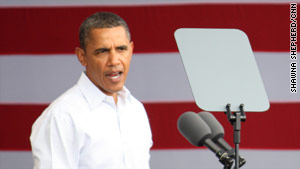 President Obama speaks at a Labor Day event in Milwaukee, Wisconsin, on Monday.
STORY HIGHLIGHTS
Three new Obama stimulus proposals add up to $350 billion
The proposals face an uncertain fate in Congress, which is on its August recess
When Congress returns next week, it will be in session only a few weeks before the election
(CNN) -- In another move aimed at stabilizing the still-shaky economy, President Barack Obama on Wednesday will introduce a new $200 billion tax cut giving businesses across the country an incentive to buy new equipment in the short term, according to a senior administration official.
The tax cut would allow businesses to write off 100 percent of new investments in plants and equipment made between now and the end of 2011, according to the senior administration official.
The new tax cut will be in addition to a $100 billion permanent extension of the business tax credit for research and development, as well as $50 billion in new infrastructure spending included in a package that the president will officially unveil Wednesday during an economic speech in Cleveland, Ohio.
The $100 billion tax credit proposal was reported by CNN on Sunday while Obama himself disclosed the infrastructure spending Monday in a fiery speech at a Labor Day event in Milwaukee, Wisconsin, in which he tried to draw a sharp contrast with Republican economic plans.
"I don't want to give them the keys back," Obama said. "They don't know how to drive ... They're going to pop it into reverse and have special interests riding shotgun and we'd be right back in the ditch."

Video: Obama under pressure on economy

Video: Reaction to Labor Day speech

Video: Moving U.S. forward on Labor Day
The leaks of a flurry of Obama proposals in just the last 36 hours show just how anxious White House officials are to show the president is on top of trying to rescue the still-faltering economy at a time when Democrats strategists are privately starting to panic that their majorities in both the House and Senate may now be up for grabs.
Altogether, the three new Obama proposals add up to $350 billion, which is starting to creep up to nearly half the size of the $787 billion stimulus plan the president pushed through Congress in the first 100 days of his administration.
A package of that size could call into question the insistence of top White House aides that they are not putting together a "second stimulus" package. The packaging of the proposals carries great political weight because if the new plan is seen as a new stimulus program it could give Republicans new ammunition that the first plan did not work as well as advertised.
Nevertheless, all three proposals face an uncertain fate in a Congress that is still out of session for its August recess and when it comes back to work next week will only be in session for a few weeks before the election.
In addition to the compressed calendar, the president has to contend with Republicans who are itching to deny him a last-minute victory, and Democrats who are racing to get home again to campaign full-time.
FOLLOW THIS TOPIC