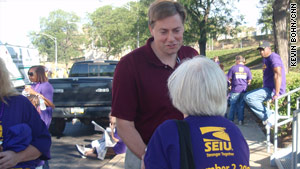 Rep. Jason Altmire, D-Pennsylvania, greets union members in Pittsburgh on Labor Day.
STORY HIGHLIGHTS
Clear, coherent message on economy needed to help in midterm races, Democrats say

President Obama unveiling initiatives this week to help spur economy and job growth

Rep. Jason Altmire says, "People haven't seen the turnaround that they would like"

Labor leader expresses concern that Democrats aren't as fired up for election as Republicans
See which issues are hitting home in Pennsylvania, Kentucky and Ohio on "John King, USA: Election Road Trip" at 7 p.m. ET Tuesday.
Pittsburgh, Pennsylvania (CNN) -- From union activists to Democratic members of Congress, the message to the White House is clear: They want President Obama to present a clearer, more coherent message about his plans to turn around the economy.
In interviews across Pennsylvania, rank-and-file Democrats said that message has been lacking. And selling a clear vision for economic recovery is the only way to improve Democrats' chances and prevent Republicans from taking control of the House of Representatives in the midterm elections.
This sense of urgency comes as the president unveils initiatives this week to help spur the economy and job growth.
"It just seems like there's a disconnect right now with how Obama is trying to move his agenda and how it really will help people," said Tony Helfer, president of the United Food and Commercial Workers Local 23 during the Pittsburgh Labor Day Parade on Monday.
"I wish we would get a clear message is what I would say. The accomplishments that have been made so far have been spun around to seem like they're negatives, and they're not. So that tells me the word is not getting out, it's not being clear."

Video: Obama under pressure on economy

Video: GOP surging in polls

Video: Rendell: Dems need to get base out

Video: Why Pennsylvania elections matter
Asked if he blames the White House, Helfer said, "Well, it's leadership. Absolutely. If you're going to be a leader of a party and movement, then you've got to explain that to everybody in a way they understand it."
Helfer said he's working hard to help Democrats win in November but wants the president to use his megaphone more effectively, explaining, "Obama needs to be much clearer in his agenda, on how he's going to create jobs in America. We need a clear vision of that. That's what we're looking for."
Rep. Jason Altmire, D-Pennsylvania, said nationally Democrats don't have a coherent message about their plan to improve economic conditions.
"The president is going to come out on Wednesday with the new economic plan, and we'll see what he has to say, but I think that's one of the things that's making the public uneasy about the Democratic Party right now -- that there hasn't been a consistent message on the economy," Altmire said. Parts of his district north of Pittsburgh have seen high unemployment due to business closings.
Altmire said one factor contributing to the Democrats' problems were that some initiatives pushed early in Obama's term -- including the health care overhaul that he voted against -- were unpopular with a large segment of the population. Altmire voted against the health care plan because he did not believe it did enough to control increasing medical costs.
"People haven't seen the turnaround that they would like. Although things are better, I think that's what has the public a little bit nervous about the state of the economy," he said.
Some party loyalists said they feel the White House is not to blame. At the Pittsburgh parade, union member Vernoica McKernan said of Democrats' chances, "They're not doing too good right now so they need all our support."
Asked why Democrats are struggling, she blames the media, saying, "Because everybody's bashing them in the news."
Still more one-time Obama voters are rethinking that decision.
At a horse show in New Castle, Pennsylvania, Earl Murray said he voted for Obama in 2008 but won't vote for him again.
"He made some promises during the campaign, and I don't think he has lived up to that," Murray said. "Granted he got us out of the war like he said he would, OK, but [he said], 'I am going to create X number of jobs,' and he keeps coming on TV saying, 'I created those jobs,' OK.
"But there again take a look at jobs that were lost. In essence, we are not creating those jobs. We are just getting those jobs back."
For Altmire, whose fate rides on voters' perception of the economy, it's essential that Democrats fine-tune their message on jobs.
"I think it would be helpful for the president and the Congress to continue to talk about the economy. We've had a lot of things that have passed that I've disagreed with certainly, and I'm going to talk about during the campaign. But moving forward, we have an economy that is treading water, and we need to move forward," he said.
Union leader Helfer said United Food and Commercial Workers Local 23 members are "out knocking on doors already," insisting, "We are the foot soldiers in the Democratic Party, and we're fired up."
But he added it's not enough, saying, "I am concerned, because there's such a loud noise coming back" from Republicans whose message is getting out while rank-and-file Democrats seem unenthusiastic.
"I don't see the energy on the other side of the table," Helfer said.
FOLLOW THIS TOPIC