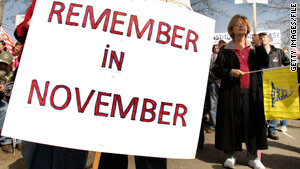 A handful of lawmakers -- both Republicans and Democrats -- have already come up short in their renomination bids.
STORY HIGHLIGHTS
All 435 seats in the House are on the line; 37 of the 100 Senate seats are up for grabs
Political analyst predicts Republicans will regain control of the House
President Obama this week turns his attention to the economy, voters' No. 1 issue
CNN poll indicates the GOP advantage over Democrats is on the rise
(CNN) -- And they're off! Labor Day marks the unofficial end of summer and the beginning of the campaign season.
With less than two months until Election Day, candidates are packing their schedules with campaign events designed to convince voters that they're the best ones for the job.
All 435 seats in the House of Representatives are on the line this fall, and 37 of the 100 Senate seats are up for grabs.
Capitol Hill is guaranteed to see some fresh faces, with dozens of lawmakers retiring or seeking other office, and a handful -- including Democratic Sen. Arlen Specter, Republican Sen. Lisa Murkowski, Democratic Rep. Alan Mollohan and Republican Rep. Bob Inglis -- coming up short in their renomination bids.
The party in power historically loses seats in a midterm election. Republicans are expected to pick up seats, but the question is how many.
University of Virginia political handicapper Larry Sabato estimates that Republicans will pick up 47 House seats in November, eight more than the 39 seats the GOP needs to reclaim the House.
New prediction in battle for House

Video: Midterms and the balance of power

Video: Predicting the midterm election
Longtime political analyst Charlie Cook said Democrats are heading into an election "that looks as grisly as any the party has faced in decades."
"It isn't hard to find Democratic pollsters who privately concede that the numbers they are looking at now are worse than what they saw in 1994," Cook wrote in a column for the NationalJournal.com.
The GOP picked up 54 seats in the House and eight in the Senate during the "Republican revolution" of 1994.
A CNN poll released last month showed big similarities between the upcoming election and that of 16 years ago.
"While it's clear that while the Democrats will lose a lot of seats in Congress this November, it may be too early for the GOP to start measuring for drapes in the speaker's office," Keating Holland, CNN's polling director, said then.
CNN poll shows big similarities between 2010, 1994
President Obama this week turns his full attention to the economy, the No. 1 issue on the minds of voters.
Eight in 10 Americans think economic conditions are poor right now, according to a CNN/Opinion Research Corp. poll.
Forty-four percent of respondents blame Republicans for the economic mess, 35 percent say Democratic policies got the country to this point and 16 percent blame both parties equally.
CNN poll: Number of people who say economy in poor shape on rise
While that might sound promising for Democrats, a survey released Monday indicates that Republicans' advantage over the Democrats in the battle for Congress is on the rise.
CNN poll: GOP's midterm advantage is growing
Senior aides confirm Obama recently asked his economic team to come up with proposals he could roll out to show that amid high anxiety across the nation, he's still working hard to jump-start the economy -- including more federal spending on infrastructure projects and tax cuts popular with the business community, such as a permanent extension of the research and development tax credit.
Obama will unveil the new proposals in two speeches as he tries to frame his administration's response to the recession and reiterate his commitment to pushing the economy forward.
Asked about the tax cuts for businesses, Republican Sen. John McCain of Arizona said Democrats are "just flailing around."
"We always like to see deathbed conversions, but the fact is if we'd had done this kind of thing nearly a couple years ago we'd be in a lot better shape," McCain, Obama's opponent in the 2008 presidential election, said on "Fox News Sunday."
Voters won't feel any impact from Obama's new economic initiatives before the election, and top Democratic and Republican leadership aides on Capitol Hill said his proposals have virtually no chance of passing Congress.
Obama's economic measures confront reality
Republicans insist Democrats are not serious about pushing the economic measures because doing so would require significantly more time than the current congressional schedule would allow.
Congress returns from recess next week and likely will be in session for less than a month before leaving Washington for the final election push.
CNN's Ted Barrett, Ed Henry and Brianna Keilar contributed to this report.
FOLLOW THIS TOPIC