Democrats defend state of economic recovery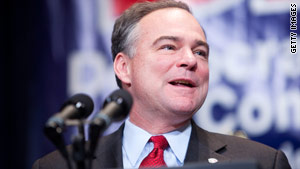 DNC chairman Tim Kaine says the economy is improving, but "we've got a long way to go."
STORY HIGHLIGHTS
Critics scrutinize some negative economic indicators over the summer
Democrats had said it would be a "recovery summer"
Tim Kaine says that the recovery is progressing, but much more work has to be done
(CNN) -- As the summer begins to wind down, Republicans are criticizing Democrats over economic promises they made at the beginning of the season.
Democrats had dubbed it a recovery summer, but critics were taking aim at some economic indicators that didn't show much forward progress.
According to the critics, totaling the job losses from the summer months, a total of 283,000 jobs were lost during that period. GDP growth was only 1.6 percent in the last quarter, and existing home sales fell in July by 27 percent.
On "Fox News Sunday," host Chris Wallace brought up these figures to Democratic National Committee Chairman Tim Kaine, who defended his party's record.
"There are still challenges out there. Too many people are hurting and we've got a long way to go," Kaine said.
But he said that after 20 months of private sector job loss, there have been gains for eight months in a row.
"The GDP, which was shrinking, is now growing," he said. "It's not growing fast enough. We've got to do more."
Kaine said it was the Democrats who built the ladder out of recession.
"We built the ladder and we're climbing again. We've got a long way to go. As long as people are hurting, this president and his team are going to be focused on the issue of jobs," he said.
Republicans have also been taking aim at Democrats over their desire to let tax cuts enacted under President George W. Bush expire. The charge is that during a period of recovery, effectively raising taxes will hurt businesses and employment, as well as investment.
Kaine parsed the Democratic position more finely.
"Letting all the tax cuts expire might be a problem. That is not what the Democrats want to do," he said. "They don't want to just let everything expire. They want to let the Bush-designed tax cuts expire and -- but then put new tax cuts in place that are targeted for the middle class and small business."
The main focus for the Democrats is to pass the new tax cuts bill, which passed the House and pending in the Senate, where Republicans are filibustering it, Kaine told CNN.
What the bill would do is give small business a zero capital gains tax, and would expand lending, which has been the real problem for businesses, Kaine said.
To get their message out, and to campaign for the upcoming midterm elections, Kaine told CNN that the Democrats have built up a field effort that includes hundreds of thousands of visits to homes by volunteers, which will continue through election day.
FOLLOW THIS TOPIC