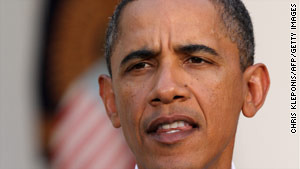 After talking about unemployment numbers, President Obama will give two big economic speeches next week.
STORY HIGHLIGHTS
Obama will deliver remarks Friday on new unemployment numbers
He will follow with two speeches next week on economic issues
Obama will speak Monday in Wisconsin and Wednesday in Ohio
Both states have close gubernatorial and Senate contests
Washington (CNN) -- After a week mostly focused on Iraq and Mideast diplomacy, it's back to the economy for President Obama, who will deliver remarks Friday on the August unemployment numbers.
Then, Obama is scheduled to give two big speeches next week to try to frame his administration's response to the recession, less than two months ahead of a midterm election where Democratic majorities in the House and Senate are on the ropes.
Senior aides confirm the president recently asked his economic team to come up with various proposals he could roll out to show that amid high anxiety across the nation, he's still working hard to jump-start the economy, including more federal spending on infrastructure projects and tax cuts popular with the business community such as a permanent extension of the research and development tax credit.
Obama himself hinted at the options on the table on Monday in the Rose Garden, when he accused Republicans of blocking a separate $55 billion legislation package that would cut small business taxes. Senate Democrats hope to pass the package later this month and get it to the president's desk before the election.

Video: Obama: Urgent task on economy
"My economic team is hard at work in identifying additional measures that could make a difference in both promoting growth and hiring in the short term, and increasing our economy's competitiveness in the long term," Obama said. "Steps like extending the tax cuts for the middle class that are set to expire this year. Redoubling our investment in clean energy and R&D. Rebuilding more of our infrastructure for the future. Further tax cuts to encourage businesses to put their capital to work creating jobs here in the United States."
But top officials from Treasury Secretary Tim Geithner on down are shooting down a Washington Post report claiming the president's economic team is considering a second stimulus package on top of last year's controversial $787 billion package.
Geithner was spotted huddling with White House aides in the West Wing Thursday night shortly after the newspaper posted its report, and the secretary was overheard making clear there will be "no second stimulus" when the president ultimately decides on a legislative package to send to Capitol Hill.
Senior administration officials note that when the House and Senate return from their August recess, there is a short window of a few weeks to pass any new proposals before lawmakers head back out on the campaign trail.
Senior officials laughed off some of the details in the Washington Post report, including claims that the president may push for a payroll tax holiday worth $300 billion, with aides noting the administration has nowhere near that much money to work with at a time of deep government debt.
"There have been a lot of reports and rumors on different options being considered -- many of which are incorrect," White House spokeswoman Amy Brundage said shortly after the Washington Post story was posted on the newspaper's website.
"The options under consideration build on measures the president has previously proposed, and we are not considering a second stimulus package," added Brundage. "The president and his team are discussing several options, as they have been for months, and no final decisions have been made."
Obama said this week that he will be addressing his actual proposals in the days ahead, and some officials say that a likely place for him to add more detail will be two speeches he's planning next week. On Monday, Obama will be in Milwaukee, Wisconsin, speaking at a Labor Day event in a state that has extremely competitive gubernatorial and U.S. Senate races.
Then on Wednesday he will deliver an economic speech in hard-hit Cleveland, Ohio, in a state that also has very competitive gubernatorial, U.S. Senate, and U.S. House battles that will help determine control of both chambers of Congress.
Obama said his message will be "my administration remains focused, every single day, on pushing this economy forward, repairing the damage that's been done to the middle class over the past decade, and promoting the growth we need to get our people back to work."
FOLLOW THIS TOPIC