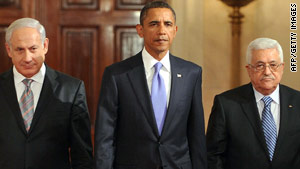 Israeli Prime Minister Benjamin Netanyahu, President Obama and Palestinian leader Mahmoud Abbas at the White House.
STORY HIGHLIGHTS
Last round of direct peace talks collapsed in December 2008
Israeli, Palestinian leaders offer optimistic words on the eve of the peace talks
Israel's moratorium on Jewish settlement construction in the West Bank expires this month
There have been direct talks on and off for about 17 years, and peace has remained elusive
(CNN) -- The latest round of peace talks between the Israelis and Palestinians is starting off much like similar endeavors in the past, but the Obama administration hopes that this time, the outcome will be different.
Secretary of State Hillary Clinton is hosting direct talks Thursday between Israeli Prime Minister Benjamin Netanyahu and Palestinian Authority President Mahmoud Abbas.
On the eve of the talks, President Obama held a working dinner with Abbas, Netanyahu, Egyptian President Hosni Mubarak and King Abdullah II of Jordan.
"I am hopeful -- cautiously hopeful, but hopeful -- that we can achieve the goal that all four of these leaders articulated," Obama said before the dinner.
Direct talks between Israel and the Palestinians broke down in December 2008, shortly before Israel launched an offensive against Hamas in Gaza. Israel said it was responding to shelling from Hamas militants in Gaza.
The offensive killed between 1,100 and 1,400 Palestinians, according to various reports. Palestinian health officials said the dead were mostly civilians; the Israeli military said they were mostly combatants. Thirteen Israelis also were killed in the three-week armed conflict.
Why the talks might work: Meeting points to progress

Video: Abbas: 'The road is clear'

Video: Obama 'encouraged' by peace talks

Video: What may undermine Mideast peace talks

Video: Working toward a two-state solution
A move to direct talks has to be a positive development whichever way you look at it.
During his election campaign, Obama said he would deal with the issue from Day One of his presidency. On his third day in office, Obama appointed former Sen. George Mitchell as his envoy to try to bring the two sides closer.
Mitchell said Tuesday there is "a window of opportunity" right now.
"A moment in time within which there remains the possibility of achieving the two-state solution, which is so essential to comprehensive peace in the region, that -- difficult as it may be for both leaders, and we recognize that difficulty for both of them -- the alternatives for them and the members of their societies pose far greater difficulties and far greater problems in the future," he said.
Obama envoy sees 'window of opportunity' for Mideast peace
Top officials close to the negotiations said it is hard to be optimistic about a peace deal at the moment. They downplayed expectations, saying that nobody directly involved in the talks expects a deal to be reached this week. But simply resuming talks was a critical step, and a comprehensive Middle East peace deal has been one of Obama's top foreign policy goals, they said.
Signs of tempered hope
On the eve of the peace talks, both sides offered optimistic words.
"President Abbas, you are my partner in peace. And it is up to us, with the help of our friends, to conclude the agonizing conflict between our peoples and to afford them a new beginning," Netanyahu said Wednesday.
Abbas said it was time to end the bloodshed. "We want peace between the two countries. ... Let us sign a formal agreement for peace and put an end to this long period of suffering forever," he said.
More talks ahead
Israeli and Palestinian leaders have agreed to meet again on September 14 and 15, and roughly every two weeks thereafter, Mitchell said Thursday.
The leaders have said that for negotiations to succeed, they "must be kept private" and "treated with the utmost sensitivity," Mitchell added.
Earlier, Mubarak offered to host a second round of talks this month in Egypt, according to two officials close to the negotiations.
Egypt might host second round of talks
Elias Zananiri, a Palestinian journalist and former spokesman for the Palestinian Authority, said the outcome of the peace talks depends not on what the leaders do in Washington, but on "what will they do when they come back."
Merav Michaeli, a columnist for the Israeli newspaper Haaretz, said no matter who is in charge, the role the United States can play is limited.
"If it was up to President Obama, he would definitely make them sign a peace treaty or some kind of settlement, but really, it is up to the parties," Michaeli said.
Why the talks might fail: If history is an indicator ...
Israelis and Palestinians have been here before. There have been direct talks on and off for about 17 years, back to when Bill Clinton was in the White House, and peace has remained elusive.
Both sides have been bitterly disappointed when deals collapsed in the past.
Someone has to budge
The key issue that's derailed talks in the past is the future of Jerusalem. Israel claims the whole of Jerusalem as its undivided eternal capital. The Palestinians claim East Jerusalem, which Israel captured from Jordan in the 1967 war, as their capital and consider Jewish neighborhoods built there as illegal settlements. It's an issue both sides are resolute on.
Other crucial issues include final borders, which will have to deal with the status of some 280,000 Jewish settlers in the West Bank. Palestinians also want the right of return -- meaning those who were forced to leave their homes in 1948 when the state of Israel was created can return to their homes or receive compensation. Many of those houses no longer exist or are inhabited by Israelis. Political commentators say it is a demand Israel will never and can never accept.
Roadblocks loom
The immediate threat is the September 26 expiration of Israel's 10-month freeze on settlement construction in the West Bank.
Abbas has declared the peace talks will end if Israel does not extend the freeze on settlements, while Netanyahu is under great pressure at home to end the moratorium altogether.
Another roadblock is the Palestinian view that any two-state solution must include a handover of all the land Israel captured in the 1967 war, along with East Jerusalem as the Palestinian capital. Netanyahu has expressed openness about a Palestinian state in theory, but that support would come with heavy conditions, including a desire not to let the Palestinians take East Jerusalem.
How to handle Hamas
Abbas can only negotiate for the Palestinians for the West Bank. Hamas, the Palestinian Islamist group that holds sway in Gaza, rejects direct talks, saying Abbas has no political legitimacy and no right to represent the Palestinian people.
Independent civil society activist Iyad Sarraj has criticized both factions in the past. He warned that without Hamas, Thursday's negotiations can go nowhere.
"It is illogical to go to the peace talks with a divided Palestinian camp, without Hamas. Hamas is the most important political force today in Palestine," he said. "Without Hamas there will be no peace."
Even in the event of a historic Israeli-Palestinian deal, Abbas' Fatah party and Hamas still have to form a unity government -- and that has not been possible since Hamas won the election to rule Gaza in 2006 and took full control by force in 2007 -- before anything can be signed, sealed and delivered.
Hamas sent a stark message about how it feels about the talks: The group's military wing claimed responsibility for Tuesday's attacks in the West Bank that killed four Israelis. A Hamas spokesman warned Thursday that it will continue "resistance operations" against Israelis.
CNN's Paula Hancocks, Ed Henry, Kristi Keck and Ben Wedeman contributed to this report.
FOLLOW THIS TOPIC