STORY HIGHLIGHTS
President marks end of combat operations in Iraq with Oval Office address
Obama says restoring economy is America's "most urgent task"
Obama: I disagreed with Bush, but you can't doubt his support for troops
Iraq War has claimed the lives of more than 4,700 U.S. troops
(CNN) -- Marking the end of the U.S. combat mission in Iraq, President Obama said Tuesday night that America would continue supporting Iraq's government while also looking to refocus its energies on the U.S. economy and the war in Afghanistan.
"The United States has paid a huge price to put the future of Iraq in the hands of its people," Obama said in an address from the Oval Office. "... Through this remarkable chapter in the history of the United States and Iraq, we have met our responsibility. Now, it is time to turn the page."
The U.S. combat mission in Iraq officially ended at 5 p.m. ET Tuesday, more than seven years after the U.S.-led invasion that toppled Saddam Hussein. Roughly 50,000 U.S. troops will remain in Iraq until the end of 2011 to train, assist and advise Iraqi troops; such troops could remain beyond that if Iraq requests it and the United States agrees.
Obama praised American troops for their "enormous sacrifices in Iraq" and said the country "spent vast resources abroad at a time of tight budgets at home." Though attacks across Iraq continue and leaders are struggling to form a coalition government after recent elections, Obama said attacks are at "near the lowest level on record" since the war began, and Iraq is in position to shape its own future.
"We have persevered because of a belief we share with the Iraqi people -- a belief that out of the ashes of war, a new beginning could be born in this cradle of civilization," Obama said.

Video: Obama: Urgent task on economy

Video: From one war zone to another

Video: Iraqi people unsure about future

Video: Iraq war never over for some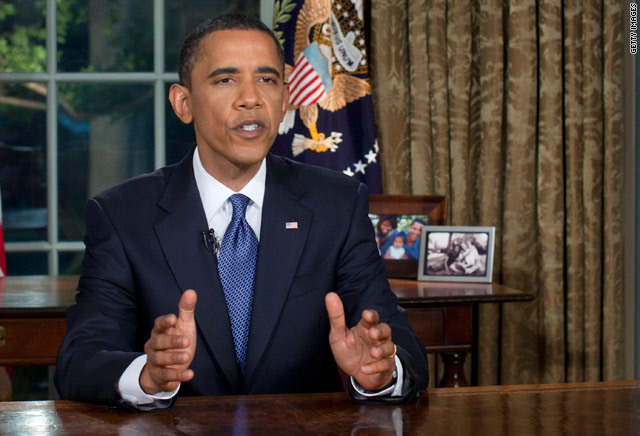 Video: Moments from the Oval Office
Oval Office setting is message behind the message
Ahead of Obama's speech, some Republicans had urged him to acknowledge that the 2007 U.S. troop surge in Iraq ordered by then-President George W. Bush had worked. Obama, as a U.S. senator and candidate for the presidency, had opposed it.
Obama, who spoke with Bush in a phone call earlier in the day, did mention Bush, but not in relation to the surge.
"It's well known that he and I disagreed about the war from its outset. Yet no one could doubt President Bush's support for our troops, or his love of country and commitment to our security," Obama said. "As I have said, there were patriots who supported this war, and patriots who opposed it. And all of us are united in appreciation for our servicemen and women, and our hope for Iraq's future."
Obama said the winding down of the war in Iraq means it's time for U.S. citizens to tackle what he said was now America's No. 1 challenge: the economy.
"Our most urgent task is to restore our economy and put the millions of Americans who have lost their jobs back to work," Obama said. "...We must jumpstart industries that create jobs, and end our dependence on foreign oil. We must unleash the innovation that allows new products to roll off our assembly lines, and nurture the ideas that spring from our entrepreneurs.
"This will be difficult. But in the days to come, it must be our central mission as a people, and my central responsibility as president."
Obama's emphasis on the economy appears to dovetail with the mood of the American public. In a CNN/Opinion Research Corp. poll earlier this month, 56 percent of respondents said the economy would be extremely important to their vote for Congress this year. Fewer than four in 10 said that the wars in Iraq or Afghanistan were extremely important to them.
The president also said America must focus on its fight against al Qaeda and the war in Afghanistan, which has lasted nearly nine years. Obama last year ordered 30,000 additional U.S. troops there, a move that eventually will raise the U.S. total to 100,000.
"As we speak, al Qaeda continues to plot against us, and its leadership remains anchored in the border region of Afghanistan and Pakistan. We will disrupt, dismantle, and defeat al Qaeda, while preventing Afghanistan from again serving as a base for terrorists," Obama said. "And because of our drawdown in Iraq, we are now able to apply the resources necessary to go on offense. In fact, over the last 19 months, nearly a dozen al Qaeda leaders -- and hundreds of al Qaeda's extremist allies -- have been killed or captured around the world.
Obama only briefly mentioned a controversial issue surrounding the Afghan war -- America's plans to start withdrawing some troops from the country by July 2011.
By next summer, "we will begin a transition to Afghan responsibility," Obama said, drawing a parallel between that plan and America's transfer of security operations in Iraq to the Iraqis. "The pace of our troop reductions will be determined by conditions on the ground, and our support for Afghanistan will endure.
"But make no mistake: this transition will begin -- because open-ended war serves neither our interests nor the Afghan people's."
Some observers have questioned whether it will be feasible for the United States to begin a drawdown in Afghanistan as planned. Earlier Tuesday, House Minority Leader John Boehner, R-Ohio, criticized what he called Obama's "arbitrary deadline" for withdrawal in Afghanistan.
"Using campaign promises as a yardstick to measure success in Iraq and Afghanistan runs the risk of triggering artificial victory laps and premature withdrawal dates unconnected to conditions on the ground," Boehner said to the American Legion convention in Milwaukee, Wisconsin.
GOP claims Iraq success despite Obama
Boehner also blasted the president for opposing the surge in Iraq.
"One lawmaker rejected the idea that the surge would reduce violence in Iraq, saying -- and again I'm quoting -- 'in fact, I think it will do the reverse,'" Boehner said in reference to Obama.
Meanwhile, Senate Minority Leader Mitch McConnell, R-Kentucky, delivered a speech Tuesday suggesting Bush deserves more credit for reaching this milestone.
"You might recall that the surge wasn't very popular when it was announced," McConnell said. "You might also recall that one of its biggest critics was the current president. So it makes it easier to talk about fulfilling a campaign promise to wind down our operations in Iraq when the previous administration signs the security agreement with Iraq to end our overall presence there."
Al-Maliki marks U.S. end to Iraq combat mission in national address
As for Obama's speech, it was an intelligent one "in that he was balancing various problems," CNN analyst Fareed Zakaria said.
"He is trying to mark the end of military combat in Iraq, signal a commitment politically to Iraq, signal a determination to keep a capacity in Afghanistan, and then pivot to the economy which is of course the central issue on the minds of the American voter," Zakaria said.
CNN analyst David Gergen said he found the speech "perplexing."
"I didn't quite understand what the point was," Gergen said. "It wasn't clear what the mission is, either in Iraq or in Afghanistan, going forward. It seems to be much more, 'We are getting this monkey off our back. We gave it our best shot -- over to you, Iraqis. Over to you next year, Afghans.'"
Earlier Tuesday, Obama visited U.S. troops at Fort Bliss, Texas. Fort Bliss has supplied soldiers to Iraq at all stages of the seven-year war and is still sending troops to the region as part of the 50,000-troop contingent that is staying in Iraq.
The August 31 drawdown and end to the U.S. combat phase is a new page in what has been a controversial seven-year conflict. Weapons of mass destruction, a major justification by the Bush administration for going to war, were never found. Saddam Hussein was toppled along with his massive Baghdad statue, but sectarian violence soon erupted.
The war in Iraq has so far claimed the lives of more than 4,400 U.S. troops.
The Americans who have been killed in Iraq "gave their lives for the values that have lived in the hearts of our people for over two centuries," Obama said Tuesday night.
"Along with nearly 1.5 million Americans who have served in Iraq, they fought in a faraway place for people they never knew. They stared into the darkest of human creations -- war -- and helped the Iraqi people seek the light of peace."
CNN's Ed Henry, Dan Lothian, Dana Bash and Alan Silverleib contributed to this report.