Three things to watch for in Obama's Iraq address
STORY HIGHLIGHTS
There are three key questions President Obama could answer in Iraq speech

Will Obama relate Iraq experience to Afghanistan war?

Will he address his opposition to the troop "surge" in Iraq?

Will Obama mention President Bush?
Watch President Obama's speech live on CNN at 8 p.m. ET Tuesday, online, on TV and on the CNN App for the iPhone.
(CNN) -- President Obama speaks to the nation Tuesday from the Oval Office on the end of the U.S. combat role in Iraq. Here are three key questions the president could answer in his speech:
Q: How will Obama relate the Iraq experience to the ongoing war in Afghanistan?
Obama pretty much made the war in Afghanistan his when he made the decision to send 30,000 more troops to fight what has become the longest U.S. war -- which soon will be nine years. And he had to replace his handpicked commander after he and his staff were portrayed as having a less than favorable view of their civilian leaders.
Obama wants to start withdrawing U.S. troops in less than a year but hasn't defined the pace at which they'll leave the country. And his military leaders, including Gen. David Petraeus, his new commander, have expressed concern about meeting that deadline.

Video: Iraq war never over for some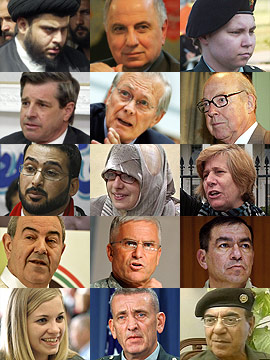 Gallery: Newsmakers from the Iraq War

Video: U.S. combat role comes to an end
Q: Will Obama address his opposition to the troop "surge," which some cite as a turning point for the better in the Iraq war?
Both Obama and Vice President Joe Biden opposed the surge when they were members of the Senate and on the 2008 campaign trail -- it was a key issue between the Democratic ticket and Republican nominee Sen. John McCain, one of the leading advocates of the surge.
Campaigning in early 2007, Obama said, "The responsible course of action for the United States, for Iraq and for our troops is to oppose this reckless escalation and to pursue a new policy."
Biden, who is in Iraq this week for ceremonies and meeting with U.S. military and Iraqi government leaders, at one point declared the surge a failure and advocated dividing the country into three states.
Q: Will Obama mention his predecessor?
White House spokesman Bill Burton said that Obama called former President Bush from Air Force One and talked "for a few minutes" while he was en route to meet troops at Fort Bliss, Texas. Burton did not reveal what the two presidents discussed.
FOLLOW THIS TOPIC


Part of complete coverage on

If you or a loved one have previously served or are currently serving in Iraq, please share your story. Tell us how the war has affected your life

The start of the war, Saddam Hussein's capture, Falluja and more -- check out key events of the Iraq war

Jessica Lynch, Donald Rumsfeld, Ayad Allawi. Look back at past newsmakers and where they are today

Analysts envision a persistent American presence in an Iraq that remains unstable

See images of the country today, more than seven years after the start of the war


Most popular stories right now