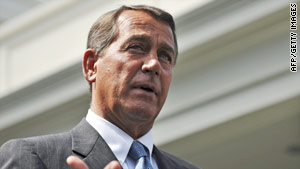 House Minority Leader John Boehner's Tuesday speech is the second time he's directly taken on the president in two weeks.
STORY HIGHLIGHTS
The Ohio Congressman says his worked every "crappy job"
Rep. Boehner is positioning himself as Speaker of the House should the GOP win a majority in November
Democrats say they welcome Boehner as the face of the Republican Party
Washington (CNN) -- His beginnings are humble -- he started out sweeping floors in his father's Cincinnati bar and met his wife working as a janitor -- but if Republicans take control after November elections, Rep. John Boehner will likely become the next speaker of the House.
The 10-term Ohio Republican will make a speech on national security on Tuesday ahead of President Obama's prime-time address on the end of combat operations in Iraq. It will be the second time that Boehner directly takes on the president in two weeks.
Boehner to challenge Obama on national security
Last week while the president was on vacation, Boehner grabbed headlines by urging the president to fire his economic team. In Tuesday's speech, Boehner is expected to deliver a preemptive attack on the president's prime-time address on Iraq.
In June, Boehner, along with other House GOP leaders, launched an online campaign called "America's Speaking Out," designed to take ideas from people around the country to craft the Republican agenda.
Boehner also promises he'll fight the "party-of-no" moniker that Democrats have slapped on Congressional Republicans by unveiling a governing agenda in September.
But as Boehner tries to position himself as the Obama administration's chief critic, polls taken this year show that most Americans have no idea who he is. Nevertheless, he has formed the ­"Boehner for Speaker"­ political action committee, featuring a website with a picture of him next to current Speaker Nancy Pelosi.
Inside Washington, the 61-year-old Boehner is frequently compared to Dean Martin -- a laid-back but skilled politician who has built up a considerable circle of influence and fundraising base since his election to Congress in 1990.
The Boehner caricature is one of an inside player -- much like Martin's "Rat Pack" days -- someone who smokes heavily, loves to golf, and is perpetually tan.
But Boehner's political ascension is a decidedly outside the Beltway story.
Boehner -- one of 12 children in a Catholic family in Cincinnati -- played linebacker and long snapper on the Archbishop Moeller High School football team. His high school coach, Gerry Faust, who went on to coach Notre Dame, described Boehner as "a quiet go-getter."
His old coach attributes Boehner's strong family and football as key reasons for his political success.
Faust recalls that Boehner insisted on suiting up for games even when injured, saying he never missed a snap. Boehner still suffers from back problems from his football-playing days.
Faust, who remains close to Boehner, insists the Washington stereotype of the Ohio Congressman as a chain-smoking insider misses the mark.
People who cover him on Capitol Hill are familiar with Boehnerıs claim that he has "worked every crappy job that's out there."
He swept floors and tended bar at Andy's Cafe, named after his grandfather.
Boehner, who received a business degree from Xavier College, helped pay his way through college by working as a janitor. He met his wife of 36 years at one of the buildings he cleaned.
Boehner ran a small plastic packaging company in the Cincinnati area before running for the state legislature. He later won his seat in Congress.
Boehner made his mark on Capitol Hill soon after his arrival in 1990. As a member of the "Gang of Seven," he seized on the House banking scandal, during which members of both parties were writing checks without having money in their accounts. The group pressured leaders to shut it down.
After Republicans took control of the House in 1994, Boehner had his first stint in leadership under then-Speaker Newt Gingrich, running the House GOP conference.
When then-House Majority Leader Tom DeLay's ethics problems forced him to step down in late 2005, Boehner returned to leadership, defeating GOP Whip Roy Blunt to take over the post. He was elected Republican leader when Democrats took control of the House in 2006.
A key reason for Boehner's success is his prowess as a top fundraiser for his party.
During this midterm election cycle he's been involved in 270 events for GOP candidates. He headlined 22 fundraisers in August for GOP incumbents and challengers.
Congressional leaders of both parties use their fundraising abilities to solidify their positions.
By helping fellow members of Congress and potential new members raise money, Boehner secures their loyalty.
As Boehner works to raise his profile, Democrats are happy to oblige and make him the focal point of the GOP, making sure to point out his penchant for smoking, drinking and hobnobbing with big donors.
"If you are looking for face of the Republican Party, then that's the one we want," said a senior Democrat familiar with the strategy.
Democrats say Boehner's new visibility is helping them frame the election as a choice between them and the "Boehner agenda," which they say is comprised of "shipping American jobs overseas, privatizing social security, and cutting Medicare."
Boehner is known as fiscal conservative and made Congressional spending reforms a key point of his campaign for House leadership. With many voters angered by what they see as out of control Washington spending, Boehner has reminded reporters that he's never requested any earmarks for his district.
But with the growing influence of the Tea Party in the Republican party, Boehner is viewed with some skepticism because of his role in developing the Troubled Asset Relief Program in the fall of 2008 -- a package that spent billions to address the subprime mortgage crisis.
As many House Republicans decried the bank bailout as government intrusion, the final outlines of the bill were negotiated with then-Treasury Secretary Hank Paulson in Boehner's conference room on Capitol Hill. The bill, pushed by then-President Bush and Boehner's leadership team, finally passed but a majority of House Republicans voted against it.
FOLLOW THIS TOPIC