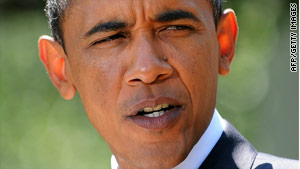 "Too many Americans are still looking for work," President Obama said Monday.
STORY HIGHLIGHTS
Sen. McConnell blasts Obama for increasing the debt while failing to restore the economy
President Obama says Senate Republicans are blocking a small business bill purely for political reasons
Obama says his economic team is working on a series of new economic growth measures
The economy only grew at a 1.6 percent rate in the last quarter
Washington (CNN) -- President Barack Obama blasted Senate Republicans on Monday for blocking a small business assistance bill, calling their opposition "pure partisan politics."
The country needs a "full scale attack" on economic sluggishness, he told reporters at the White House.
"While we have taken a series of measures and come a long way ... too many Americans are still looking for work and too many communities are far from being whole again," he said.
The president also said his economic team is "hard at work" on a series of new measure designed both to spark short-term hiring and lay the foundation for long-term economic growth.
Among other things, Obama said the administration will continue to push for an extension of middle class tax cuts, new incentives for clean energy research and development and initiatives to help rebuild infrastructure.
Senate Minority Leader Mitch McConnell, R-Kentucky, released a statement immediately after Obama's remarks criticizing the president and Democratic congressional leaders for dramatically increasing the size of the national debt while doing little to restore stronger economic growth.
"Instead of growing jobs as promised, Washington Democrats have grown the size of the national debt, the federal government and the unemployment rate," McConnell said.
"It's no surprise that most Americans think the country is on the wrong track and that Democrat policies have failed to do anything to fix their top concern, the economy."
White House Press Secretary Robert Gibbs said boosting small businesses and extending middle-class tax cuts both are important in improving the economy.
"The Republican Party talks a lot about their support for and their helping of small business," he said. "I think the question that the president put toward them today is, 'If that's what you support, why are you standing in the way of something that small businesses acknowledge would help with their hiring, with their purchasing and with their expansion?'"
Gibbs said the president does not believe there is any magic bullet to quickly getting out of the financial crisis.
"It took us a long time to get to this point. We got here not simply because of one thing, but because of many things," Gibbs said.
"We've seen the housing market collapse. We saw what happened to credit markets. We saw what happened to the stability of our financial system. All of that accumulated after many years into one big pothole ... the size of which any stimulus was unlikely to fill."
Growing economic jitters amid new signs of a slow recovery remain a top political issue in the runup to November's midterm elections.
The U.S. economy sputtered to a near stop in the second quarter, according to estimates from the government released Friday, although the slowdown wasn't as bad as many had feared.
The nation's gross domestic product, the broadest measure of economic activity, was revised sharply lower to an annual growth rate of 1.6 percent in the three months ending in June. The initial reading had been for a 2.4 percent growth rate in the period.
The bill currently stuck in the Senate authorizes the creation of a $30 billion lending fund. The Treasury Department would run the program, which would deliver cheap capital to community banks, defined as those with less than $10 billion in total assets.
The idea is that community banks are the ones that do the bulk of lending to small businesses and so by pumping capital into them, it will get in the hands of Main Street businesses.
Other key components of the bill would provide $12 billion worth of tax relief for small businesses between 2010 and 2020, according to an estimate from the Joint Committee on Taxation.
The bill also increases Small Business Administration loan limits and extends loan sweeteners through the end of the year. It offers several tax cuts for small businesses, to both encourage investment and entrepreneurship.
The legislation also provides $1.5 billion in grants to state lending programs that can't rely on depleted state coffers for more cash.
CNN's Alan Silverleib, Catherine Clifford and Chris Isidore contributed to this report
FOLLOW THIS TOPIC