STORY HIGHLIGHTS
Glenn Beck urges the country to "turn back to God"
The rally drew fire for its timing and location
Civil rights activists gathered nearby for a "Reclaim the Dream" rally
Despite buzz in blogosphere, Beck says "not a chance" for a Beck-Palin ticket
(CNN) -- Conservative commentator Glenn Beck says his revival-style rally at the Lincoln Memorial on Saturday was about restoring America's honor and returning the country to the values on which it was founded.
Tens of thousands of people showed up for the event, which also featured former Alaska Gov. Sarah Palin.
Beck insists the rally was nonpolitical, but the event, which took place on the 47th anniversary of the Rev. Martin Luther King Jr.'s "I Have a Dream" speech, and in the same place, was not without controversy.
The message: Support the troops; return to God.
Beck said his role was to wake America up to the backsliding of principles, values and most importantly, faith. His speech took on a spiritual tone as Beck urged the country to "turn back to God."
"Look forward. Look West. Look to the heavens. Look to God and make your choice," he said.
Beck told Fox News, the network that carries his weekday television program, that the rally was meant to reclaim the U.S. civil rights movement "from politics," arguing that the movement was about "people of faith."
The essence of the movement was about "people of faith who believe you have an equal right to justice," he said in an interview that aired Sunday.
Beck says he wanted to reclaim civil rights 'from politics'
The controversy: Time and location.
People filled the park by the Lincoln Memorial's reflecting pool, in the shadows and echoes of the most pivotal civil rights address in America's history.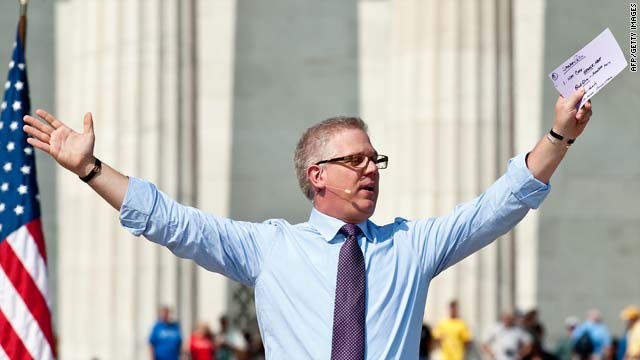 Gallery: Glenn Beck's "Restoring Honor" rally

Video: Glenn Beck: 'Turn back to God'

Video: Beck, Sharpton hold competing rallies
Some of those who marched with King in the 1960s said Beck had usurped the day for his own political gain. The Rev. Jesse Jackson told CNN that Beck was mimicking King and "humiliating the tradition."
Beck said the site of his rally was appropriate to reflect on the legacy of King, "the man who stood down on those stairs and gave his life for everyone's right to have a dream."
He also said he was unaware that the rally coincided with the King anniversary when he scheduled the event.
Alveda King, a niece of the late civil rights leader, participated in the "Restoring Honor" rally, saying that her uncle would have approved of the event.
Beck talks faith in rally coinciding with anniversary of King's speech
Beck also came under fire for some of his previous statements, such as his 2009 remark that President Obama "has a deep-seated hatred for white people or the white culture."
In his Fox interview, taped after Saturday's rally, he said he regretted his remarks about Obama, but said the first African-American president's worldview was shaped by "Marxism disguised as religion."
The other rally: "Reclaim the Dream" of King
Civil rights activists gathered nearby with the Rev. Al Sharpton and his National Action Network in a "Reclaim the Dream" rally. Participants marched from a high school in northwest Washington to the site of the future Martin Luther King Jr. National Memorial, just a few blocks from the Lincoln Memorial.
Speakers insisted that King's vision for America has not been completely fulfilled.
"Don't let anyone tell you that they have the right to take their country back. It's our country, too," said Avis Jones Deweaver, executive director of the National Council of Negro Women, making a reference to the Tea Party members attending the Beck rally.
"We will reclaim the dream. It was ours from the beginning. A dream that we will make reality," she said.
Rally aims to 'Reclaim the Dream'
The crowd size: Big.
Estimates of the crowd size range from tens of thousands to hundreds of thousands of people. The U.S. Park Police no longer makes estimates, so there are no official estimates of events on the National Mall.
CBS News commissioned a crowd estimate by the company AirPhotosLive.com. The network reported that AirPhotosLive estimated the crowd at 87,000 people. But they noted that with a margin of error of 9,000, "between 78,000 and 96,000 attended the rally."
iReport: Photo gallery of faces in the crowd
NBC Nightly News estimated the number of people in attendance as "tens, perhaps hundreds of thousands."
Fox News, citing organizers, aired a banner characterizing it this way: "CROWD ATTENDING BECK RALLY ESTIMATED AT OVER 500,000."
The Washington Post quoted Republican Rep. Michele Bachmann of Minnesota as saying, "We're not going to let anyone get away with saying there were less than a million here today -- because we were witnesses."
On the morning after the rally, Beck himself told Fox News Sunday that he believed the crowd was between 300,000 and 650,000.
So how many people were really there? In the end, most people will believe what their own eyes tell them.
The one estimate guaranteed to be correct was Beck's own comment making fun of the inevitable controversy: "I have just gotten word from the media that there are over 1,000 people here today."
Wildly conflicting reports filed about Beck rally crowd size
The impact: To be determined.
Beck's speech oozed religious language and evoked the feel of a religious revival. Beck has also begun organizing top conservative religious leaders -- mostly evangelicals -- into a fledgling group called the Black Robed Regiment.
Is he a new leader for Christian conservatives? Maybe. Beck's emerging role as a national leader for Christian conservatives is surprising not only because he has until recently stressed a libertarian ideology that is sometimes at odds with so-called family values conservatism, but also because Beck is a Mormon.
Many of the evangelicals whom Beck is speaking to and organizing don't believe he is a Christian. Mormons, who are members of The Church of Jesus Christ of Latter-day Saints, call themselves Christian.
Some evangelicals criticized Christians for partnering with Beck this weekend because of his Mormon faith, provoking a number of evangelical political activists to pen defenses of their decision to join Beck.
At rally, Beck positions himself as new leader for Christian conservatives
The prospects for a Beck-Palin ticket: Not likely.
Despite the buzz in the blogosphere, Beck says "not a chance."
"I have no desire to be president of the United States. Zero desire," Beck told Fox. "I don't think that I would be electable. And there are far too many people that are far smarter than me to be president. I'd like to find one with some honor and integrity. I haven't seen them yet, but they'll show up."
CNN's Dan Gilgoff, Kristi Keck and Matt Smith contributed to this report.
FOLLOW THIS TOPIC